DONUT 1: What We Thought
The
Dallas Mavericks
were right. The Houston Rockets are vulnerable and beatable and just fragile enough emotionally (led by Dwight Howard) to maybe fall backwards, ass-over-tea-kettle, when pushed.
You see that in Clippers-over-Rockets in Game 4, an LA blowout win in which Dwight was on the verge of ... well, who knows with him?
"Dwight!'' taunted an LA fan. "Don't cry, man. Don't cry.''
"Come out here (onto the court)," Howard countered. "Come out here."
Dwight fighting a fan would've been one way to exit an embarrassing game. But Howard, moments later, found a safer method:
Of course, getting under the skin of Dwight Howard won't work unless you are good enough to take advantage. Dallas, however, was the team that was bullied by Dwight in that short first-round series. And now you wonder: Did the Mavs blow an opportunity to compete with a vulnerable Rockets team? Or were the Mavs every really good enough to play at the same level as a No. 2 seed that was their preferred first-round foe? Does management soothe itself by believing that with Parsons and
a Rondo who gave a crap
, things would've been different?
Or ... given the way Houston manhandled Dallas ... and then the way it seems Houston is going to be manhandled by the Clippers ... do we need to come to grips with the idea that the Mavs being crushed by a more athletic, more pesky, more under-your-skin team was inevitable?
DONUT 2: A Game 5 Note
The Rockets did stay alive last night with a Game 5 win and I believe they could not have done it without the sage "Keys-to-the-Game'' advice of telecast savant Reggie Miller:
#Insight pic.twitter.com/dsEcwRDz9q

— Bob Sturm (@SportsSturm) May 13, 2015
Here, our
See our DB.com Boards Series Discussion
in which we all try to be at least as insightful as Reggie.
DONUT 3: Player-By-Player
We've launched our Player-By-Player Season-In-Review Series starting with our thoughts (aided by guidance from inside Mavs HQ) on the past, present and future
on Greg Smith here and
on Sarge James here.
In the coming days, reviews of all the guys. Stay tuned, please!
DONUT 4: Little (Big) Shag
I find Shaq to be unwatchable on TNT. I can rarely understand what he's saying. His lack of effort is draining. I get nothing out of it.
But I find Shaq's son, Shareef O'Neal, very watchable.
Shareef is a 15-year-old freshman at Windward High School in Los Angeles. He's 6-8, with a style of play that barely resembles his father's.
I usually resist the temptation to put too much on little kids to grow into the footsteps of their parents; the idea that 6-year-olds are projected to be "The Next'' anything seems grossly unfair to them. But if you are Shaquille O'Neal's kid, I'm going to assume you are accustomed to the attention ... and based on that snippet of his game, you are preparing to get comfortable with comparisons to good basketball players who are nothing at all like Pops.
DONUT 5: LeBron's LeBrilliance
Cleveland coach David Blatt doesn't really just "roll the ball out there''; that's really not how coaching works. But yes, sometimes a coach can over-think things, or not be thinking at all. So LeBron vetoes Blatt's Game 4 decision to make James the triggerman on a game-winning try ... and LeBron The Shooter wins the game.
He's been less than perfect in this series while carrying a heavy load with teammates sidelined. As LeBron himself said yesterday, "I hate being this inefficient. I don't like it but it's what my teammates want from me. It's the postseason - whatever it takes."
And in last night's Game 5? Sometimes a coach's best strategy -- and it
is strategic
to do so -- is just to get the hell outta the way. LeBron James finished the Cavaliers' win with 38 points, 12 boards, six assists, three blocks, three steals and zero turnovers and was 14-of-24 from the field.
(See our DB.com Boards Series Discussion here.)
Now that's efficiency. And in a way, that's coaching, too!
DONUT 6: Pursuing Aminu
Al Farouq-Aminu is termed by many of us as a "must-keep.'' Ah, if only it were that easy.
I was there for every one of the players' Exit Interviews, including all the guys whose contracts are up. Barea made it pretty clear he's hometown-discount-minded. Tyson made it pretty clear he'd prefer to stay but there are business decisions to be made. But Aminu? This is a chance for his payday, and he knows it. How many of those come along for an NBA player?
Here,
our Premium inside-the-front-office look at what the Mavs are prepared to do financially with Aminu ... and as you'll see, "must-keep'' really cannot be part of the vernacular here.
DONUT 7: Blueprint Brainstorming
Some Bulls fans are upset because we've dared to mention
the idea of Dallas bidding on restricted free agent Jimmy Butler this summer. They are, God bless 'em, misunderstanding the concept of the word "brainstorming.'' Here, our David Lord examines a host of Mavs ideas
based in part on Sign-and-Trades.
Chasing LaMarcus Aldridge and DeAndre Jordan? That's in there, too. But our Mavs Blueprint work, as always, goes much deeper than that, with an examination of the how-to's and a look at other names as well. A must-read for Mavs fans who want to get smarter about the re-load.
DONUT 8: Stay informed!
*Keep it here on DB.com as we will keep you posted in a variety of ways from inside your team ... Here on the HOME page,
and here on DB.com Boards
... Thanks for joining us as we launch our 15 season inside the Mavs!
*Oh, and if you want to be
a Mavs Insider with Premium coverage? Click here
to take our free 7-day trial and then for 10 cents a day, you are among the most informed Mavs followers on the planet! Go Mavs and Go Premium!
*All our stories
are archived here ... use the search tool to find everything on any Mavs topic.
*Follow our guys on Twitter:
Fish
,
Mike Marshall
,
Jeff "Skin'' Wade
,
Jonny Auping
,
Michael Lark
and
CoopMavs
.
DONUT 9: Come Watch!
Need a place to watch the games on 32 TV's, including our 200-inch screen? To listen to live music on the weekends? To enjoy the best Texas-flavored burgers in town?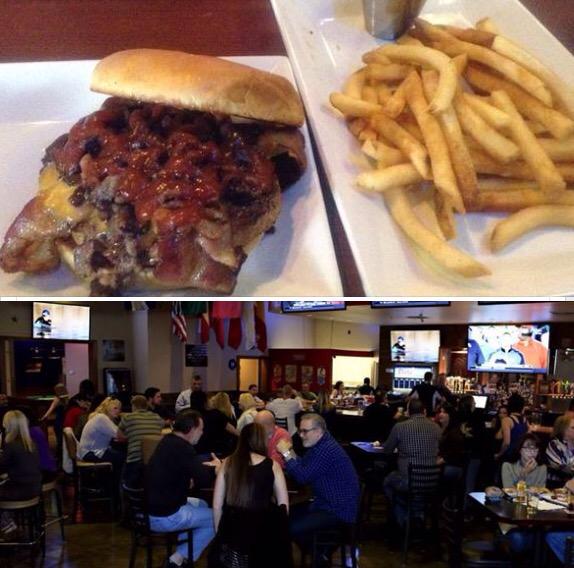 Come
meet us at The Maverick Bar
for lunch, dinner or late-night!
DONUT 10: To the Exits
Mavs talk as they walk out that door? Here's
the best of the Players Exit Interviews from inside the Mavs AAC Basement
... and
here's Rick Carlisle Top 10 Talking Points.
DONUT 11: When 'Lucky' Meets 'Good'
An alley-oop pass? An errant shot? A bank-assist?
Chris Paul, off the glass to Blake Griffin ... Indefensible ... Unrepeatable ... When "Lucky'' Meets "Good.''
DONUT 12: The Final Word
Soemthing to cling to: In the last 30 years, the Mavs are one of only eight franchises to win an NBA title, joining the Spurs, Heat, Lakers, Celtics, Pistons, Bulls and Rockets. Let that knowledge nurse you through the offseason, a reminder of how 2011 must not only be chased ... but also cherished.