DONUT 1: The Guest List
Dirk Nowitzki is terrible at baseball.
But he's pretty good at social media, as he shows as he jumps on Periscope to announce the celebrity players who will participate in this year's Heroes Celebrity Baseball game in Frisco on June 27. Among the confirmed "ballplayers''? Dez Bryant and other Cowboys, Chandler Parsons and other
Dallas Mavericks
, and one of the guys who really makes this thing go 'round, Charles Barkley.
"We had a blast with him (last time Barkley played)," Nowitzki said. "He took it to the next level."
As you can see from above, the "baseball level'' is low. But fun? Yeah.
DONUT 2: Dirk on shooting
A fan asked Dirk how many shots he takes per day.
"Probably a couple hundred,'' he said, "when I am really training."
And when asked about what he might do in retirement, he joked, "Teach someone else how to shoot the one-legged fade-away."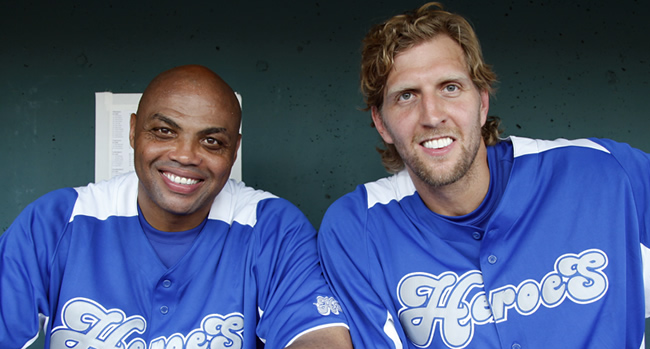 DONUT 3: Dirk on Travel
How often does he visit Germany?
"I try to go every summer since my whole family is still over there,'' he said, noting that this summer he's "spending some time with the family, working out a little bit. But mostly spending time with the kids, which is fun."
And the perfect vacation?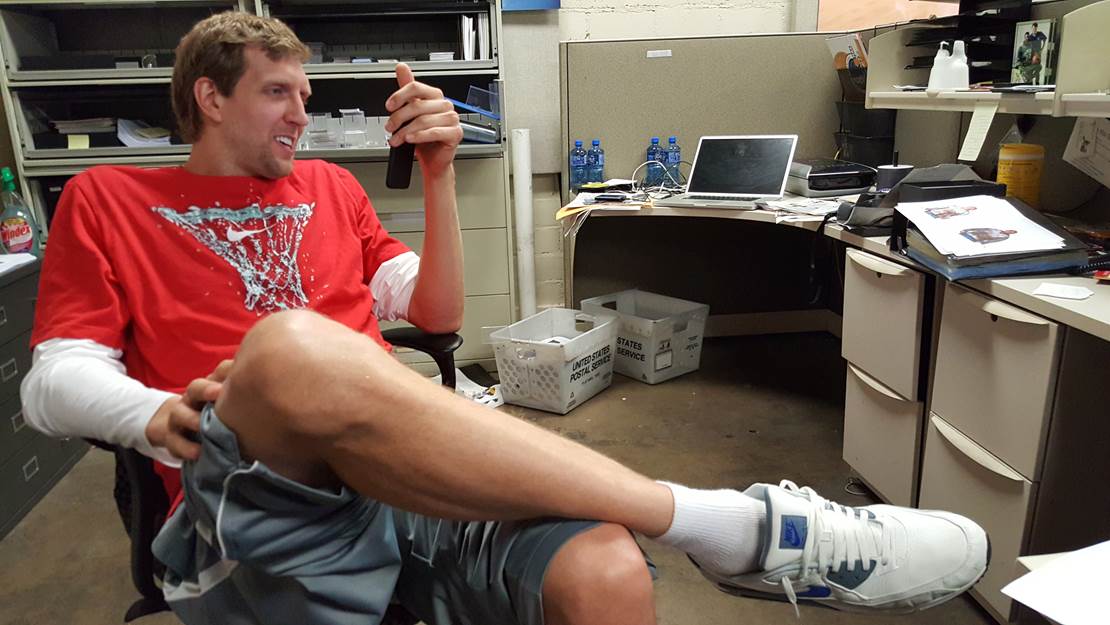 "Anything with a beach,'' he said.
DONUT 4: Dirk on Cuban
Dirk was asked if he'd like to take Mark Cuban's spot on "Shark Tank.''
"Sure,'' he said. "I would kick him right off.''
For some inexplicable reason, Nowitzki was also asked about his owner's "body odor.''
"I'm not sure,'' he said. "I've never been that close to him."
DONUT 5: Dirk on Other Sports
Dirk on the tennis court? "After the season, (J.J. Barea) came over and I whipped up on him real good, so I got the bragging rights there,'' he said.
And how about Dirk in the weight room?
"Probably 135 (pounds) at max (bench press),'' he said. "I don't even know if I can get that up once.''
DONUT 6: Dirk on Music
Dirk claimed to be able to rap. "Of course!'' he said. "The '90s is my rap era. I know every song."
And the last concert Dirk attended?
"That's a great question,'' he said. "What was at AAC this year? I did not go to the Usher one, no. I did not go to Drake. I didn't go to (Justin Timberlake), either, but there was something I went to ... The Rolling Stones concert I definitely want to go. I've never seen them and I am big fan so I'd love to go to the Stones concert."
In reality, Nowitzki is going to leave the music to pop singer Cabrera who "hopefully will sing and entertain and play some baseball,'' Dirk said.
DONUT 7: Dirk on Broadcasting
Would Dirk be interested in doing some broadcasting after he retires?
"Not sure,'' he said. "I'm not really sure what life brings after my career, but I'm sure I will stick around basketball somehow. I'm sure I am staying around Dallas after I retire. I've been here so long. This is partly my home, obviously.''
"Shut it down, let's go home!''
DONUT 8: Stay informed!
*Keep it here on DB.com as we will keep you posted in a variety of ways from inside your team ... Here on the HOME page,
and here on DB.com Boards
... Thanks for joining us as we launch our 15 season inside the Mavs!
*Oh, and if you want to be
a Mavs Insider with Premium coverage? Click here
to take our free 7-day trial and then for 10 cents a day, you are among the most informed Mavs followers on the planet! Go Mavs and Go Premium!
*All our stories
are archived here ... use the search tool to find everything on any Mavs topic.
*Follow our guys on Twitter:
Fish
,
Mike Marshall
,
Jeff "Skin'' Wade
,
Jonny Auping
,
Michael Lark
and
CoopMavs
.
*Oh, and for tickets to the Heroes event, which DB.com will cover like a blanket as we do every year? Click
on Ticketmaster here
.
DONUT 9: Dirk on Movies
What is Dirk's favorite movie?
"Get to da choppah now!'' Dirk said, barking out an Arnold Schwarzenegger line from "Predator.'' ... "My boy!''
DONUT 10: Dirk on Josh Hamilton
"I'm happy he's back,'' said Dirk of the troubled Texas Rangers outfielder. "I thought he was great for this community and baseball while he was here. I know things got a little ugly when he left, but I think he's fired up to be back and hopefully he's going to play some great baseball."
DONUT 11: Dirk on the Mavs' Chances Next Year
"I have no idea,'' he said frankly. "We have only four guys under contract and the rest are free agents, so we are going to hopefully going to sign a couple of new guys and go from there.... (and) see if we got a good team again next year.''
DONUT 12: The Final Word
Dirk was asked what his career path would have been if not for basketball.
Reflecting back on the family business in Würzburg, he replied, "Be the tallest (house)painter in the world."