DONUT 1: They did it again
Last year, for the skillionth time, the
Dallas Mavericks
did it again. They engineered their way out of having to bother with the NBA Draft. They had the No. 34 pick and they have the No. 51 one pick and ...
They didn't even bother to make the picks!




That fact feeds a common complaint about Dallas' lack of productivity in the draft, where it's fair to say that now, dating all the way back to 2004 they have landed two (or maybe three) kids who ended up having a consistent impact in a Dallas uniform.

Devin Harris. Josh Howard. And, it can be argued, second-rounder Jae Crowder.



DONUT 2: But look again


But wait. Look at Draft Time 2014 one more time.

In a pre-Draft trade, the Mavericks DID use the No. 34 and No. 51 picks. They used them as part of the package sent to the Knicks in order to trade for the beloved Tyson Chandler (along with Raymond Felton). Given up: Jose Calderon, Wayne Ellington, Shane Larkin, Samuel Dalembert, Shane Larkin (the 2013 first-round pick of the Mavs) and those two picks that became Cleanthony Early and Thanasis Antetokounmpo.

Dallas could've stuck with its picks and claimed "success'' with the late-process selections of Cleanthony Early and Thanasis Antetokounmpo. Or ... Dallas could claim "draft-time success'' with Tyson Chandler, maybe the 2014-15 team MVP.

Which do you prefer?



DONUT 3: 'Both'


Well, of course, you prefer "both.'' You want trades for vets. You want the drafting of kids. And then you want a third thing, the inexpensive development of scrap-heapers. And I think we all agree that ideally, you want a fourth thing (and we certainly know Mark Cuban wants it because he believes this is a multi-superstar-driven league): the Successful Summer Shopping of Studs.




It would help if, wherever Dallas drafts (usually late in the first, the result of the notable accomplishment of being a playoff team in 14 of the last 15 seasons), it drafted better. If only somewhere in the Moe Agers and the Dominique Joneses and the Roddy Beaubois and the Jared Cunninghams if just a few of them achieved rotation-player status.

They haven't.

The Mavs front office has earned the benefit of the doubt in a lot of areas. Unfortunately, the draft isn't one of them. Although a significant portion of this can be attributed to the approach of a perennial near-contender (and eventual 2011 champion) that placed little importance on first-round picks beyond acquiring ready-to-contribute veterans, the track record can't be ignored.

But understand: The problem isn't a lack of effort from the scouting department. Nor is it a blanket inability to scout; the same exact brains that deserve credit for finding/developing guys like Bass, Barea, Wright and Aminu deserve blame for Ager and DoJo. Same brains.

The problem, as we once wrote in this space, is the hell-bent aim towards the Successful Summer Shopping of Studs that ends up treating draft picks as if they are "toxins to be purged.''



DONUT 4: Flashback 2013


We flashed back to last year above. Now let's try 2013 Draft Time.

Dallas started the night with the 13th overall pick. Donnie Nelson's scouting department had done a tremendous amount of homework on Giannis Antetokounmpo, the brother of the aforementioned Thanasis. Thanasis is 6-7 and so far, pretty much a D-Leaguer. Ah, but Giannis? Donnie reported to Cuban that the "Greek Freak'' -- a 6-11 small forward -- has a terrific chance to develop into an impact player. If he's there at 13 ... and if we're there at 13, the team decided, that's our guy.




The "Greek Freak'' was a fine target. But Dallas was eyeballing a guy who didn't have a "chance'' to be good -- he was already a proven stud.

His name? Dwight Howard.



DONUT 5: The Dwightmare


So the Mavs "used'' the 13th pick in a different way. They shipped it off for the 16th pick. And then they moved the newly-acquired 16th pick to Atlanta, moving back two spots to 18. To make that happen, they dumped on Atlanta their first-round selection from the previous draft, Jared Cunningham (as well as his $1,208,400 cap number) and their second-round pick.

Why? In cap-hold terms, this was the path of the Mavs: from $1,655,300 at 13 to $1,419,200 at 16 and finally to $1,280,800 at the 18th spot … a savings of $374,500 by moving back five spots. Add the savings from moving Cunningham, and the Mavs shaved $1,582,900 off the number they began the night at.

So $1,582,900 mattered more than staying at 13? To Dallas it did. It mattered so much that they essentially PAID Atlanta to take Cunningham!

As Dirk said at the time, trying to keep up with it all, "It was a circus.'' But the circus left town when Dwight didn't come to town. The Mavs had their "dry powder,'' and their "cleverness,'' and, if you wish, their "we-don't-need-the-draft'' approach ...

And landed only Larkin as a result.

Again, to be fair: All these puzzle pieces get shuffled around and Larkin ends up being part of getting TY. But ... if Dallas sticks at 13 and takes Giannis Antetokounmpo, maybe it doesn't need to hit grand-slam home runs in the "One-Percent Chance'' game of free agency, because it would've just hit that homer in the form of Antetokounmpo ... who is a Milwaukee Buck now (having been taken at 15) and looks like exactly the sort of guy Dirk would wish to hand his baton to.



DONUT 6: Flashback 2012


This was the year Dallas drafted Cunningham -- such an error that the Mavs would, 12 months later, give Atlanta picks in order to take him off their hands.

How did they get to Cunningham at 24? And why? There were There are 934,905 reasons.

That number, in dollars, is what Dallas needed to be moved to clear room for its coming free-agency chase of Deron Williams. The Mavs traded down, packaging their pick at 17 with Kaleena Azubuike and getting Cleveland's pick at 24 (plus two second-rounders, which to the Mavs credit became Jae Crowder and Bernard James).




If the Mavs had kept their pick and Azubuike, their cap hit during free agency for the pair would have totaled $2,372,109. Instead they found themselves on the hook for only the pick at 24 and an empty roster slot, which totaled $1,437,204, yielding a savings of $934,905 ... so what was accomplished was to remove the last uncertain cap hurdle to have room for a max salary for Deron, whose max salary would start at $17,177,795.

It was all very well-thought-out and it was all very precisely calculated ...



DONUT 7: The Deron Disaster


And then DFW native Deron Williams did what most free agents do, opting to take the five-year guarantee with his existing team in Brooklyn rather than jumping to a new employer for four years. Oh, there was the Jason Kidd double-agent recruiting and the Mark Cuban "Shark Tank'' absence and even now the argument that it's a "good thing'' Dallas didn't get Deron.

But the bottom line is that the Mavs focused on draft-related salary-shaving in anticipation of a home-run swing ... that again, never got over the fence.



DONUT 8: Home-Run Swings


This is what the Mavs do. They involve a first-round pick in a Lamar Odom transaction - maybe Dallas' dumbest trade ever. They do the same in a Tyson Chandler deal (who've they now traded for twice, "The Dust Chip'' Dampier-for-Chandler swap maybe Dallas' smartest trade ever). They do it again to get Rondo, who did nothing but play "DisConnect Four'' here.




They swing for homers when maybe a few more bloop doubles mixed in would also help.



DONUT 9: Stay informed!


*Keep it here on DB.com as we will keep you posted in a variety of ways from inside your team ... Here on the HOME page, and here on DB.com Boards ... Thanks for joining us as we launch our 16th season inside the Mavs!

*Oh, and if you want to be a Mavs Insider with Premium coverage? Click here to take our free 7-day trial and then for 10 cents a day, you are among the most informed Mavs followers on the planet! Go Mavs and Go Premium!

*All our stories are archived here ... use the search tool to find everything on any Mavs topic.



DONUT 10: 'E' For Effort


The Mavs scout the same way all the other teams do. Nelson and staff camped out in Greece before the Giannis Antetokounmpo draft, using the same model utilized when they camped out in Germany before the Dirk Nowitzki draft. Last week, Nelson and Keith Grant and the rest of the staff camped out in Chicago at the combine, just as all the other clubs did. And this week at the AAC, the Mavs will begin bringing in prospects for workouts, guys who might be worthy of the No. 21 pick in the June 25 NBA Draft.

But while the scouting department does its thing ...



DONUT 10: The Big Fish


Cuban and his Big Calculator (and the talent evaluation of that same scouting department, applied to Summer Studs) do theirs.




*Along with the dollars, how to make sense of a proposal that would lure DeAndre Jordan to Dallas.

*How to make the LaMarcus Aldridge-to-the-Mavs concept is real thing ... again, not just financial but otherwise.

*Where to prioritize Marc Gasol on the Mavs' wish list.

*Whether to include a bid on Bulls restricted free agent Jimmy Butler on the Dallas to-do list.



DONUT 11: The Little Fish


We are already seeing stories about what the Mavs should do with JJ Barea and stories about the Mavs being interested in Ty Lawson and stories counting on Petri Koponen to be a big help. Stuff like that.

Sorry, but those things aren't even close to important yet. (I've yet to have it explained to me how and why Dallas can "express interest'' in another team's player who isn't a free agent, but that's a Donut for another day.)

Remember last summer? The Summer Shopping priorities were a) meeting with LeBron (and his ilk), b) trading for Tyson Chandler and c) bidding on Chandler Parsons. JJ Barea, God bless him, was not a blip on the radar screen. Big Fish come first.



DONUT 12: The Final Word


But is there a way to marry the two concepts? If the 2012 Mavs stay at No. 17, they get Tyler Zeller, a functional NBA backup center. If the 2013 Mavs do the same at 13, they get the Greek Freak. If they could un-do and re-do lots of things in those two drafts (not related to cap-shaving) they go back to the second round of 2012 and take Draymond Green and Khris Middleton (missed on by so many teams that both were drafted after Bernard James). Play a similar game in the Greek Freak draft and if its not him, it's Dennis Schröder or Gorgui Dieng or Mason Plumlee or Rudy Gobert, all of whom were available in that same Larkin-area grouping.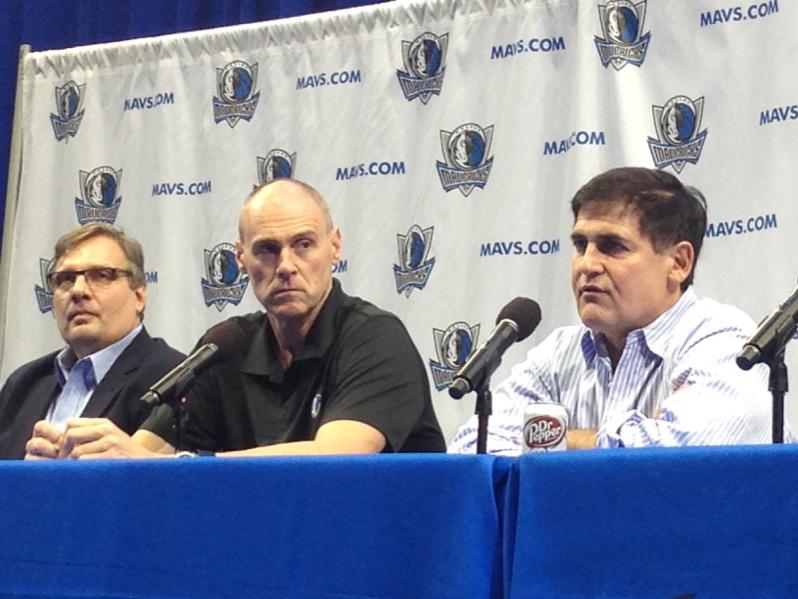 But that's second-guessing the dart-throwing game of talent assessment. While Dallas simply must do a better job there, "The Mavs and the Draft'' is really more about philosophy. Because it's not that Dallas "doesn't love'' using the draft; it's about how Dallas has used the draft to set up free-agency love affairs that are never consummated.