DONUT 1: As The Stomach Turns
It was an unprecedented turns of events. It remains a sickening turn-of-stomach act of immaturity and cowardice.
DeAndre Jordan
-- the prized big man who gave a verbal commitment to sign with the Mavericks over the July 4 weeks -- late last week -- engaged in a flirtation with his former Clippers team that, by late Wednesday, became a canceled marriage with the
Dallas Mavericks
and a reconciled union with the Clippers.
Home is where your ? is. #WelcomeHomeDJ pic.twitter.com/Ov0RoRKMDL

— LA Clippers (@LAClippers) July 9, 2015
Clippers owner Steve Ballmer, coach Doc Rivers, and players Blake Griffin, Chris Paul, J.J. Redick and Paul Pierce essentially locked themselves inside DeAndre's Houston home while he chose them. The Mavs were seemingly figuratively and literally locked out as "Adventures In Babysitting'' turned out to be the method of securing the services of a man not true to his word.
'True'? https://t.co/Xfe92KvovQ

— mike fisher (@fishsports) July 9, 2015
"I stay true''? It's an old tweet but still a sickening sentiment. Where his version of "true'' left the Mavs at the moment ... and maybe for the future ... is captured wonderfully here in
"Mavs In Disarray: The Shocking Sunset And The Dark Night.''
DONUT 2: Wes' Wealth
At least
Wes Matthews
stayed true to his word and signed here. And to the shock of some, the Mavericks stayed true to their word, too. Matthews, who is coming off of a torn Achilles tendon in his left leg, is due to make a cool $70 million over the next four years (as opposed to the $57 million that was originally reported).
How did that $57 mil become exactly, according to DB.com calculations, $70,060,025?
#WelcomeWes #MFFL pic.twitter.com/kHRz1YIYbb

— Stevallica (@Stevallica) July 10, 2015
Our understanding is that the Mavs' promise to Wes was this: You will be paid all we have left after Jordan gets his max. Jordan's max was to be about $19 mil; depending on where the cap came in, that was going to leave Wes about $13 mil.
But a promise is a promise. There is no Jordan. So Wes gets what Dallas pledged to him -- "the rest,'' as much as is legal. And this deal, which we believe starts at $16,407,500, is "the rest.''
Ironic, eh? Dallas stubbornly insists it will be true to its word ... on the same day it gets screwed by Jordan who is doing exactly the opposite.
Maybe that has long-term ramifications in terms of Dallas' future, or maybe this is a ruthless business in which everyone just screws everyone. But Dallas believes in Wes, and here's why:
Before his injury (Which ironically happened against the Mavs on March 5th), the Marquette product was averaging 15.9 points per game, and was one of the best snipers in the NBA. In fact, since he came into the league, he has averaged 39.3 percent shooting from downtown and trails only Kyle Korver and Steph Curry for three pointers made in that time span. Wes also has the ability to post up smaller defenders, and possesses an above average turn around jumper from that area of the floor.
Shooting isn't the only thing Matthews brings to the table, however. As a Trailblazer, Matthews was the player that was called on to guard their opponent's best perimeter scoring threats such as Steph Curry, James Harden, etc. and if healthy is the elite perimeter defender that the Mavs have been sorely lacking in recent years.
If Matthews can recover from his injury (a very big "if''), he is the complete shooting guard that Mavs fans have been clamoring for since the days of Rolando Blackman. Matthews has the potential to bring the kind of size, perimeter D and three-point shooting to the Mavs backcourt that they haven't seen in the Dirk era, And If Wes can even get back to being 85-90 percent of the player his was in Rip City, Dallas will have a decent nucleus to build around for the future with him and Chandler Parsons.
Or maybe it won't work. But
Dallas and Wes dealt with each other honestly (as we explain in more depth here)
. THIS -- not what Jordan did -- was "true.''
DONUT 3: So, 'Team Tank'?
I thought it a logical question. After all, he'd brought it up himself immediate in the afterglow of thinking he'd secured Jordan, mentioning to DB.com, The Ticket and ESPNDallas that with no big fish this summer he'd have considered losing on purpose in 2015-16.
So, Mark Cuban ... "Team Tank''?
"No,'' he told me in the wake of the DeAndre Defection. "We've added Wes ... we're getting a center ...
We are not (tanking). We're moving forward.''
You know my thoughts on tanking. It invites a cancer into an organization that might never be cured. And it guarantees nothing in terms of a quick lottery-based turnaround. But you know what else NOT tanking does? It pleases the head coach, in the final year of his existing contract, who wants to win titles, not win 11 games.
I bet Rick Carlisle does not endorse "Team Tank.'' A good enough reason for Cuban to alter his thinking on it.
DONUT 4: Plan ZZ
The Mavs' Plan A was in shambles. So ... Plan ZZ?
That would be embodied by center
Zaza Pachulia
, acquired from the Bucks on Thursday for a future second-round pick, an action taken in the wake of the aforementioned screw job. Zaza is a big-bodied banger who comes to Dallas with his averages of 8.3 points and 6.8 rebounds from last season in Milwaukee. Pachulia is a tough guy, a good defender and a rugged rebounder and he's in the last year of a deal that pays him just over $5 mil. So he's expiring and he's affordable and he's solid.
Pachulia is not only fearless when banging around the basket, but he also shows nice touch from mid-range and is a very good offensive rebounder. ZaZa is also an above average facilitator for his position, and while he is no Marc Gasol, he possesses a very unique skillset for a back up big-man. He is not going to block very many shots, and he is not going to wow anybody with his athleticism, but Pachulia is a decent frontcourt piece.
And you know what else this trade is? Something for nothing. We're told the "second-round pick'' Dallas is giving up is a 2018 pick that is so protected that it will likely never even be conveyed.
Read more on Zaza here.
DONUT 5: Everybody Wants In On The Act
For reasons still not fully explained, ESPN's Chris Broussard claimed Cuban was driving while under the influence .. of frenzied heartbreak.
Sources: Cuban is beside himself. Driving around downtown Dallas begging (thru texts) Jordan's family for address to DeAndre's home

— Chris Broussard (@Chris_Broussard) July 9, 2015
But wait. At this very time, Cuban was actually in Houston, along with Chandler Parsons, planning on the promised "last meeting'' with Jordan before his teenage-girl-sorority-rush-level decision to un-do his agreement with Dallas to instead remain a Clipper. So, "driving around downtown Dallas''? What?
.@Chris_Broussard that's is the dumbest shit Ive ever heard. If you had any ethics u would msg me and I will give u his address

— Mark Cuban (@mcuban) July 9, 2015
Broussard corrects the nonsensical by following it up with something that remains ... nonsensical. How can Cuban/Parsons not know where DeAndre's house is? Wasn't Parsons just there 10 days ago when this bromance began? Isn't it easy for a billionaire to figure such things out? Hell, isn't it anybody with a laptop semi-capable of learning such things?
Cuban pokes back with an "ethical'' jab ... and then this:
@Chris_Broussard how about this. You post any proof I was calling/texting his friends asking anything I give 100k to charity of yr choice.

— Mark Cuban (@mcuban) July 9, 2015
This is Broussard attempting to defend himself as part of a series of tweets. ... but then the hammer comes down. And now it's simple: Broussard can publish the evidence as it, can publish the evidence with the identities blanked out, or, if I know Cuban, privately show the Mavs owner his evidence ... and end up with $100K for his favorite charity. Which, I courteously note, would be this one. ...
The charity @mcuban will quite likely not be writing a $100K check to, btw, is this: http://t.co/7tjdueAPDm https://t.co/CndtPWTT67

— mike fisher (@fishsports) July 9, 2015
Broussard's foundation could use the money. Cuban could use the clarity (for it's possible that Broussard -- irresponsible as it is -- printing bad information, ignorantly unfiltered). And the NBA and NBA journalism could use a shower. Except ...
Sources: Cuban is beside himself. Driving around downtown Dallas begging (thru texts) Jordan's family for address to DeAndre's home

— Chris Broussard (@Chris_Broussard) July 9, 2015
ESPN sources say Mavs owner Mark Cuban has begun to notify people within the organization that DeAndre Jordan is staying with Clippers

— Marc Stein (@ESPNSteinLine) July 9, 2015
There's a pair of ESPN colleagues, one well-known for being plugged in to Dallas doings, the other essentially being called a "dumb shit'' by the person in charge of Dallas doings ... And when you put Broussard and Stein side-by-side (with identical timestamps!), you probably have your answer to an issue that, compared to DeAndre's Defection, is a tempest in a teapot ... unless you care about journalistic ethics and proper sourcing and $100K donations and "dumb shit'' like that.
Broussard finally backed down from his misguided self-righteousness by saying he was "sorry'' for not attempting to contact Cuban before scribbling such garbage. Cuban says he will deal with Chris privately. But what still needs to be made public is the origin of Broussard's "sources.'' For the good of the charity, you know?
DONUT 6: Nobody Wants In On The Act
If all of this -- from the players and the owners and the agents and the media -- sounds like something like a college girls' sorority rush, it should. It's childish, right down to the Emoji Wars the players engaged in on Twitter.
The Pursuit of DeAndre Jordan As Told Through Emojis pic.twitter.com/0rp8A1FH5H

— CBS Sports (@CBSSports) July 8, 2015
But it's also the highest-stakes poker game their is, and not just because Jordan's decision moves him to LA (where he is eligible for a five-year, $109-mil deal) and away from Dallas' four-year, $81.13-mil offer.
Cuban and Parsons' wining and dining of
Jordan included promises of how he would be featured on and off the court.
His agreement was knotted with Wes Matthews' agreement, which was knotted to what move Dallas might make next (Jeremy Lin was an idea, but now he's off to Charlotte) and it was knotted even to what the Mavs might do with big-fish chasing next summer. (Kevin Durant!!!)
The pursuit of Jordan is why Dallas allowed Tyson Chandler to go to Phoenix, why they removed some of their focus from Spurs-bound LaMarcus Aldridge, why it is an unwritten rule in the NBA that the moratorium is meant for many things but not to break up verbally-committed unions.
And so
Parsons is blasting DeAndre for his Defection
, no emojis needed ... and
new Suns center Tyson Chandler is blasting the Mavs, no emojis needed, either.
But being angry doesn't put all that toothpaste back in this tube. What about Gerald Green coming here? Nope. What about Amare staying? Nope. What about Dallas' backup plan to snag Hibbert? Nope. What about the Brazilian report that the defection caused Dallas and Marcelo Huertas to pull the plug on each other? Yup.
DONUT 7: Behind Cuban's Curtains
Cuban promised he'd CyberDust his way to more insight about the failed marriage with DeAndre Jordan. And so he is. (ht kennyducey):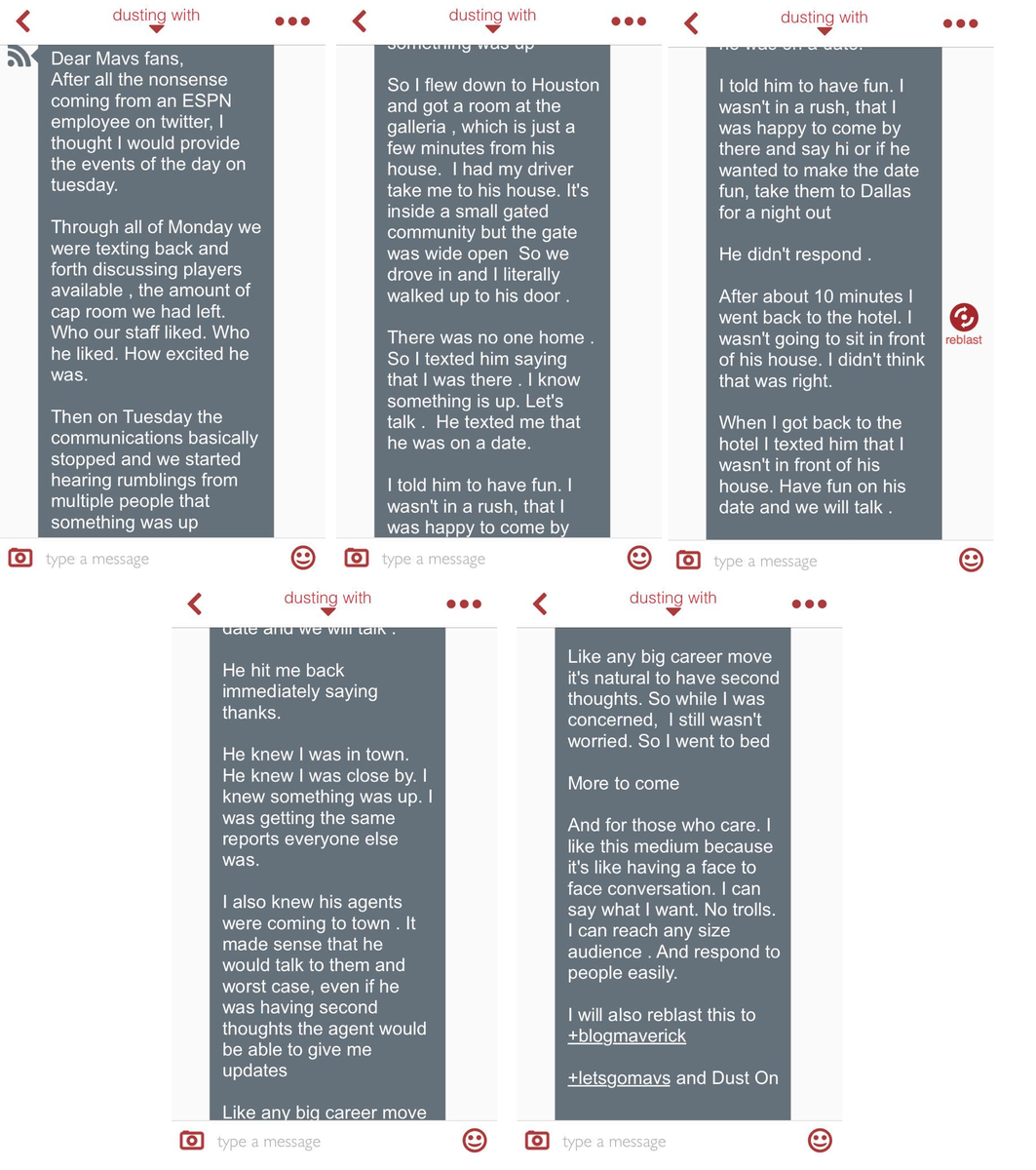 This all paints DeAndre as a cowardly fibber and paints Chris Broussard as something less than a truth-teller, too. And by the way, as long-time Mavs fans know, this is not out of character for Cuban, or "being revealed just because Cuban's mad.'' He frequently uses his website/forum to give the details of transactions gone bad (and good).
It is all the more stunning, this time, because it's never gone quite so bad before.
DONUT 8: Stay informed!
*Keep it here on DB.com as we will keep you posted in a variety of ways from inside your team ... Here on the HOME page,
and here on DB.com Boards
... Thanks for joining us as we launch our 15 season inside the Mavs!
*Oh, and if you want to be
a Mavs Insider with Premium coverage? Click here
to take our free 7-day trial and then for 10 cents a day, you are among the most informed Mavs followers on the planet! Go Mavs and Go Premium!
*All our stories
are archived here ... use the search tool to find everything on any Mavs topic.
*Follow our guys on Twitter, starting with
Fish
and
Jeff "Skin'' Wade
,
Jonny Auping
,
Matt Galatzan
and
David Lord
.
And come by and see us at
The Maverick Bar!
Live music on the weekends, 80 different beers, Texas-flavored burgers and a 200-inch TV!
DONUT 9: Summer-League Sizzle
The Mavs NBA's Summer League slate tipped off on Saturday afternoon in Las Vegas, with the Mavs first-round pick Justin Anderson taking on Seth Curry and the New Orleans Pelicans. The Mavs got off to a slow start, but were able to find their rhythm early in the 1st quarter. Unfortunately for the Mavs, they were never able to keep pace with New Orleans, dropping their first game, 90-86, on a day when most of the buzz surrounded owner Mark Cuban and apologies and whatnot.
'Dear #Mavs fans, When is an apology not an apology? When you didn't write it yourself.' @mcuban re DeAndre @1053thefan

— mike fisher (@fishsports) July 11, 2015
Anderson, making his Mavs debut on Saturday night, started cold from the field but was able to settle in by the end of the first half. Anderson shot 8-18 from the field on his way to a 23-point, seven-rebound performance. Anderson showed some ability to put the game on his own shoulders late, but will obviously need some fine-tuning if he is going to be a part of the Mavs rotation by the start of the regular season. ... part of the point of Vegas, of course.
Jordan Crawford, an NBA vet who averages 12.2 points on 40-percent shooting in his career, is with the Mavs this summer in an attempt to make his way back onto a roster. Crawford has bounced around to a few different teams in his career, including stops in Atlanta, Washington twice, Boston twice and most recently played for Golden State. Here, Crawford scored 12 points on 6-14 shooting, but even with Dallas' roster shuffle, room may be tight with Deron Williams set to come aboard following his clearing of Sunday afternoon waivers.
Dwight Powell, who was acquired in December as part the Rondo trrade, was arguably the Mavs best player on the day, scoring 19 points and grabbing 11 boards. Powell has always dominated lower-level competition (as evidence by his 28.9 point, 9.4 rebound averages in the D-League this past season), so it remains to be seen whether or not he will develop into a rotation player for Dallas. He seems to have improved his outside jumper, as he shot 46 percent on the day, and Mavs officials told DB.com going into Vegas that they want him to be "the leader'' of this squad. Chandler Parsons and Devin Harris joined Mark Cuban and Mavs officials in watching the show ...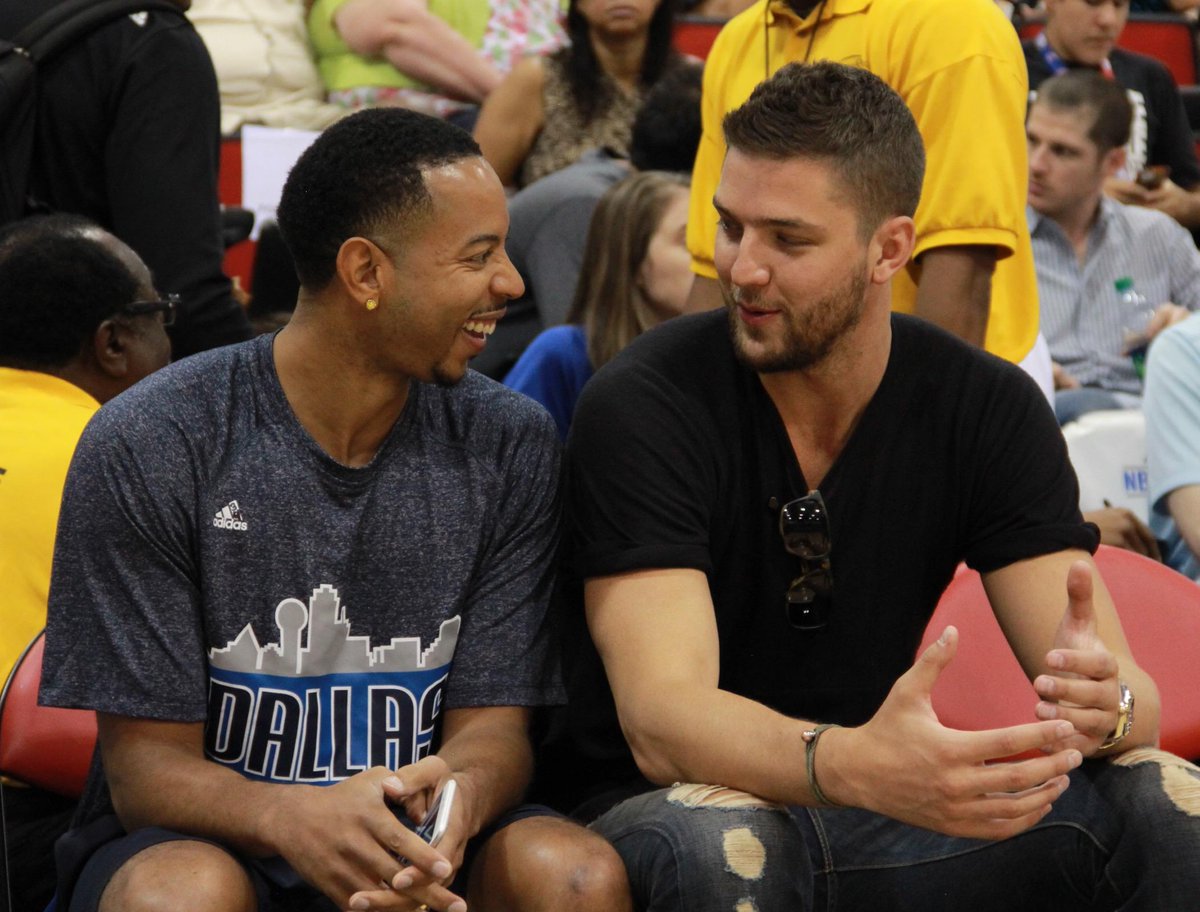 Which included the Mavs' second-round pick Satnam Singh making his NBA debut on Saturday as well. From a basketball standpoint, Singh is slow as molasses, and kind of goofy-looking to watch, but he can shoot. The first-ever Indian born NBA player scored four points, pulled down three rebounds and was two of three from the line. Dallas' plan is for the 7-2 19-year-old to be in Frisco all year. But this is a baby-step start. ... part of a "move forward'' that will truly begin when this organization puts "The Week That Wasn't'' behind it.
Mark Cuban: "We brought in Wes, and that's a huge step in the right direction... We can be better than we were last year."

— Ethan J. Skolnick (@EthanJSkolnick) July 11, 2015
Sure. Maybe. And maybe Anderson and Powell can actually help accomplish such a thing.
In Sunday's second game of the summer, the Mavs lost again, falling to Portland, 93-80. But Powell was outstanding again, with Anderson ... not so much. Dallas shot 40.0 percent from the field (compared to 50.7 percent for Portland), and was out rebounded 38-29 in the loss.
Powell was once again the Mavs best player, scoring 25 points and grabbing eight rebounds. Anderson wasn't effective on either end of the court. Singh? He can't move. Singh did finish with four points and two rebounds, but also finished with a horrendous plus/minus of -20.
A pleasant Game 2 surprise for the Mavs was Kevin Pangos out of Gonzaga. Pangos scored 12 points, had six assists, and shot five of 10 from the floor. Pangos's biggest strength so far in Vegas has been his ability to take care of the ball. Two games in to the summer league slate, Pangos has an 11:1 assist to turnover ratio. He's a long shot to make it beyond this level, but the Gonzaga product has does everything that the coaching staff has asked of him so far.
Crawford finished with just nine points and five assists, and mostly struggled through out the game to find his shot.
DONUT 10: "I'm Coming Home''
Cuban said they're moving forward. And as part of that, Deron Williams is moving home.
(Complete with music!)
As few days ago, DB.com reported there were three PGs ranked on Dallas' "Available'' board above Deron. But while they fiddled wirh DeAndre, Jeremy Lin bolted for Charlotte. And Mo Williams signed with Cleveland. And Cory Joseph went home to Toronto.
But now the Nets finalized a buyout of his contract and he's cleared Monday waivers, allowing the Mavericks to sign the 31-year-old to a two-year $10-million contract.
Williams, who in the last two seasons has averaged 13.7 points and 6.4 assists per game for Brooklyn, will look for a fresh start with the Mavs, the team that wanted the DFW native as a 2012 big fish. Williams, however, has had difficulty keeping his ankles healthy recently, causing him to miss 32 games in the last two seasons. As seen in the video below, Williams is still capable of filling into the role the Mavs need right now.
Mark Cuban is embracing a player he once said he never really wanted, anyway.
Why? Because they need each other.
DONUT 11: Another Center And No Jet
Sources told DB.com on Friday that the Mavs are in pursuit of another center (in addition to Zaza) to fit into cap space (meaning probably not just a Merry Minimum).
There is a problem with Kevin Seraphin in that regard and there is a rumor about Javale McGee in that regard, and we've got the details here.
We were also told the structure of the roster now makes it even less likely that Dallas will bring fan fave Jason Terry back into the fold.
DONUT 12: The Final Word
What The Roster/Money Looks Like Now:

What The Depth Chart Looks Like Now:
In the middle of all that is Dirk Nowitzki, pretty much "The Last Loyal Dude In The NBA Not Playing In San Antonio,'' still a centerpiece of a Mavs team that on paper won't be as good as planned and on the court has no intention of being bad on purpose ... all part of the ebbs and flows of The Mavs Front Office's Week That Was (And Wasn't).