DONUT 1: Double-Barreled
The Dallas Mavericks have always planned to approach the July 1 free-agent shopping season featuring dual targets LaMarcus Aldridge and DeAndre Jordan with barrels blazing. But as I reported on Friday, they've now arranged for a second barrel.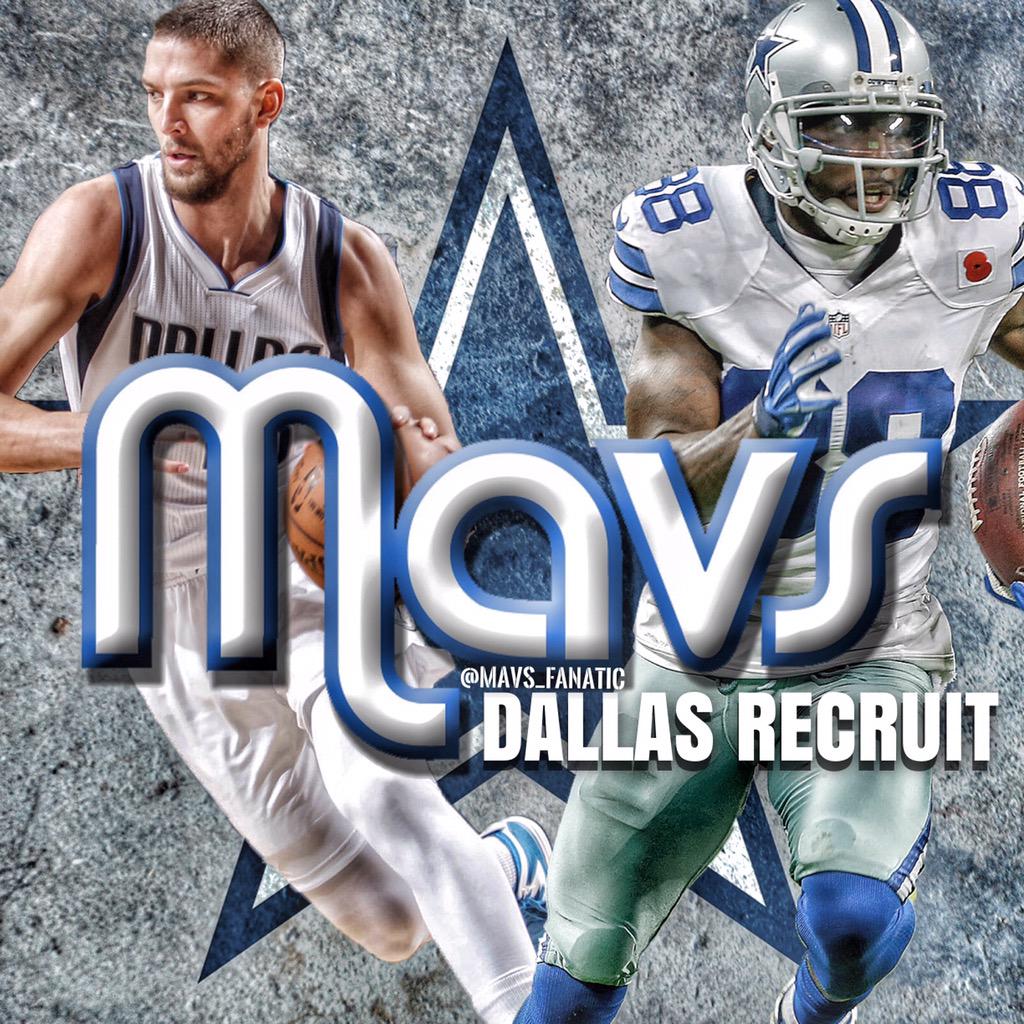 DB.com on Friday
broke the blockbuster story that Dallas Cowboys headliners Jerry Jones, Dez Bryant and Tony Romo will also be part of the basketball recruiting effort of Texas natives Aldridge (now of Portland) and Jordan (now of the Clippers).
I'm told that in addition to owner Mark Cuban supervising the campaigns from an LA base, and in addition to Mavs names like Chandler Parsons, Rick Carlisle, Donnie Nelson and Dirk Nowitzki doing their parts, Tony Romo, Dez Bryant and Jerry Jones are pitching in as part of the pitch.
The "America's Team'' involvement (which could take many forms, including simple phone calls) is sure to impress Jordan, the center who is a huge Cowboys fan. Maybe it will help with DFW native Aldridge, too.
"We're preparing to do what we have to do, and we're going to go out there and do it,'' Cuban said.
There are no promises of getting both stars. (But
yes, as crazy as it sounds, Mavs fans interested in the very specific breakdown of how Dallas can acquire two big fish can read that Premium exclusive "Double-Pipedream'' details here.)
There are no promises of even getting one. But the Mavs have them in their July 1 sights ... and they have the Cowboys helping their aim.
DONUT 2: Cuban Command Central
A trio of tidbits I've learned about the Mavs Summer Shopping plans:
*Cuban will be headquartered in LA. The original reason for this: That's where the big-shot agents are clustered. An additional reason: Rather than camp out at his home in Houston, Jordan may decide to be in LA instead. And while Aldridge has roots in DFW and in San Antonio (he has children in each city), LaMarcus also has a home in Southern California.
*Chandler
Parsons is flexing that "friend muscle" with Jordan.
They've spent a considerable amount of time together in recent days, first in Houston, now in LA. Other NBA stars seem to be clustering in LA as well. If you see Wes Matthews hanging out with the fellas on the Sunset Strip, especially at a place called "Bootsy Bellows,'' tell Wes "hi.''
*The Mavs are making an effort to not "prioritize" Jordan over Aldridge or vice-versa. This is more about "who picks Dallas" than it is "who Dallas picks." Meanwhile, I'm told that the Mavs entourage is working to not split into two different packs, but instead will go from visit to visit intact. Logistically tricky. But that's the plan.
DONUT 3: Donnie on Monta
I am aware of GM Donnie Nelson's stated view on the unlikelihood of a Monta sign-and-trade.
But I hope Donnie is too acutely aware of the value of such a tool to be so flippantly writing it off.
feelings at once. Monta is to be free and chasing a salary in excess of the $8.7 mil due him had he exercised his option to remain here. But that just means a new Monta chapter for the Mavs.
What if his new team would benefit by getting him via sign-and-trade?
Or what if he's the sign-and-trade lure to a big fish? For that second reason, you want Ellis getting his new multi-year deal to start at $10.32 mil. ... And Dallas - Donnie's dismissals aside -- certainly has no reason to give up on any of that just yet.



DONUT 4: Who'll Play Guard?


I'm constantly asked this question on
Twitter (which is great; keep 'em coming!)
and despite so many reports of who the Mavs like at the 2 and at the point ... The answer is frozen:
The prioritization of Aldridge/Jordan means there is no way to predict the rest of the roster.
They can like Danny Green at the 2 but they can do little about it. They can like Mo Williams or Jeremy Lin at the 1 but they'll have to wait their turn.
We have a heck of a story to tell about the aforementioned Wes Matthews. But we're still fine-tuning it because ... Well, it's too early.
As a general policy, know that paying big money to a guard is not Dallas' Plan A. (That goes for Dragic, Beverly, Bledsoe, all of 'em.) The "who's" and the "how much'es" simply must wait.
DONUT 5: Dirk's Baseball
Our guys were all over this terrific event, from the Friday batting practice to the Saturday night game, which raised $3.4 million for charity. Three highlights: Dez Bryant's aerial flip in left field; Dez grabbing a microphone to encourage fans to reach out to DAJ and LAM via social media; and Dirk ... being Dirk.
The man, the myth, the legend @swish41 #HeroesCelebrity2015 #MFFL pic.twitter.com/Rj3SkZIF1h

— D210TV (@d210tv) June 27, 2015
Get caught up on
all the details of the Dirk's Heroes Celebrity Game here.
DONUT 6: Draft Quoteboard
My man Mark Lane did lots of heavy lifting for us in scrambling around all weekend chasing down Mavs.
Dig into the Mavs Monster Quoteboard here.
DONUT 7: Three Draft Quickies
Why are we pleased so far with the draft-related launch into this summer? Three reasons:
*Justin Anderson isn't a project. He's about as proven a commodity as you'll find at 21. No guarantees come with that. But it's a start.
*Justin Anderson isn't a midget. Dallas' penchant for drafting undersized people is maddening. Anderson is a muscular 6-6 with great length for a guard and 230 pounds to help him survive at the 3.
*As sources
promised us in DB.com's preview of changes in the Mavs' draft/free agency methodology
, Dallas didn't use the draft to cap-carve for free agency. They used 21 to take 21, knowing they can find cap room elsewhere. Heck, they even tried to dip back into Round 1 later to draft another player they saw value in ... And only passed on that because it would've cost them a future pick.
Progress of Philosophy in three ways.
DONUT 8: Dirk On The Bodies
Justin Anderson has an NBA body. Santam Singh Bhamar has a cartoon character's body. For different reasons, Dirk Nowitzki is endorsing both of his just-drafted Mavs teammates.

Dirk is pleased with the Mavericks' first-round selection of Virginia guard Anderson in Thursday's draft.
"I only saw a highlight tape that was like three minutes long and I was really impressed by his athleticism, the way he finishes around the rim," Nowitzki said. "Showed up in the corners on the threes he made. So, hopefully, he's definitely got an NBA body already. And hopefully he can come in and pick up some of the systems. We know Coach Carlisle has a complex system, and he's got to pick that up pretty quick. And I think if he can contribute right away, that would be awesome."
Anderson, a 6-6, 235-pound wing, has the ability to guard anything from small forwards to shooting guards. The 2015 All-ACC Second-teamer can also switch off on power forwards and points guards during screens.
"I think he fits right in with that mold where he can switch everything and stay in front of people and guard multiple positions," said Nowitzki. "He can get out on a break and run and finish with the best of them. So, I think, like I said, if he works hard and stays injury free, he can contribute right away this season ... I think he's going to be great."
Singh, the second-round center, a 7-2, 290-pound project from India, will not contribute anytime soon. He'll start his development with the D-League Texas Legends. Some of this is marketing-related. But Singh's agent is Dan Fegan, who also reps Dallas free-agent target DeAndre Jordan. I'm told that's more than coincidence.
Get
more of our draft coverage -- including our analysis of Dallas' execution of its plan -- here.
DONUT 9: Thanks to our pals and sponsors!
Thanks to
Red Rock Bar & Grill,
our north Dallas hangout for live music and sports!
Meet
LS Wealth Strategies,
with Woody and Bill helping to guide my family and available to do the same for you!

Oh, and guess what? We've opened a bar!
It's called "THE MAVERICK''!
Sports, live music, specialty burgers, all with a Texas flavor ... at 121 and Hebron ... swing on in!
DONUT 10: Come aboard!
The place for Mavs fans to congregate and talk about all these games and all these issues?
On DB.com Boards! C'mon in and sign up for your free membership today!
And when
you are hunting around for Mavs info, click into the DB.com Archives Search Box. Answers galore!
DONUT 11: Meet David Lord
Here's what DB.com's David Lord wrote about LeBron James back on March 12:
It hasn't been said explicitly already, but here is a piece of news that you will hear after the season is over, and it makes more sense if you hear it now:

LeBron James will decline his option for another year and be a free agent again this summer. Book it. The only way that would NOT happen would be if he suffered a career altering injury between now and then.

That decision will have nothing to do with some sort of desire to test the market, go to LA, dissatisfaction with KLove or others, and so on. Even though, you can rest assured that those sort of articles will be written in droves when he makes the announcement.

Instead, it will be a pure financial and contractual play, in which he will replace one CLE contract with a preferable one, and still remain fully lined up for a massive payday in 2016.

THE 2015 DEAL

If he exercised his option on his existing deal, he would play in 2015-16 with one season on the books, for $21,573,398.

Instead, he will decline that option, and sign a new two year deal (the second year being a player option). The first year will be for no less than $21,676, 620 and will probably be even higher than that (with a $68M cap, $22,259,878) and the 2nd year (the player option year) being 4.5% more (with a $68M cap, $23,262,572). With a $68M cap, he'd have the assurance of more than $45.5M in a catastrophic scenario, while also being able to be a free agent again in a year.

THE 2016 DEAL

The 2016 summer will be the one with the giant cap increase due to new TV revenues. Latest numbers being thrown around opine that the cap will land in the $88-92M range that summer.

With a $90M cap, LeBron could sign in 2016 for a 1st year salary of almost $29.5M and a total max deal for him would be $131M over 4 years. (Elsewhere, Durant would be eligible to re-sign with OKC for 5 years/145M+.)

As an aside, the cap jump will be so huge and the max contracts will get so big that in 2016 we may see a world where teams no longer hand out max deals like candy, opening up weird competitive bidding for players that we're not used to seeing

The summer of 2016 deals and strategies will be further confused by the fact that contracts may be signed in 2016 for multi-years, but the CBA will end only a year later and be revised in ways no one will be able to anticipate. So teams may be forced to make $100M+ decisions in the dark, and $100M is a big number to throw around without being sure what your future as a business will look like or what kind of hit you might take during the turmoil of getting to a new labor deal.
And now, here we are, four months later ... and David Lord is right on the money. As usual.
D-Lord is, simply, the best cap/rules/trade/acquisition NBA journalist in the land. Period. He privately advises some of the biggest names in basketball media and is even on Larry Coon's prestigious group of advisors. And you get him here, exclusively, at DB.com.
you get to play in D-Lord's sandbox on Premium DB.com Boards, where the smartest Mavs fans hang out and exchange ideas ... and get questions answered directly by Lord and Fish.
Please enjoy DB.com at whatever level you wish!