The
Dallas Mavericks
have set up camp in Los Angeles, where principles like owner Mark Cuban and Chandler Parsons will be headquartered. I'll bullet-point the latest in the plans to pitch free agents LaMarcus Aldridge and DeAndre Jordan come July 1: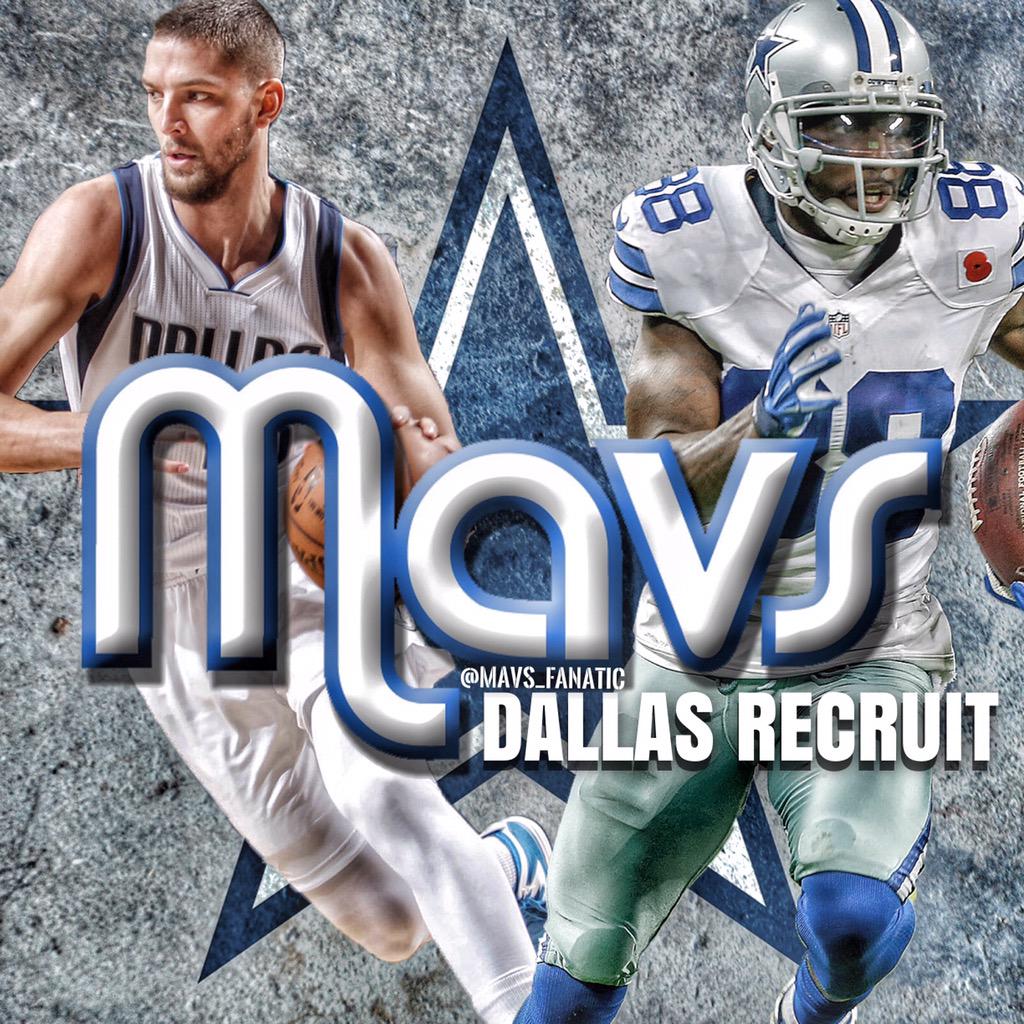 *Through our friends at
sports-marketing firm AthletePromotions.com
, Jordan himself is expressing pleasure upon learning of the DB.com exclusive that has
Dallas Cowboys
headliners
Dez Bryant
,
Tony Romo
and Jerry Jones involved in his recruitment.
(That story of a Cowboys/Mavs double-team is here.)
"I'll seriously consider it,'' Jordan says regarding accepting Dallas' pitch and coming "home'' to Texas, where he has family ties in DFW.
*That's not the same as a "done deal.'' Premature reports of that nature are simply wrong. Parsons and Jordan have been hanging out, first in Houston and more recently in L.A. They were together at a Sunset Strip nightclub called "Bootsy Bellows.'' Cuban (also in LA over the course of last week doing some "Shark Tank'' business) was not part of their partying party. ... and would be foolish to have been, as that would constitute tampering.
*DeAndre plans to set up his camp in LA. So Cuban and company will be where he is, and where the agents are ... and the Mavs plan on being among the four clubs (Clippers, Bucks and Lakers) who get an audience with him.
*DB.com has learned that the Mavs anticipate that LaMarcus Aldridge will set up camp in his native Texas. ... but they are not sure if that'll be in Dallas (where one of his young sons and his mother live) or in San Antonio (where another of his sons lives.) His choice of July 1 cities could dictate his choice of bidding clubs. The Spurs want in. So do the Lakers and many others. Worth noting: Aldridge also has a home in Southern California.
*Jordan and Aldridge won't listen to all of this because they are Texas natives (though that can't hurt); they'll do it because listening to the pitch and being courted is a big part of the entire point of this exercise. Oh, and they might listen to it with more intensity (and more entertainment) with Dez, Romo and Jerry involved.
*Despite the logistic challenges, Cuban continues to hope that his same large entourage will pitch to both players, and treat both as Choice No. 1. In other words, the club is trying to avoid sending one group of reps to one guy and another group to the other.
And absolutely hoping to avoid having one feel like he is more desired than the other, as we explain here.
*There are lots of other moving parts in terms of
other players to make up the roster. Search DB.com Mavs Archives for names you wish to learn about.
*What happens in
the unlikely event both if both
DeAndre Jordan
and Aldridge say "yes'' to the Dallas pitch? There are ways of making that work for the Mavs, as DB.com reported earlier this spring in this exclusive and detailed breakdown. I've seen dozens of reports that it's impossible. Those reports are wrong. The correct word is "improbable.'' I'm not making a prediction that the Double Pipedream WILL happen; not at all. But it's important to know that it CAN happen.
An example: Operate as an over-the-cap team. Instead of working with about $70 mil in cap room (a $67 mil cap plus a $3million-ish room MLE), the limit would become the $85.7-mil apron. Within the confines of that $85.7-mil cap, the Mavs could have more assets, be able to retain more existing players and picks rather than get rid of some to clear room, and there could be a bigger MLE (about $5.5 mil) plus a BAE (about $2 mil) to use to add more talent.
One player would need a deal starting at $19 mil. Two? They'd each need $19 mil (assuming they'd desire the max, which they would). To get one guy in this fashion? The Mavs would need to salary-match by sending away at least $14 mil in outgoing salary (to somewhere). The issue would be to find the right set of outgoing to somehow entice both LA and Portland.
*We believe there's an easy, obvious, no-brainer answer regarding LA. If the Clippers lose Jordan, they would lack cap space to replace him in free agency. So the answer there would be to swap Chandler for Jordan in a 1-for-1 swap, with TY getting a deal starting at $14 mil. (If LA negotiated a bit smaller deal with TY, the Mavs could and would add a minimum salary player or two to the swap.) As a major consolation prize, that's a huge win for LA, and doesn't seem hard to envision at all, if Jordan opts to come to Dallas.
(Read more on 10 Mavs Steps to DeAndre here.)
In fact, this one is such a fit and also a necessity for LA that we believe if the Mavs were signing Jordan using cap room, LA would be the one desperately pursuing a sign-and-trade instead, and the Mavs could coax a future pick and perhaps other assets for cooperating.
*But when it comes to Portland, the path is not as clear. That goes for Aldridge as part of a Double Pipedream or Aldridge by himself.
The primary asset to use in a salary match for a trade with the Blazers (beyond TY) would be either Ellis (if he leaves) or Rondo, but we don't think either would necessarily be of interest to the Blazers, nor net a salary big enough to match $14 mil. (It must be noted that Ellis, coming off an $8.36M salary with the Mavs, would only count for his prior salary, if the new salary exceeds $10.32 mil. Thus, Dallas is hoping for that big payday for him.)
If Rondo gets a deal from someone that exceeds $10M-ish, then ideally the Mavs could cobble together a multi-team deal in which Rondo and Felton are sent here or there, with Aldridge landing in Dallas and some desirable assets going to Portland. The possibility that the Mavs might simply sign
Lamarcus Aldridge
, with Portland getting nothing instead of something, would be the key, so the Mavs would have to make sure that Portland's return on the deal is seen as a plus to them. And who knows, maybe Rondo or Ellis have real appeal to them, in which case a deal would be much easier.
*The over-the-cap route is iffier. And getting both guys is wildly iffy. But again, this sign-and-trade path works for just one guy, too ... And given Dallas' swings-and-misses in big-fish free agency, one guy would be wonderful. And one of those guys is now on record as saying he'll "seriously consider'' the Mavs.
It's a start.