DB.com has verified the Dallas Mavericks' interest in Wes Matthews, late of the Blazers. We were prepared to call this a "Tier-2'' interest
because we know about what Dallas wishes to do regarding its big-fish targets and the money that involves.
And Jordan had his opening-night dinner in LA with the Mavs ... but, stunningly, so did Wes.
Nevertheless, we were told that Matthews and Danny Green were Tier-2 peers, one not preferred over the other by Dallas.
But the Spurs have their preference and they keep their guy, Green agreeing to a four-year, $45-mil deal down by the Ugly Ass River.
So the cupboard gets slightly more bare. Could you get one big fish and supplement that with the signing of Wes Matthews? It's mathematically possible, for sure. And it's a Dallas desire. Jordan and Matthews, would, on paper, be a summer home run. Maybe two home runs. Additionally, maybe Green's dead just set a positive parameter to tug Wes down from that $15 mil thing.
If.
The Mavericks are aware of, and impressed with, Matthews' rehab work following the ruptured Achilles back in March in a game against the Mavs. Reports that he's "ahead of schedule'' are true and important. Like all of us, they are also acutely aware of how Wesley Matthews -- who last year averaged 15.9 points, 2.3 assists, and 3.7 rebounds per game -- fills a glaring need at the 2-guard with Monta's departure.
Plug in a starting lineup of, say, Jordan, Dirk, Parsons, Matthews and Devin (or a Mo Williams) and Dallas is on a fruitful track. The 6-6 Matthews, 28, also happens to be a San Antonio native and a close friend of fellow Blazers free agent LaMarcus Aldridge. (And a hang-out pal of Parsons'.) So, for fun, plug in a starting lineup of Aldridge, Tyson, Parsons, Matthews and a PG, with Dirk coming off the bench ... and yeah, more fruit.
Could you work around Matthews' stated desire to make $15 mil to start with his new contract? Yes, you could work around it by not paying him that much. USA Today reports that Dallas would like to make it around $12 mil. Green will tell you that sounds just fine.
Could you work around the injury and rehab? There's your problem, and all the smiley-face pronouncements of being "ahead of schedule'' don't change the facts. Which, are, according to DB.com's Dr. Chuck Perry (yes, he's actually a medical doctor) and DB.com's Jeff Stotts (an athletic trainer) ...
devastating.
Data for 18 basketball players with Achilles tendon repair over a 23-year period (1988-2011) were obtained from injury reports, press releases, and player profiles. ... Seven players never returned to play an NBA game, whereas 11 players returned to play one season, with eight of those players returning for at least two seasons seasons. Players who returned missed an average of 55.9 games. ...

The NBA players who returned to play after repair of complete Achilles tendon ruptures showed a significant decrease in playing time and performance. Thirty-nine percent of players never returned to play.
Those are real numbers. So are these: Somewhere between eight to nine months post-op would be most realistic estimate of the rehab period. So November or December would be sound bets ... and that would be great for Matthews. Kobe missed 240 days and Billups missed 296 days with this injury and if you come back fine from it ...
The negatives here don't have to be Wes Matthews' fate, of course. He can get a long-term deal (with Dallas or elsewhere) and be only slightly affected or maybe not affected negatively at all.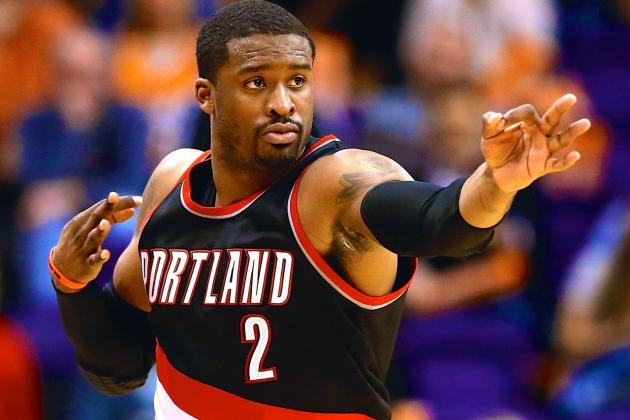 "Right now, my health and me returning to the court takes precedent over packing up and moving and free agency," Matthews recently told the Portland paper. "It's the only thing I can really, really control 100 percent."
But honestly, he and the Mavs can't even control that. This can really work out beautifully ... "if.''