The Dallas Mavericks have their "boots on the ground'' in LA, originally planned as Mark Cuban's home base but now the place where Cuban, Donnie Nelson, Rick Carlisle, Casey Smith, Chandler Parsons and Dirk Nowitzki will serve as the recruiting entourage in July 1 meetings to be held with DeAndre Jordan (as in, right now, we've just learned) and LaMarcus Aldridge (in the afternoon). And Stein is reporting that Wes Matthews is enough of a priority to also get a Mavs audience tonight in LA.
The sessions will be a culmination of
the groundwork put down in recent weeks (much of it detailed here). There will be Xs-and-O's talk, there will be contact from Dallas Cowboys headliners Dez, Romo and Jerry (as first reported by DB.com) and there will be, eventually, money talk.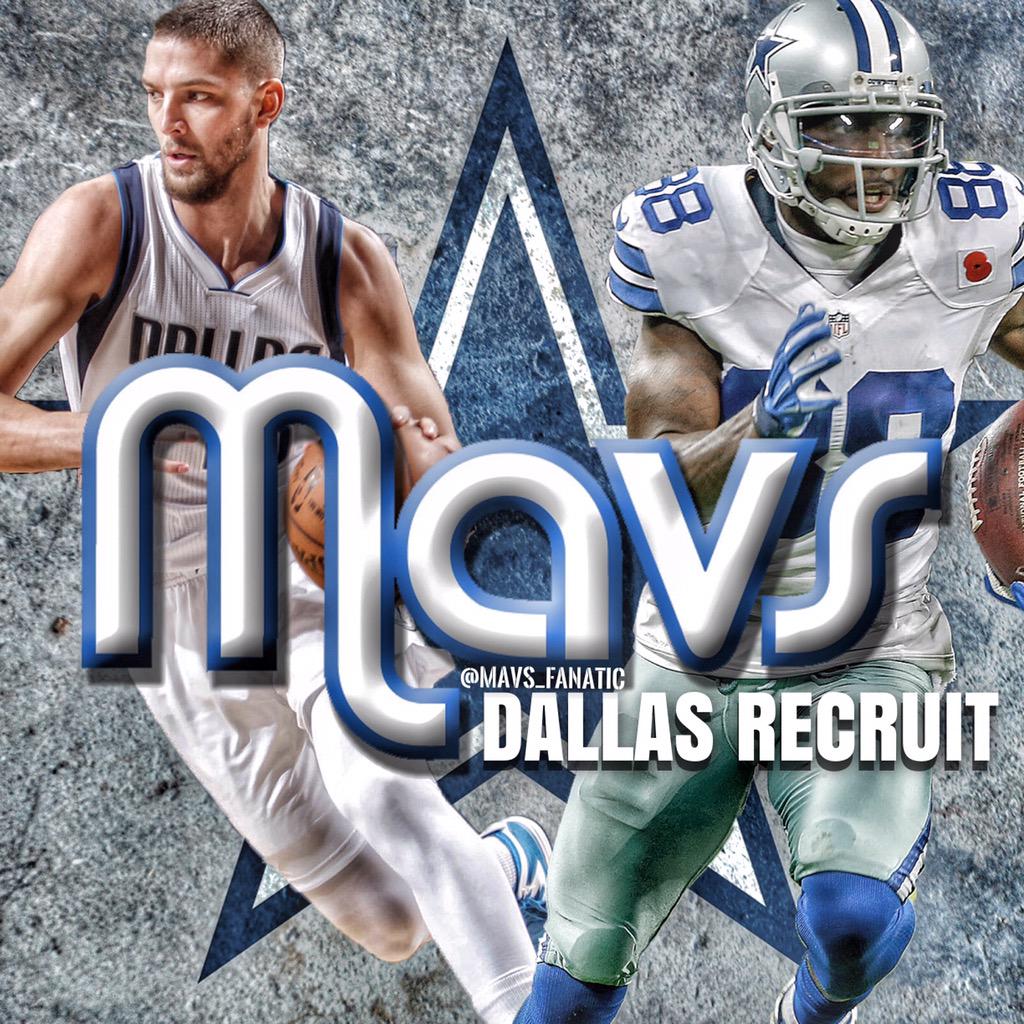 That's the important part, of course, and part of Dallas' plan is to illustrate that with the coming bulge in NBA revenue and the cap,
you don't need a five-year deal (with your original team) to get that $100 mil deal. Hey, look here, guys, you can get it in four years in Dallas!
Also key:
Sources tell DB.com that Cuban in particular is intent on not allowing one big fish to think he's more-desired than the other.
This is an organizational directive, and as we'll show in the coming hours, it extends beyond just Jordan and Aldridge.
(Going in, know that the concept goes for Danny Green and Wes Matthews. ... though the Wes meeting changes that. And it also went for Aminu and Boozer and Shumpert and Brandan Wright. ... though AFA getting a four-year, $30-mil deal in Portland changes that, too. And Mo Williams and Jeremy Lin and JJ Barea. Love, all around. Phone calls at 11:01 DFW time to express that love. No money just yet. Just love.)
There will be cracks at Sign-and-Trades with Rondo, Ellis, and maybe most likely of all, with Tyson Chandler -- who makes for a perfect fit should Jordan wish to come to Dallas and TY agree to go to LA. Sources tell DB.com that both clubs are well-aware of the fit and both see Jordan as the prize but Tyson as a fine runner-up.
Yes, we know
GM Donnie Nelson shut down the idea of a Monta sign-and-trade. Don't believe it. It's "posturing." Negotiating in advance, as we explain here.
And there will be misses. A great example of taking a non-linear swing is ... Jimmy Butler.
Butler's agent (we're sure) leaked that Dallas was going to meet with Jimmy Butler before his Chicago Max QO.
You know Jimmy Butler, a superior young shooting guard who can attack, make 3s. and defend. Although we knew he was a longshot for the Mavs in free agency because of his restricted free agent status that would allow the Bulls to match offers, he was so desirable that we put him at the top of our first wish list of guards for the Mavs to pursue this summer, just in case. But that was in early May, and much has happened since then. Now what? Our update, and the Mavs' plans regarding him, demonstrate the sort of non-linear approach required here..
Remember when we first began looking at the summer landscape, all the way back in early May? Back then, the guard that made the most sense to us for the Mavs was Butler. He's big for a guard, he can defend, he can attack, he can make threes, and he's even a Texas kid. We knew that his restricted status made him a longshot, but we felt that he still made sense for the Mavs to explore, just in case.
Since then, we saw the following::
*news came that the Mavs indeed had him on their list
*amid angry objections from Bulls fans in response to that news, we received reports of Mavs' plans to meet with him in free agency
*
Monta Ellis
declined his option for another year, increasing the Mavs' need for a shooting guard
*word emerged that Butler might be interested in a shorter deal, rather than a longer one
*the Mavs drafted Justin Anderson, who is penciled in at shooting guard and projected in the 3-and-D mold
All of that was expected. However, within the last 48 hours, there have been two new developments that truly matter.
First, the Bulls decided to offer Butler a "maximum qualifying offer." That offer, as specified by the NBA's CBA, consisted of a written standing offer for every penny that the Bulls can possibly offer him - max years, max raises, no if's, with every penny guaranteed. It assured that Chicago was willing to step up and outbid everyone. While other teams could only offer Butler up to $67 million total, the Bulls made an opening offer of $91M guaranteed.
Besides the money itself, that MQO changed the landscape in another important way. By rule it put strict limits on what other offers Butler might get. Other teams now can only offer him 3 or 4 year offers, not shorter. Chicago will no longer have to worry that Butler might bring a short-term offer to match.
As a result, given the demand for his services, it's a virtual certainty he will end up with only 3 contractual choices to pick from, unless he can persuade Chicago to add another:
(1) the regular "qualifying offer" from Chicago of about $4.4 million for only 1 year, which Butler can sign and then be an unrestricted free agent next summer,
(2) the "maximum qualifying offer" from Chicago of 5 years, $91 million, or
(3) an offer from another team of 3 years, $50 million with a player option for a 4th year at about $17 million - an offer that, if Butler accepted it, could simply be matched by Chicago.
Given such choices, it is now a virtual certainty that Butler is not in play at all. The best case scenario for outside teams that want him, would be to pursue him in 2016 after (and if) he signs that $4.4 million deal for one year. But while that's possible in theory, it's very unlikely. He might try to use the threat of the one year to leverage a shorter deal from the Bulls that he might like better, but in any event, he should be a lock to end up this summer with a deal with Chicago.
In the wake of that development, the second new development occurred, in relation to Butler and the Mavs. We inquired, from sources who would know, if the Mavs still had plans to meet with Butler in free agency.
The answer? "No. He's not going to be available."
And that ends that. But ... it's just the beginning for this sort of thinking. You cannot hit a homer if you don't step to the plate. New Orleans just got Anthony Davis to agree to a new five-year, $145-mil contract extension some thought unlikely for a big star in a small market. How did New Orleans do it? Kawhi Leonard is staying with the Spurs on a five-year, $90-mil extension. How did the Spurs do it? By asking. By offering. By trying. You don't pout over Butler staying in Chicago. You quickly move to the next pitch.
That's what this process is about, as you click here all night and day
and here, too, on DB.com Boards:
Boots on the ground now. Maybe another Chandler Parsons-led party at Bootsy Bellows later.