The
Dallas Mavericks
very late Thursday pulled off a very neat trick: They've won the fight for free-agent shooting guard Wesley Matthews without either side knowing exactly what the winning bid is.
The Mavericks didn't "money-whip'' Wes away from the Sacramento Kings, who dangled a four-year $64 million offer to the former Blazers standout. Dallas' agreement with Matthews is for four years (per David Aldridge, the first to report) ...
and the Mavs presently have $12 mil of room for him ... and a big fish like DeAndre Jordan takes up the other $19 mil. ...
And if that second shoe drops, it all fits.
A source close to Jordan told DB.com on Thursday afternoon that it's "50/50'' between his home-state Mavericks and his present-employer Clippers after positive meetings with both suitors on Thursday. The Mavs also believe they are in the LaMarcus Aldridge sweepstakes.
(There are plenty of other moves available, including trades that can help Dallas "expand'' its cap room. Some sign-and-trade spitballing here.)
But the smartest bet right now is that Matthews can be the shiny bauble that breaks Jordan's "50/50'' tie. Matthews is a standout defender and quality 3-point shooter -- a much-coveted-in-Dallas "3-and-D'' guy at the 2-guard spot who averaged 15.9 points per game for the Blazers last season. His obvious downside: he's only four months into his recovery from a torn left Achilles tendon, an injury that is historically difficult to recover from. The timetable for his return to the court is slated to be early December.
Matthews, Jordan and Dallas' Chandler Parsons have forged a tight kinship over recent days. If Dallas pulls off this Junior-Pipedream'' (Jordan's people suggest he'll take a day or so to decide) CP will have earned much of the credit for having backed up his boasts as a "recruiter.''
Parsons helped arrange an impromptu dinner with Wes in LA the night of July 1 when free agency opened while another part of Dallas' entourage conducted another impromptu get-together with Jordan. Jordan's official meeting came the next morning. Dallas also obviously re-contacted Matthews to make the offer endorsed on some level by Dallas athletic trainer Casey Smith.
The negatives here don't have to be Matthews' fate, of course. He can be only slightly affected or maybe not affected negatively at all.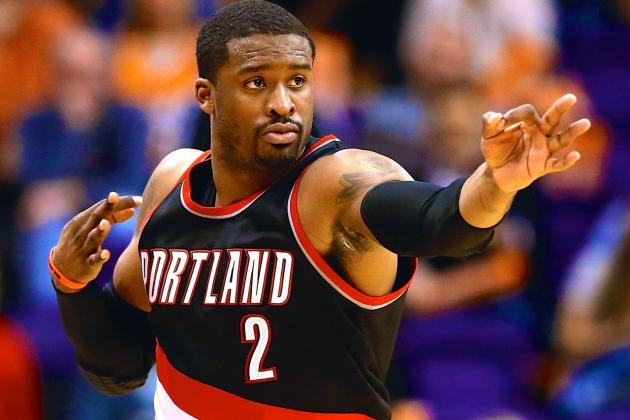 "Right now, my health and me returning to the court takes precedent over packing up and moving and free agency," Matthews recently told the Portland paper. "It's the only thing I can really, really control 100 percent."
But now he and the Mavs might be in control of something else: The possibility of a second shoe, a $19-million shoe, to drop.
Related Story: Dallas' DeAndre Dinner and 4 Paths of Free Agency

Related Story: How Mavs Can Pay DeAndre $100M

Related Story: Premium: How Wes Matthews' Recover Must Work