DeAndre Dream Delievered!
This is a rarity, not just for the
Dallas Mavericks
but for every team that dares step to the plate swinging for a grand slam: Max-money/max-talent free agents just don't often move, and Clippers center DeAndre Jordan had plenty of reasons to follow suit.
But he didn't. He and the Mavs have busted through my "One-Percent Chance Rule'' -- with before-July 1 legal courtship (in the form of Chandler Parsons partying and brotherhood) and with post-July 1 dinners, presentations and shiny baubles that also include an agreement with another medium fish in Wes Matthews.
And suddenly, the DeAndre Dream is delivered.
There is much more to come here. What will the cap be and what exactly will the newcomers get paid? How much Sign-and-Trading can Dallas do to muscle above the cap in order to add more pieces? When will Wes be healthy, when will Parsons be healthy, how will it all fit on the floor ...
Part of the DeAndre Dream entailed paying him a max salary, in some form. To define a max deal, in round numbers it would start at $19 mil, and with max allowable raises, and max number of years from the Mavs it would total $81.13 mil over four years. There are other wrinkles available, but that's the start.
This is a special player, not without flaws, but special nevertheless, at 26 already one of the better centers in the league and on a clear path to appear "underpaid'' as player payrolls will be going through the roof in future years. Free-throwing aside, this is a difference-making force. The Clippers center was good for 11.5 points per game while grabbing 15.7 rebounds, blocking 2.3 shots, and shooting 71 percent from the field. LA coach Doc Rivers talked of him as a Defensive Player of the Year finalist. He's an elite rim protector and he's an 82-game ironman who is presently the holder of the longest streak in the NBA.
A look at what each year's salary for Jordan, starting at the max, would look like compared to the projected max in each future year.

A $20.7-mil or $21.6-mil salary for one of the top centers in the league is almost certain to be a huge bargain by the time we get there. ... but it can be argued that LaMarcus Aldridge (or any other free agent who flirts with Dallas this summer) might be "more worth it.''
The
Warriors' Game 5 win in the NBA Finals was highlighted by both Golden State and Cleveland playing "SmallBall.''
Twitter was flooded with "it's-the-death-of-the-center!'' claims.
Actually, a reverse truth was revealed: While there is an attraction to employing an army of interchangeable parts (as the Warriors do), the use of SmallBall doesn't de-emphasize the traditional center's importance ... it EMPHASIZES it. It means having one sets your team apart.
Jordan is that caliber of traditional center.
And by the way: Parsons and Chandler fit that Warriors mold as interchangeable defenders. So maybe there is a way to do both ... and still, of course, employ the brilliance of Dirk and be creative and quick on the perimeter, too.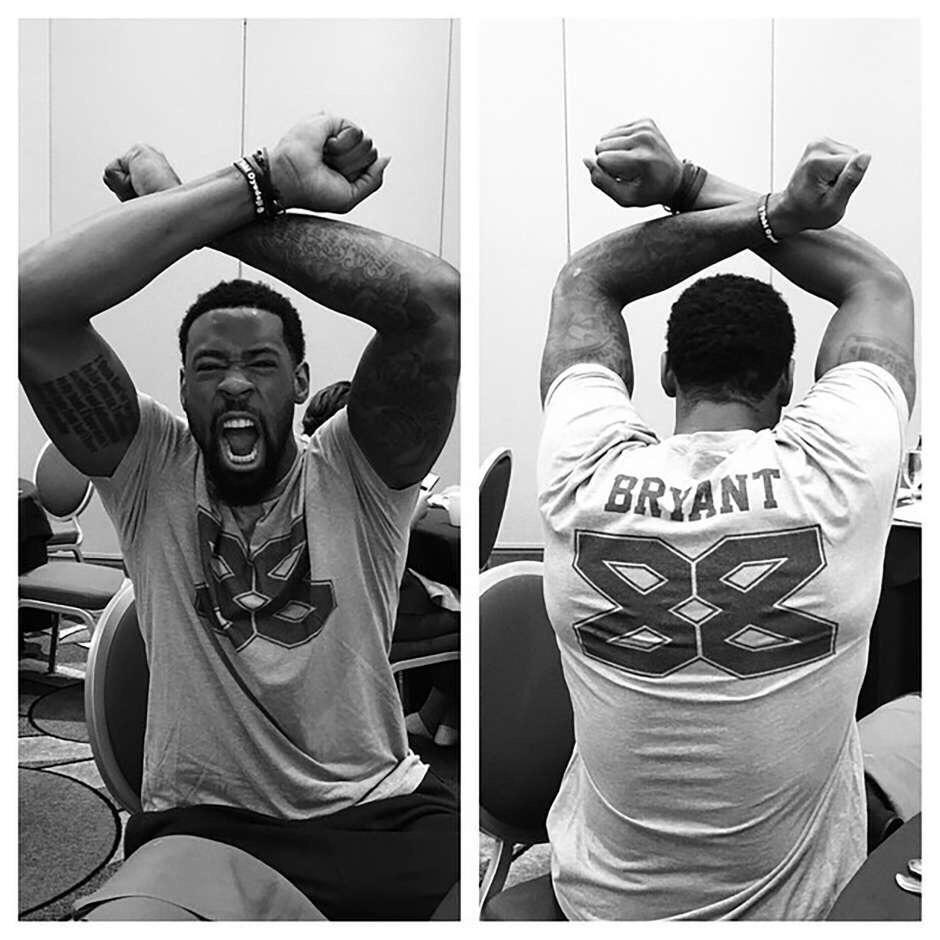 How did Dallas prioritize? Jordan picked the Mavs as much as the Mavs picked Jordan, and that's fine. Once Matthews came aboard late last night, some inside Mavs HQ felt like a "package deal'' might come together. What did DeAndre buy into? Maybe all of it, from the lack of a 13.3-percent California state income tax here (one seemingly easy way to beat the other finalist, the Clips) to the participation of Cowboys headliners Jerry Jones, Tony Romo and Dez Bryant to a promise that he'd be allowed to be an offensive force ...
So Jordan said "yes'' to Dallas. What happens next?
You start working on more "medium pieces'' and "little pieces'' via, among other techniques,
Sign-and-Trades. We've got three ideas here
...
and more ideas here
... and more to come. Monta Ellis (Indy-bound) is an important name. So might be Hibbert. And Aminu (Portland-bound). So might be Rondo. Same with Felton. How would a sign-and-trade work? How does it help? Click those links for details, but one goal is to get above the cap, which effectively "expands'' your cap beyond the predicted $68 mil or so.
As we said going into this process ... as we've said every summer when Dallas steps to the plate, much to the worried chagrin of some: It's a "lottery ticket'' that costs nothing to purchase. It's a free spin of the wheel. And the only thing more foolish than to think the Jordans and the Matthewses
"would never''
come to Dallas would be to fail to scratch that lottery ticket in case they
might
.
You scratched. You won. Finally.