How many "What The Bleep'' moments did the Dallas Mavericks endure on the July 1 opening of NBA free agency? If you count the handful of positive ones with the mountain of stunners ... yes, Dirk, "10'' might do it.
What The Bleep 1
The double-meetings with DeAndre Jordan.
ICYMI: #Mavs sources told us last night impromptu dinner w DeAndre WASNT 'the meeting.' Official pitch will happen in LA this am.

— mike fisher (@fishsports) July 1, 2015
Dallas hasn't come away with an agreement with its prize catch yet; he still must meet with his present-employer Clippers first. But
there are still positive tea leaves here between Jordan and Dallas
... not regarding the length of the meetings but rather the nature of them and the number of them.
DJ met with Mavs owner Mark Cuban, Dirk Nowitzki, Coach Rick Carlisle, prez Donnie Nelson. Was told DJ felt "Dallas set the bar high."

— Brad Turner (@BA_Turner) July 1, 2015
Jordan would mark Dallas' first-ever big-fish catch (not counting Dirk's re-upping). In the meantime, it's hoped the Clippers fail to match Dallas' "high-set bar.''
What The Bleep 2
Wes Matthews' popularity.
The Mavs arranged that initial Wes impromptu dinner ...
I'm also told that the Kings have secured a visit this week with Wes Matthews, putting Sacramento in the running with Dallas and Toronto

— Marc Stein (@ESPNSteinLine) July 2, 2015
So we go from "heads'' to "hearts'' ...
Last night: heady details on Achilles Guy not worth 12M, let alone 15M. Tonight? My #Mavs heart willing to give Wes anything he wants.

— mike fisher (@fishsports) July 2, 2015
Maybe Jordan is the piece that lures Wes. Or maybe Wes is the piece that lures Jordan. Get 'em both? That's a well-executed Plan A. Something less than that? "WTB.''
What The Bleep 3
Tyson Chandler says goodbye. Again.
#Mavs Lose Tyson To #Suns .. Musical Chairs Thinning as Free Agency Plays On http://t.co/XUUSCfI6TN pic.twitter.com/6WLuPtdX75

— mike fisher (@fishsports) July 1, 2015
Chandler warned us. Last weekend at Dirk's baseball game, while Dirk was professing his familial love for TY, Tyson noted, "Business is business.''
Mavs are like a skydiver in air whose backup chute fell off. Still headed in the right direction, but no wiggle room now. All or nothing

— David Lord (@DLord_DBdotcom) July 2, 2015
There goes the parachute. We're truly of the opinion that Dallas needs to cease in believing that it is so strong in relationship-building that somebody like Tyson Chandler is going to sit on his hands while waiting to be used as a Sign-and-Trade tool. ... or to be used at all, beyond a team's No. 1 center. Phoenix told him he's No. 1. Dallas made him feel like No. 2.
What The Bleep 4
The high price of doing business.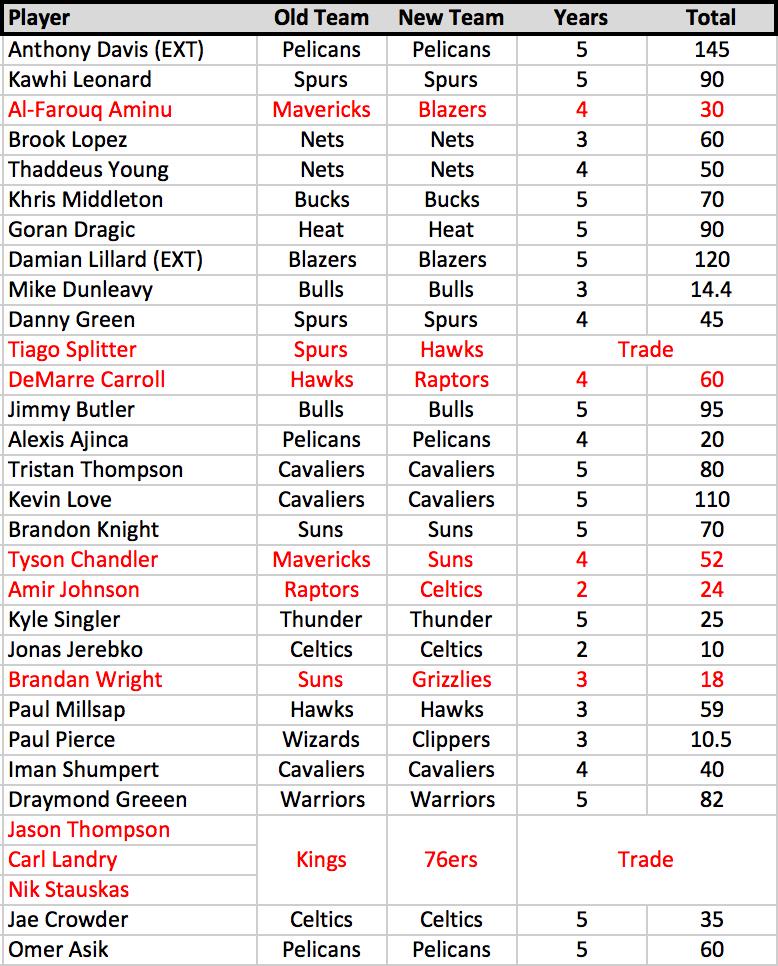 Many are quick to point out when contracts are "dumb money'' or "too much'' or a "bargain.'' We all do it all the time. But that's a lot of money and a lot of movement and while it doesn't necessarily mean Dallas needs to "hurry up,'' it does remind us about the truth of the spending: Every dollar will be a smart dollar if it helps its team win.
What The Bleep 5
Aminu as two-fold case-in-point.
The high price of doing business?
Aminu wasted little time after the stroke of midnight to accept a whopping deal in Portland.
Is $7 mil a year too much? Not in this NBA. Should Aminu have waited for Dallas to get around to him? Not in this NBA.
What The Bleep 6
Monta's visits.
In addition to Pacers, the Hawks, Nuggets and Kings calling on Monta Ellis, source says. With Dwyane Wade in limbo, Heat could be factor.

— Ken Berger (@KBergCBS) July 1, 2015
He met with Indy. He'll meet with Sacto. This doesn't have to register as a negative. Yet. Keep an eye on that magic $10.032 mil number. But it's still a "What The Bleep'' for Mavs fans who still can't quite figure out why Dallas couldn't manage/tolerate his moodiness ... but so many other teams seem willing to do so.
Now, we're still of the opinion that the Kings management is waiting to be fleeced, somehow, some way. Maybe there are two ways ...
What The Bleep 7
Rondo to the Kings, too?
The Kings clearing the salary cap space to pursue free agents Rajon Rondo and Wes Matthews, league sources tell Yahoo Sports.

— Adrian Wojnarowski (@WojYahooNBA) July 2, 2015
George Karl successfully coached a team of knuckleheads in Denver. Does he wish to do it again in Sacto? Monta and Rondo are friends. Maybe they team up again there ... and maybe there is a S&T available to Dallas that can salvage a good relationship gone wrong (Monta) and a bad relationship that was always wrong (Rondo).
What The Bleep 8
Recruiting LaMarcus.
We'd poke fun of the Lakers' failure here except ... Mavs Nation has no room, at this moment, to poke fun.
"@SportSoSimply_ so Phoenix took our center an used him in order for them to be a legitimate landing spot for LA, / AND HES RECRUITING LMA!

— mike fisher (@fishsports) July 2, 2015
So Dallas' weapon that might've been a way to lure LMA becomes Phoenix' weapon to lure LMA? If the Suns win Aldridge, Mavs fans will have the right to wonder: What if Dallas simply had announced it was retaining Tyson, and then send Tyson and Chandler Parsons in as a team to lure LaMarcus?
What The Bleep 9
"Front-runner'' talk.
#fishtips 4) I am wary & weary of 'front-runner' baloney. This ain't Dot Races.

— mike fisher (@fishsports) July 1, 2015
At different times from different reporters the Aldridge "front-runner'' has been Portland, Dallas, San Antonio, Lakers, Knicks, Phoenix and maybe Portland again.
You know how you can recognize a "front-runner''? It's not when an agent texts a reporter and types those words. It's when a player responds to a team by grabbing a pen.
#fishtips 4) I am wary & weary of 'front-runner' baloney. This ain't Dot Races.

— mike fisher (@fishsports) July 1, 2015
What The Bleep 10
Ten, huh?
Over/under of how many what the ... moments you had since free agency started! I say 10....

— Dirk Nowitzki (@swish41) July 2, 2015
Ah, how we look forward to a hand-clapping Dirk tweet rather than a head-scratching Dirk tweet.