NFL Commissioner Roger Goodell has been under intense scrutiny over the past couple of seasons for his inability to sufficiently police NFL players for their transgressions off the field. From Ray Rice's (original) ridiculously short two-game suspension for knocking his wife out-cold like Mike Tyson in his prime would have knocked out a lightweight (one of a myriad of other NFL domestic violence cases recently), to the blatantly mishandled case of New England's "Deflate Gate", Roger Goodell's record for enacting discipline has been less than stellar.
Mark Cuban, the NBA's most outspoken owner, has been the driving force behind multiple internet startups, television properties and a particular phone application called Cyber Dust, which gives users the peace of mind of having their messages disappear forever after a certain period of time; the perfect avenue for someone as boisterous as Cuban.
The Mavs owner has never been one to shy away from sharing his opinions on the sports world's biggest controversies. As such, it was no surprise when Cuban, who has already been fined more than $2 million by the NBA since purchasing the Mavs, shared his thoughts on just another one of the NFL's recent string infamous calamities. In this particular case however, Cuban has hit the proverbial nail on the head.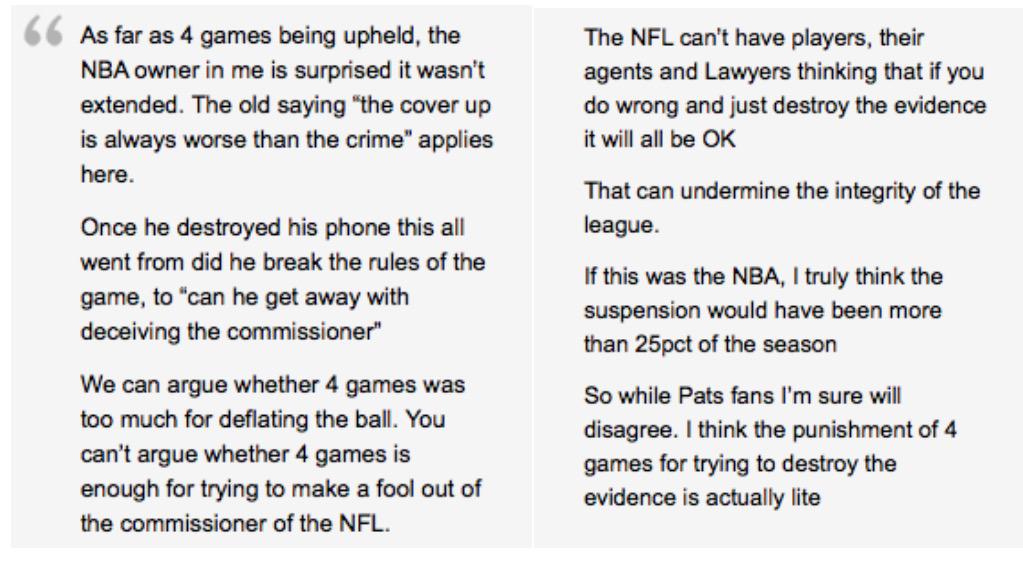 Cuban makes some great points here. Most notably that the NFL's golden boy, Tom Brady, is basically being given a 'get out of jail free card' for destroying evidence that was extremely pertinent to his case – something that is a serious offense in real world criminal investigations. (Yes, I know this isn't a criminal investigation being conducted by a law-enforcement body; but the NFL will argue that Brady blocking their investigation represents a violation of his CBA agreement ... so, it's serious enough.)
Moreover, Cuban indirectly cites new NBA commissioner Adam Silver's record for cracking down on NBA owners and players who do not uphold the integrity of the league's rules and values. ... The best example of this being Silver's dismissal of former clippers owner Donald Sterling for his inflammatory and racially driven remarks during the 2013-2014 season.
Now, opinions may vary on whether or not Brady's original offense is really that big of deal. Aaron Rodgers is among the many who have even been quoted as saying that he likes to over inflate his footballs.
"I like to push the limits of how much air we can put in the football, even go over what they allow you to do," Rogers said in reference to Brady's incident.
Do we see any suspensions for A-Rodge? Of course not. And while this demonstrates the almost hilariously inconsistent way in which the NFL is governed, that's not the issue here. The issue is that Brady destroyed evidence that could be used against him - evidence in which the investigators had explicitly requested access to. Given the facts, it's hard to believe that Brady's suspension not only remains at four games, but also that Goodell is seemingly apathetic to not only the fact that Brady broke the NFL law, but also that Brady is making him look like a clown.
Given the same situation, would Adam Silver have allowed LeBron James to get away with such obvious infractions? Probably not. Moreover, would Silver allow James to make him look like a fool to the entire world? Almost definitely not.
As Cuban notes, "The NFL can't have players, their agents and lawyers thinking that if you do wrong and just destroy the evidence it will all be OK. That can undermine the integrity of the league.''
One thing is certain – Mark Cuban has every right to question the NFL's handling of Brady's case. ... As do any of us who desire a little truth with our sports.
Related Story: A Look At New Mavs Center Salah Mejri

Related Story: Mavs Hope To Harness A 'Pissed-Off' Wes

Related Story: Donuts: The Roster, The Contracts, The Kids