DONUT 1: Anti-Tanking Expansion?
Dallas Mavericks
owner Mark Cuban never said or wrote the words "tanking" or "revenue," but both concepts are subtlety tucked into a suggestion he's making to Mavs fans (via CyberDust) and to NBA owners (via meetings in Las Vegas) proposing the expansion of playoff brackets from eight to 10 teams per conference.
"With all the concern about getting a high draft pick taking precedent over winning games, the disparity in talent between conferences and the general challenge of team building, I asked the question (before NBA owners)," Cuban wrote. "Why do just eight teams per conference make the playoffs? Why not 10?"
Would more playoff teams equal less tanking? Would it up viewership and up revenue?
"It would keep things interesting for fans longer into the season," Cuban wrote.
Cuban suggested giving byes to the top seeds in each conference, just one of the rewards of the idea ... Along with, of course, an increase in revenue and maybe a decrease in tanking.
"(I'm) curious," Cuban concluded in his fan-directed message, "what everybody thinks of the idea?"
DONUT 2: 10 As The Magic Number
We can
discuss "what everybody thinks of the idea'' here on DB.com Boards
... but we think our man Jeff Cavanaugh has already nailed the funniest/best take:
Of course Cuban wants 10 teams in the playoffs, he's gonna finish 10th. Sad face.

— Jeff Cavanaugh (@JC1053) July 16, 2015
DONUT 3: The Overpay
Initially,
Wesley Matthews was to be a four-year deal (worth about $51 mil ... depending)
. He's a classic 3-and-D player, he's a workaholic, he was beloved in Portland, he turned down a bigger offer from Sacto to come here without even knowing what his salary would be, exactly...
But then
the money, post-DeAndre, turned out to be $70 mil. Why did Dallas agree to this? The explanation is here.
So, fine. One contract got a little bloated. But ...
DONUT 4: Bloating JJB, Too?
Now, JJB's money is a little funny, too.
Ideally, initially, Barea should have, in my eyes, been nabbed for the vet-min of $1.4 mil. Maybe we're dreaming to think that, but ... well, when JJB got the $2.8 mil (times two years), that seemed acceptable. Double the perfect number, but acceptable.
And now the number has essentially doubled again, to $16 mil over four years?
A reasonable explanation? Oh, $4 mil a year (on a deal that can start as "low'' as $3,747,073 for this season) won't look bad at all in a couple years when the cap rises. But it's still twice as much as the twice as much we were hoping for in the first place, more of the gross offshoot of the DeAndre Defection.
DONUT 5: Deron's Dollars
Speaking of money: Our David Lord has number-crunched on Deron Williams' one-year deal with a player's option for the second year (in other words, a "one-year deal'') and we think it reads like this:
*For 2015-16, $5,378,974.
*For 2016-17, $5,621,026.
Again, that second-year set-up makes the $11-mil deal imperfect. But Deron for $5,378,974 represents a win for a Dallas front office that could use a few in the left column right now.
DONUT 6: The Cap, To The Minute, To The Dollar
Here's David Lord's cap worksheet, including his apology-in-advance in the very unlikely event he's misplaced a dollar or two: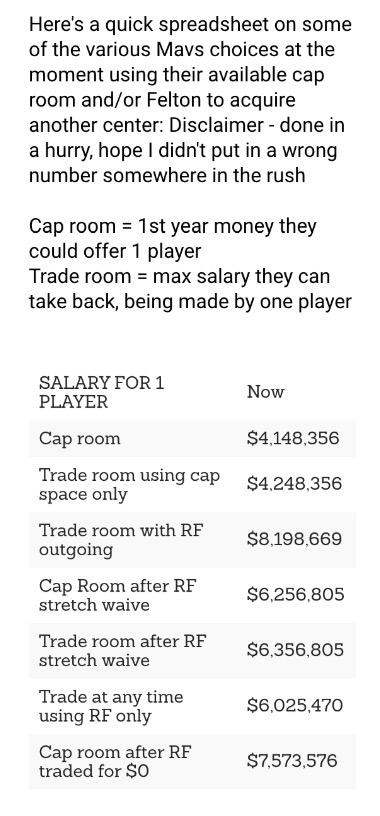 As you can see, there is still some flexibility when it comes to
center-chasing. ... an angle we've spent a lot of time on, as you can see if you go to the DB.com Mavs News Archives and search around!
DONUT 7: Losing A Good Man
The Mavericks are losing a good man, as team president and CEO Terdema Ussery is leaving for a position with Under Armour. Ussery has been with Dallas for 18 years and was instrumental in building the business side of the franchise -- as well as in getting the AAC funded and built. Ussery, a former Nike exec, will serve as president of global sports categories for Under Armour.
DONUT 8: Stay informed!
*Keep it here on DB.com as we will keep you posted in a variety of ways from inside your team ... Here on the HOME page,
and here on DB.com Boards
... Thanks for joining us as we launch our 16th season inside the Mavs!
*Oh, and if you want to be
a Mavs Insider with Premium coverage? Click here
to take our free 7-day trial and then for 10 cents a day, you are among the most informed Mavs followers on the planet! Go Mavs and Go Premium!
*All our stories
are archived here ... use the search tool to find everything on any Mavs topic.
And if you want to hang out with the gang, watch sports on the 200-inch screen, listen to live music on the weekends, enjoy one of our 80 beers and dine on our rave-reviewed Texas-flavored burgers, c'mon by
The Maverick Bar tonight!
DB.commers and Mavs fans love it!
DONUT 9: Quotable
"I was flattered the Mavs asked me to get involved ... (But) I was taken completely aback when he changed his mind. I'm still taken aback by it.'' - Jerry Jones, confirming DB.com's exclusive on him, Dez Bryant and Tony Romo joining the DeAndre recruiting on behalf of the Mavs.
DONUT 10: The Opener?
Mark Cuban has forgiven Clippers owner Steve Ballmer, understands the "Hail Mary'' they threw,
and predicts the NBA season willl open with Mavs vs. Clippers. Check it out here.
DONUT 11: Summer-League Update
Matt Galatzan brings you the highlights ...
Don't look now, but the Dallas Mavericks summer league team is starting to find its stride, as they grab their seconded consecutive win in the tournament, defeating the D-League Select squad 104-88. Dallas had its best shooting performance of the summer slate, knocking down 50.6 percent of its shots, and even winning their first rebounding battle since play began last week.
Dallas was lead by first-round pick Justin Anderson, who had his best game so far as a Maverick. Anderson finished with 23 points, five rebounds and played excellent defense for the majority of the game. Anderson dominated his match up with former Tennessee Volunteer guard Scottie Hopson, holding Hopson to just nine points on three of 10 shooting from the floor.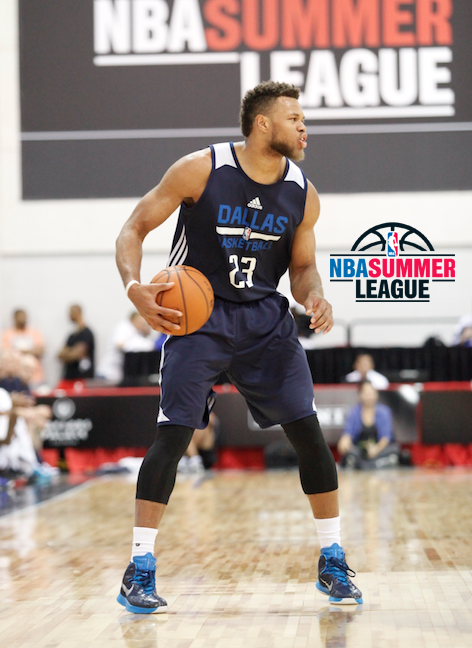 For the second straight game, Maalik Wayns was very impressive for the Mavs. The 24 year old finished with 22 points, as well as two assists, and has been excellent on the defensive end. He also finished 10 of 16 from the floor in the win. Wayns has been the Mavs best point guard for the majority of summer league, and is making a serious push to get a look going forward.
Dallas also got another big contribution from Dwight Powell, who probably had his best and most efficient performance so far. Powell finished with 22 points, on 57 percent shooting to go along with nine rebounds.
Not to be forgotten however is big man Jeremy Tyler, who landed his third straight double-double. The 24-year-old journeyman ended the game with 15 points and 11 boards. Tyler has perhaps the best chance to get a look at the 'varsity' roster come camp time. He looks like a versatile player on both ends of the floor, at least at this level.
Dallas now moves on to Saturday's quarterfinals to face the winner of the Celtics/Trailblazers matchup. Dallas lost their first matchup with Portland on Sunday, falling short 93-80 behind a 24-point performance by Allen Crabbe. Justin Anderson, who will most likely be matched up on Crabbe once again, will look to rectify his performance from the last time out. (Update: Crabbe may be out due to an ankle sprain.)
DONUT 12: The Final Word
Wes Matthews says, "I came to Dallas with one intention: That's to win. I know this is a championship organization. I want a ring ...''
"I have the drive to not let this take away anything I've done," Matthews said, reflecting on his Achilles rehab. "It's been a different kind of battle. It wasn't a battle against an opponent. It wasn't a battle against a coach saying this or a GM saying I'm not good enough. It's myself. And every single year I've gotten better in this league and I pride myself on that.
"And I'll be damned if I let this stop me."