DONUT 1: The Launching Pad
This doesn't automatically get you
Dallas Mavericks
minutes. It doesn't automatically make you the next B-Wright or the next Aminu. But it's eye-catching and it's intriguing.
Utah Jazz's Jeremy Evans Sets Vertical Record at P3 Sports Science Institute. Touches 12'8.5" pic.twitter.com/Pbr48qqPNs

— NBA_Mixes (@NBA_Mixes) July 19, 2015
Jeremy Evans' similarity to B-Wright is that he's a leaper in need of a position. His similarity to Aminu is that maybe he was misused in his previous stop and can blossom here.
Read more on what Dallas thinks it might just have in Evans here.
DONUT 2: Centers still matter
Part of the Jordan chase? Dallas believes centers matter. Oh, SmallBall matters, too. And in this copycat league, everybody now wants a Steph Curry. But the Clippers center was good for 11.5 points per game while grabbing 15.7 rebounds, blocking 2.3 shots, and shooting 71 percent from the field and LA coach Doc Rivers talked of him as a Defensive Player of the Year finalist. ... and now he's not here.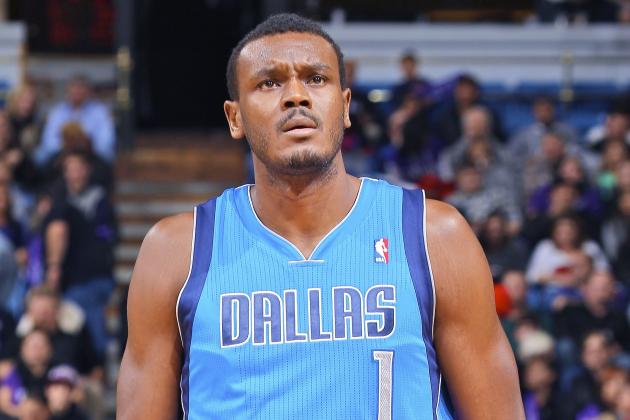 So Dallas' chase for interchangeable defenders (another Warriors trait) is on. And finding Steph II? Sure. That's on, too. But having a two-headed center is a foundation of the Mavs success. It hasn't needed to be two superstars; Damp and Diop will do ... and they hope Zaza nd Sam can do, too.
And in addition to those guys? More shopping. Kevin Seraphin is reportedly going to the Knicks for a 1-year, $2.8M deal. Now, that's twice what the Mavs had offered him ... but it establishes again that while the NBA Finals were highlighted by both Golden State and Cleveland playing "SmallBall'' and then "it's-the-death-of-the-center!'' claims, I still contend that a reverse truth was revealed: Centers matter ... if you have them.
It won't be Jordan. It won't even be a "star.'' But it'll be two-headed in Dallas ... at least two heads.
DONUT 3: Cuban's business
Why is it
Mark Cuban's business to comment on Tom Brady and DeflateGate?
Because as sports fans, we could all benefit from a little transparency.
DONUT 4: Warming to Deron
Are Mavs fans warming to the idea of Deron Williams? Indeed.
Maybe it's by necessity or maybe it's because of coach Rick Carlisle's positive praise or maybe it's legit ... but
check out this DB.com Boards thread and you see the enthusiasm, the optimism and the video that starts it all.
DONUT 5: Taking it slow
Here's Rick Carlisle, talking Wes Matthews and ruptured Achilles rehab on Mavs.com:
"You know, we've done research on it," Carlisle said. "We've talked to his people, and we talked to the doctor that did the surgery. Casey has all that information. He's definitely on track for a full recovery, but we're going to be erring on the side of being conservative and cautioned. I think the most important thing is that he makes a full recovery, because we're signing him to a four-year deal. The first year is more about making sure that he's right and getting him out there on the right terms, and from there we want him to make a full recovery and continue to get better."
Having said that,
a "pissed-off'' Matthews himself is conceding nothing, as you read here.
DONUT 6: Love-To-Hates
My favorite NBA team is, of course, the Mavs. My second favorite team? The Bad Lakers.
Their "star,'' Kobe Bryant, is now a parody of himself and that would be so sad if not for the fact that it's so entertaining. But even as he's a parody of himself ...
Kobe Bryant (@kobebryant) Be Like… ???? FT: @That_Guyy23 pic.twitter.com/f74DsGJJsi

— B.A. (@BdotAdot5) August 3, 2015
It's still funny when somebody else parodies him. Easy pickings, yes. The Bad Lakers always are.
DONUT 7: Let's Meet at 'The Maverick'
Where does the gang hang out? At
The Maverick Bar at 1616 Hebron
, watching sports on the 200-inch screen, eating a Texas-flavored and sampling one (or two) of our 80 available beers. ... and on Friday and Saturday night, listening to DFW's best live music. Join us!
DONUT 8: Cap Cleverness?
I am giving the Dallas Mavericks a ton of credit for the "cap-beating'' contracts being given to the likes of Ndour, Famous, Jenkins, Ashley, Wilson, Mejri … And there are advantages to the structure here … if the kids can actually play beyond a D-League level.
Here's what
the cap-related roster looks like to the moment ... And analysis from our David Lord on what these deals mean, as he urges me to tap the brakes on the "cleverness'' thing.
DONUT 9: Guaranteed, but not
By the way, amid varying reports, my understanding is that Salah Mejri's deal is like a handful of the Mavs deals constructed this summer, a partially-guaranteed three-year contract. (David Lord reports the amount to be $525,093.)
So Mejri has no "inside track" on a job here and in fact the structure of these deals and the volume of these deals suggests Dallas's willingness to eat guaranteed money in favor of the best players.
DONUT 10: The Big Calculator
For Premium Mavs fans,
David Lord and the smartest minds in Mavs Nation go 24 hours a day here
talking the intricacies of the Mavs' roster, cap and moves. Join us!
DONUT 11: A martini with Coach Ortegel
No,
Bob Ortegel is not "retiring.'' But he talks to me about hanging up his sneakers ...
And about the freedom to sip that second martini.
DONUT 12: The Final Word
I am constantly barraged by DFW sports fans asking me if I "saw what Skip Bayless said'' about the Mavs or the Cowboys. That surely speaks to his LCD popularity but ... Dear reader, I've known Skip for 26 years. Trust me when I say, me going to Skip for DFW sports insight is no more likely than me going to a forklift driver to perform my vasectomy.