The Dallas Mavericks NBA's Summer League slate tipped off on Saturday afternoon in Las Vegas, with the Mavs first-round pick Justin Anderson taking on Seth Curry and the New Orleans Pelicans. The Mavs got off to a slow start, but were able to find their rhythm early in the 1st quarter. Unfortunately for the Mavs, they were never able to keep pace with New Orleans, dropping their first game, 90-86, on a day when most of the buzz surrounded owner Mark Cuban and apologies and whatnot.
'Dear #Mavs fans, When is an apology not an apology? When you didn't write it yourself.' @mcuban re DeAndre @1053thefan

— mike fisher (@fishsports) July 11, 2015
Anderson, making his Mavs debut on Saturday night, started cold from the field but was able to settle in by the end of the first half. Anderson shot 8-18 from the field on his way to a 23-point, seven-rebound performance. Anderson showed some ability to put the game on his own shoulders late, but will obviously need some fine-tuning if he is going to be a part of the Mavs rotation by the start of the regular season. ... part of the point of Vegas, of course.
Jordan Crawford, an NBA vet who averages 12.2 points on 40-percent shooting in his career, is with the Mavs this summer in an attempt to make his way back onto a roster. Crawford has bounced around to a few different teams in his career, including stops in Atlanta, Washington twice, Boston twice and most recently played for Golden State. Here, Crawford scored 12 points on 6-14 shooting, but even with Dallas' roster shuffle, room may be tight with Deron Williams set to come aboard following his clearing of Sunday afternoon waivers.
Dwight Powell, who was acquired in December as part the Rondo trrade, was arguably the Mavs best player on the day, scoring 19 points and grabbing 11 boards. Powell has always dominated lower-level competition (as evidence by his 28.9 point, 9.4 rebound averages in the D-League this past season), so it remains to be seen whether or not he will develop into a rotation player for Dallas. He seems to have improved his outside jumper, as he shot 46 percent on the day, and Mavs officials told DB.com going into Vegas that they want him to be "the leader'' of this squad. Chandler Parsons and Devin Harris joined Mark Cuban and Mavs officials in watching the show ...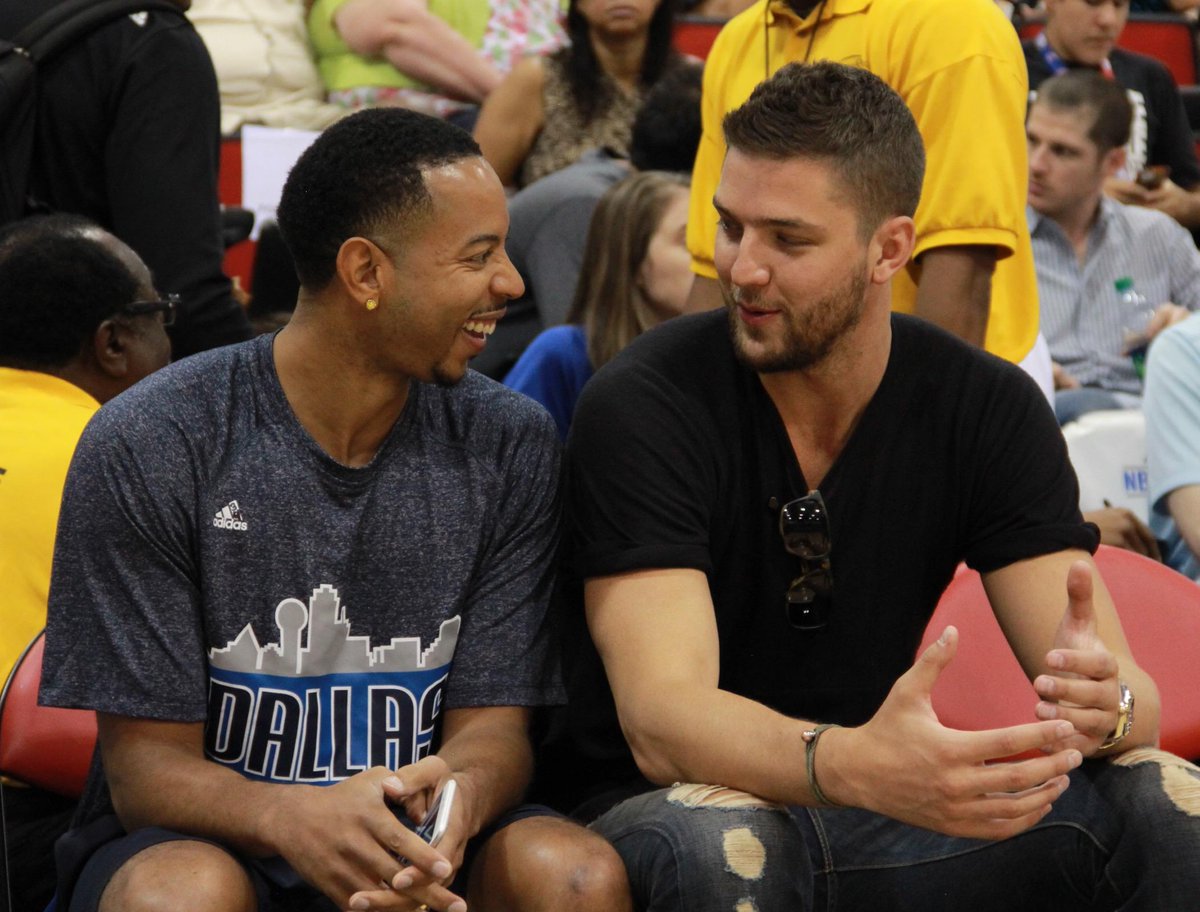 Which included the Mavs' second-round pick Satnam Singh making his NBA debut on Saturday as well. From a basketball standpoint, Singh is slow as molasses, and kind of goofy-looking to watch, but he can shoot. The first-ever Indian born NBA player scored four points, pulled down three rebounds and was two of three from the line. Dallas' plan is for the 7-2 19-year-old to be in Frisco all year. But this is a baby-step start. ... part of a "move forward'' that will truly begin when this organization puts "The Week That Wasn't'' behind it.
Mark Cuban: "We brought in Wes, and that's a huge step in the right direction... We can be better than we were last year."

— Ethan J. Skolnick (@EthanJSkolnick) July 11, 2015
Sure. Maybe. And maybe Anderson and Powell can actually help accomplish such a thing.
Related Story: Mavs Move From Plan A to Plan ZZ

Related Story: The Inside Story of Why Dallas Paid Wes This Way

Related Story: The Sunday Plan For Deron