Barea's Back
J.J. Barea is signing with the
Dallas Mavericks
to continue his second stint with the team for two years and $5.6 mil (ht El Nuevo Dia.)
"In Dallas I feel comfortable,'' JJB tells the paper. "It's like my second home.''
Barea, who left after the 2010-2011 championship season, was brought in to help bolster the Mavs backcourt that, despite the presence at the time of Jameer Nelson, would prove to be without a true floor general early in the season. The fan favorite, who was best known for his decimation of the Lakers in the second round of the 2010-2011 playoffs, spent a good portion of the season as a part of the revolving door at the point guard position.
Barea earned his part-time starting spot with the departure of Rajon Rondo, and helped re-energize the Mavs during their short playoff stint. He's now slated to play a similar backup role as the Mavs still have Devin Harris and, according to Fish on 105.3 The Fan, are working on Jeremy Lin though "nothing is imminent'' there, says a DB.com course.
We'll stay tuned there.
For the regular season, Barea averaged 7.5 points and 3.4 assists in 17.7 minutes per game. In the playoffs however, Barea stepped up for the Mavs, averaging 11.8 points and 7.4 assists in 30.8 minutes per game. Barea's impact was felt far beyond the numbers, however. As seen in the video below, the eight-year veteran out of Puerto Rico provided energy, leadership, and scoring punch that was key in the Mavericks playoff efforts.
After coming through in the clutch as a surprise spot starter in the 2011 NBA Finals, no one should be surprised that JJB gave it his all in this postseason ...
And now the Northeastern alum and combo guard with family ties in Miami (and an offer from the Heat likely larger than this one) proves true to his Exit Interview word.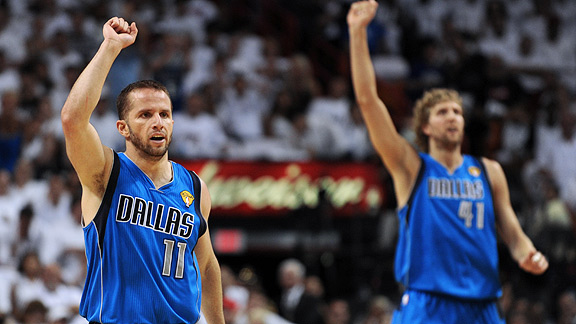 "I want to. I want to and hopefully this time we make it work," Barea said then when asked about his potential return to Dallas. "It feels like home for me here in Dallas so hopefully I can come back and finish my career here for the next couple of years."
Related Story: Cuban 1-on-1: A Franchise-Changing Day

Related Story: DeAndre Dream Delivered!

Related Story: Why Didn't Dallas Like Deron Williams?