THE THESIS QUESTION
Should the Mavs consider saving their cap room until later this season? Can they, and should they, simply defer their cap room until the trade deadline, if they can't get the deal they prefer now? This was mentioned as a Mavs' possibility by Mark Cuban recently. But we're here to inform that it's not quite what it sounds.
ONE BIG DISCLAIMER
Before we begin, it needs to be noted that while Cuban mentioned "save the cap room for later" as an option, it's quite possible that this is simply a potential negotiating stance with players and teams who might be interested in a deal now. "Look at all the cap space you have to offer me. I'm your best choice and I want you to give me the deal I want," says the player or team, and the Mavs' reply is, "There may be a better deal later, and we might prefer to wait and see what we can get later. So you should offer us a deal that we like."
IF THEY DO THIS, WHY AND HOW?
But let's assume the Mavs are seriously considering saving their cap room, if they can't find the player they like.
Why? The advantage, of course, is that at the deadline some team may become somewhat desperate to move salary, and having room to take a player off their hands can prove advantageous. Or a team may fall out of the race, decide to tank, and be willing to give up a player they previously wanted to pay to help them win games.
But there's a hidden downside to this. By waiting, the Mavs would lose a huge chunk of their current cap room because of the cap rules. Here's how it works.
In the chart below, we first have the Mavs' existing cap salary if they get rid of the Koponen hold, sign D-Will for the cheapest cap hit possible this year, and sign one backup center for the minimum, while leaving a slot and room to use on another center. But they don't sign Barea or the minimums until they find and sign that other center.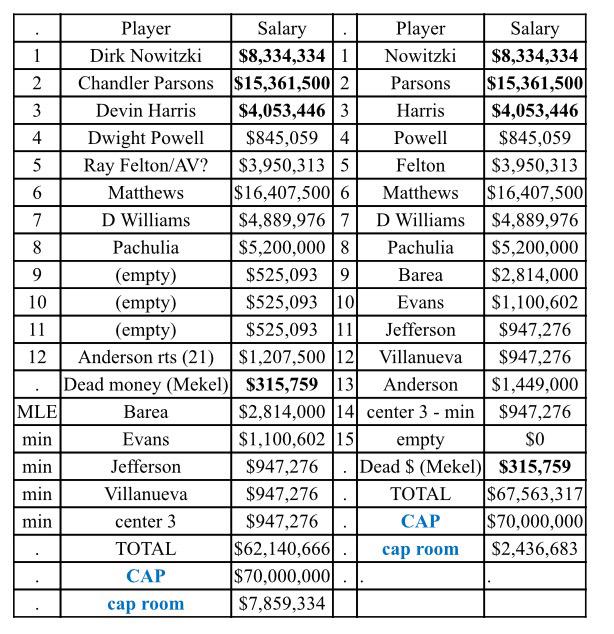 This is essentially where they are right now, and at this point, it's almost $8M in spendable cap room, that can be used to sign a player, or to take back via trade for a player. And if necessary, the trade salary they can take back can even be expanded to some degree (as explained below). Alongside, I've provided a 2nd scenario where they go ahead and sign everyone, including Barea and the minimums, and move on into the season leaving that last slot open and "saving" that cap space. As you can see, that empty space of almost $8M shrinks to less than $2.5M as it gets consumed by salaries for Barea and the Merry Minimums. (In both scenarios, we'll assume Felton stays on the payroll. But we'll address doing otherwise, and the effects, further below.)
Now, what about Felton? Here are some of the significant added possibilities he might offer, and the ramifications.
STRETCH-WAIVER:
1. Stretch-waiving Felton would create added cap room this season, but it costs cap room later.
2. As shown in the chart below, such a move would add about $2.1M in cap room in the "now" scenario, and about $2.6M in the "later" scenario.
3. This option adds cap room, and cap room can be used to either sign a player or take a player in trade if a team wants to simply get rid of one to reduce their payroll.
TRADE A
1. The possibility exists of sending Felton to another team with nothing coming back in return, but the other team would want a pick, cash to pay most of his salary, or both.
2. As shown in the chart below, such a move would add about $3.4M in cap room in the "now" scenario, and about $3.9M in the "later" scenario.
TRADE B
1. The possibility of swapping Felton for a player with a bigger salary expands the size of salary that might be obtainable.
2. The player that could be acquired in such a trade could make as much as Felton's salary plus the cap room plus 100K.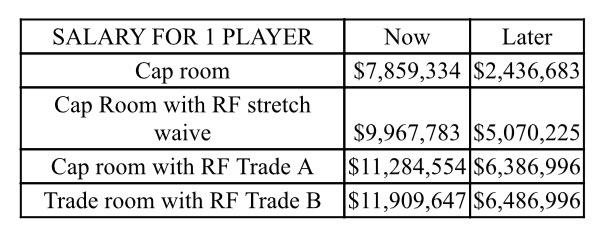 One important point about Felton is that those choices take different paths with him, and have varying cap advantages. So until they have decided how to use his contract in one scenario or another, their greatest flexibility comes from retaining him and deferring any move until it becomes necessary.
ANALYSIS: NOW OR LATER? 3 CONCLUSIONS


1. Obviously now is better than later, in the ability to obtain higher-salaried talent. The extra room not only opens doors to more possibilities, but it also potentially offers access to better ones as well.
2. Later does offer some potential. Desperate people can do desperate things, and at the deadline some teams do get desperate to get rid of salary. On the other hand, teams giving away players tend to offer those that are of limited value, unless the team with cap room like the Mavs is willing to add picks or very inexpensive talent in return.
3. In either event, we believe the stretch-waiver is a highly undesirable choice unless the player obtained as a result is a major bargain who will be a part of the core for several years on an ongoing basis. Why? Because they would be pre-spending future cap space on a temp, in a year where the upside possibilities are probably going to be limited. Yes, there will be more cap room in future years, but the salaries will also be bigger, and the competition will have more to offer to the players the Mavs want.