It is Mark Cuban's intention to "end-of-story'' the Mavs' failed union with
DeAndre Jordan
, the free-agent center who reneged on his verbal agreement to come to Dallas to instead boomerang back to the Clippers.
But before we get to the "end'' ...
The Mavs owner released a message via Cyberdust on Wednesday morning to discuss the initially "frigid'' visit he had with Clippers owner Steve Ballmer on Tuesday, to express an understanding of LA's "Hail Mary'' and to predict that given all the drama, it'll be Mavs-vs.-Clippers to open the 2015-16 NBA season.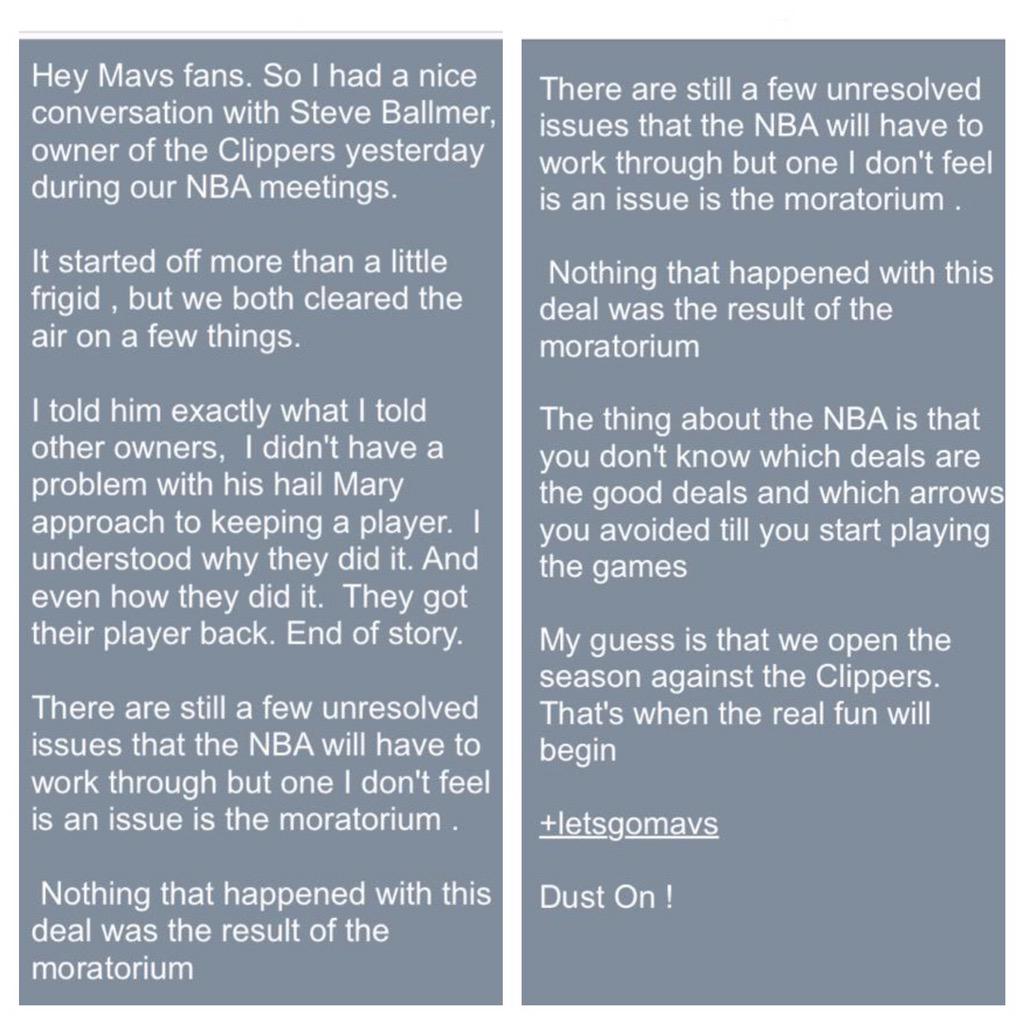 "I had a nice conversation with Steve Ballmer, owner of the Cippers yesterday during our NBA meetings,'' Cuban writes. "It started off more than a little frigid, but we both cleared the air on a few things.
"I told him exactly what I told other owners, I didn't have a problem with his Hail Mary approach to keeping a player. I understood why they did it. And even how they did it. They got their player back. End of story.''
Cuban's view is that the July 1 to July 9 moratorium on signing players isn't a problem.
"They are still a few unresolved issues that the NBA will have to work through but one I don't feel is an issue is the moratorium,'' he writes. "Nothing that happened with this deal was the result of the moratorium.''
Cuban then expresses a long-standing view that allows for some optimism, even as the Mavs scramble to assemble a respectable post-DeAndre roster.
"The thing about the NBA is that you don't know which deals are the good deals and which arrows you avoided till you start playing the games,'' writes Cuban, adding, "My guess is that we open the season against the Clippers. That's when the real fun will begin.''
Related Story: The Mavs And Whether To 'Save' Their Cap Room

Related Story: Mavs Cuban Exclusive: 'We're Not Tanking'

Related Story: Donuts: The Mavs Week That Was(n't)