DONUT 1: Rick on His Future
Dallas Mavericks
coach Rick Carlisle is entering the final year of a four-year deal that reportedly pays him $4.6 million per season. As one of the elite coaches in the game, and as one of Dallas' most valuable assets, Mavs Nation can be excused for being a little jittery about his future, a future explored with Rick via
"Shan & RJ (and Mac Engel) on 105.3 The Fan.
"I love Dallas,'' Rick said when asked about his desire to remain with the Mavs long-term. "And it's been a tremendous opportunity and experience for the family. I have no plans on leaving, but I don't talk about my contract situation. I go day-to-day, and I think one of the important things is to not be distracted by anything, especially when you're an NBA coach because there is so much that can come at you. I love Mark, He's given me a tremendous opportunity, I love Donnie, he's been a close friend for over 30 years, and I want to be there for Dirk, too, for the next couple of years, and I think that's very important for everybody.
"One of my policies is not to talk about my contract; I think I've been pretty clear to you in explaining my love of the city, and my desire to stay. But business is business and we will see what the next couple of years hold, but I have no plans on leaving.
DONUT 2: Thoughts on Tanking
"I did not have that discussion with Mark (post-DeAndre); my feeling was that we were going to make this a competitive team one-way or the other,'' Carlisle said. "Dirk's got two league years left on his contract; you've got to do right by him and give him some guys to go to war with. ... I have no interest in just showing up and not trying to win games, that's not what I'm about and that's not what Mark's about, either. We're going to put together a team of guys that's going to compete and we're going to do our best.''
DONUT 3: On Moving Forward Post-DeAndre
"You've just got to adjust,'' Carlisle said of the DeAndre Defection. "Fortunately we were able to trade for Pachulia. While Pachulia isn't the same type of player that Jordan is, he's a very effective player, he's experienced, he's a guy that's had a lot of good games against us, and we needed to get somebody in that position. It was great that we were able to basically just trade him into cap space. So that's one thing we were able to do. We were able to get Wesley Matthews who's going to be a terrific long-term player for us. And then Deron Williams got bought out and he was interested in coming back here, you know coming home, so we add three high quality players to the mix.''
"The whole Jordan thing,'' he said (which you can find loads of info about here),
"we've got to put behind us.''
DONUT 4: OK, But ...
"I was disappointed like everybody else,'' Rick conceded. "The situation is not good for anybody. It's not good for us, not good for the Clippers the way it went down, not good for the league, not good for our business and there's situations you always hope to avoid. Some of this goes on in college with kids changing there minds on where they go to school, but this rarely happens. When something like this happens there is usually an about-face within 24 hours, and this went on for four or five days, which made it a more difficult thing.
"But again, we are where we are and I like the moves we've made and were going to put together a good team and play our butts off.''
DONUT 5: Thoughts on Deron
"Particularly in the second half of the season, it was difficult for him because he had two surgeries on his ankles,'' Rick said. "That stuff did get resolved, and I thought he looked terrific the last half of the season or the last third of the season. He came in and chopped us up again which he's been doing regularly, so I'm looking forward to having this guy on our team.''
"Deron Williams coming on board is a huge acquisition for us,'' he said. "Hey lets face it, Brooklyn has decided to take a different direction and that buy out, while they paid him 20-some million out of 40-some million, they are saving a huge chunk on the luxury tax and they're retooling and sending their team in a different direction, which is smart for them. We benefited from that.''
You can
find more on Deron's contract and his injury history archived info here.
DONUT 6: On The Roster In General
"I'm not sure what roster you're looking at, if you're thinking we are not going to be good,'' he said. "But we've got Deron Williams, Wesley Matthews, Parsons who's going to be healthy, we've got Nowitzki. ... There are always surprises. There are teams that rise up unexpectedly and there are teams that are supposed to be good that end up not being good. ... We're moving forward and we're looking forward to it.''
DONUT 7: On More Moves
"Well, were looking at everything,'' he said. "Trades are still a possibility, we still have a significant chunk of cap space that's still available, the flexibility is something that were going to have to make into a strength here and in the remain months before training camp starts, we've got to finish off the roster. I think we've got 12 or 13 guys, and I think we've got two spots left to fill, so we will see what happens.''
You can
find all our latest cap-space archived info here.
DONUT 8: Stay informed!
*Keep it here on DB.com as we will keep you posted in a variety of ways from inside your team ... Here on the HOME page,
and here on DB.com Boards
... Thanks for joining us as we launch our 16th season inside the Mavs!
*Oh, and if you want to be
a Mavs Insider with Premium coverage? Click here
to take our free 7-day trial and then for 10 cents a day, you are among the most informed Mavs followers on the planet! Go Mavs and Go Premium!
*All our stories
are archived here ... use the search tool to find everything on any Mavs topic.
And if you want to hang out with the gang, watch sports on the 200-inch screen, listen to live music on the weekends, enjoy one of our 80 beers and dine on our rave-reviewed Texas-flavored burgers, c'mon by
The Maverick Bar tonight!
DB.commers and Mavs fans love it!
DONUT 9: On Needing A Center (Or Two)
"We hope to add a rim protector, as that's been a big part of us being a team that can compete at a higher level,'' he said. "It's a bit thin right now, but there are some interesting guys out there.''
You can
find all our center-search archived info here.
DONUT 10: Thoughts on Singh
"He's very big,'' Rick said. "It's a very interesting story, they brought him over here at age 15, and he was I believe 7'1 or 7'2 when he was age 15. I'm assuming he was more slender than he is now, but they brought over to teach him basketball. They brought him over to IMG academy in Florida, and he's been very diligent, he's developed skill, he's got a nice touch, he just needs experience playing in games, and so the summer league has been a very helpful thing for his development.
DONUT 11: Thoughts on Anderson
"We like him a lot,'' Rick said. "He's a high-energy guy that's strong, physical, and athletic, he shoots with range, he can probably play both wing positions, you know the 2 and 3, well. He's a smart guy, of course he's Virginia-educated (as is Carlisle) so of course he's going to be smart. I think he's going to learn a lot in a short period of time.''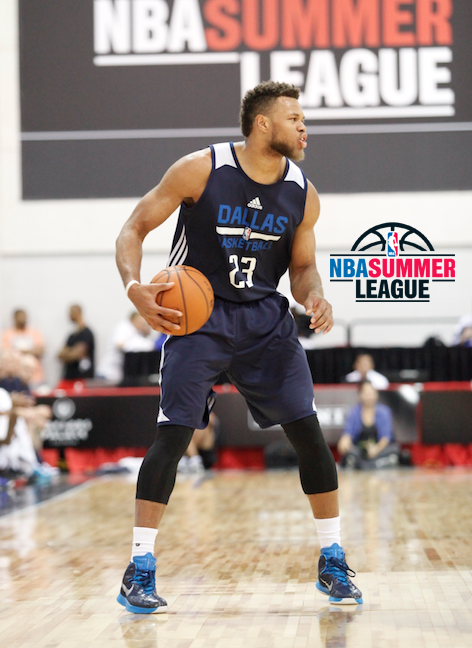 "With the way the team is set up at the moment, Wesley Matthews is a starting 2 guard but he may not be ready to go at the beginning of the season,'' Carlisle added, "so there's an opportunity for Anderson to play some.''
You can
find all our Justin Anderson archived info here.
DONUT 12: The Final Word
"Look in the position that we are in,'' Carlisle said. "And it's pretty clear with the West the way it is, pretty much on a perennial basis, that margins for error are extremely low. It's been like that for a couple of years. We really had to battle two years ago to get into the playoffs, we had to beat Phoenix in that second-to-last game of the season ... that was the year that we took San Antonio to seven. And then this past year we were locked in a little bit earlier but it wasn't an easy year either and then we got dinged up with some injuries in the playoffs and that was disappointing. A big part of this is getting healthy. ...
"The important thing is that we stick to our process, and I've got to bear down even more and do everything possible to get us to be as good as we can be. Our fans deserve that, and maybe even more importantly, Dirk deserves it. So that's my focus and that's going to be our focus.''