DONUT 1: TUG THE BRAKES
Our man Fish is giving the
Dallas Mavericks
a ton of credit for the "cap-beating'' contracts being given to the likes of NDour, Famous, Jenkins, Ashley, Wilson, and again Thursday with the addition of Salah Mejri  …  And there can be advantages to the structure here … but I am tugging on the brakes a bit and suggesting there's a big "if" in the bigger picture.
Let me note that I am not averse to the idea of these contracts at all. In fact, before the Mavs began signing players to these types of deals this summer, I noted the potential to do so. So I have no questions with the theory.
My issue? Those "advantages" vanish entirely - in fact, they never even begin - if the player doesn't make the Mavs' roster. It just becomes an exercise in money wasted. The Mavs gain no ongoing rights or control over any who don't make the 15-man roster, and the guaranteed money is paid in full.
DONUT 2: THE ROSTER NOW
Part of the equation is also a comparative issue. Is the player good enough to be in the Mavs' "top 15"? If so, then they make the roster and the contract's benefits to the Mavs ensue. So with that in mind, here's what the Mavs' cap-related roster currently looks like, after the addition of Mejri (whose contract we are guesstimating, with the knowledge that the 1st-year salary is no less than $525,093, no more than $1,253,929, and according to unconfirmed reports is only partially guaranteed in that first year):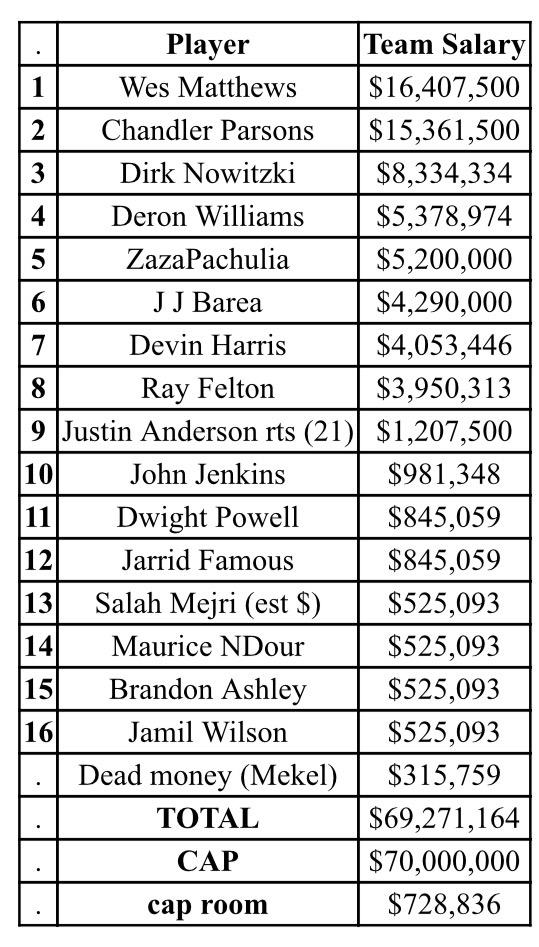 That's where we are "to the moment." You may notice that we haven't included the contracts for Dalembert, Villanueva, Evans, and Anderson (we've only included Anderson's cap hold), and that's because they have yet to be formally signed and don't actually have a contract to count against the cap yet. And "to the moment'' can change at any time, since the opportunity still exists to add a player or two to the mix via free agency or trade. (For example, even with just the little cap space the Mavs have left, if they found the right deal they could still take back almost $11.6M in player salary by using that cap space on an outgoing sign-and-trade plus adding Felton and Powell.)
DONUT 3: OUR BEST GUESS
But where do those kids with the fancy contracts fit in the pecking order, as it looks right now? Here's our best guess, after adding the other commitments that are not yet inked:

Admittedly there is fuzziness on some of the positions and rankings of the backups, and any additions ahead can shuffle the deck even more. (The Mavs want Powell to be a stretch-4, for instance.) But with those disclaimers, let's evaluate this …
DONUT 4: WHAT'S THE KEY?
So what is the key to making all this work to the advantage of the Mavs?
At the end of the day, it's not the contract. Having the fancy contracts that Fish lauds is just going to be an attention-grabbing way to waste some cap space, if the kid isn't good enough to make the top 15.
Instead, it comes down to player evaluation of players with little-to-no NBA experience, and being able to accurately project their future potential in the NBA. In some ways, it's just like the draft, only with a lesser set of players to select from. Do the Mavs have the ability to accurately evaluate players who have little-to-no NBA experience, and separate the keepers from the junk in advance?
DONUT 5: SOUND STRATEGY
As to the format of the contract itself, the actual strategy is sound enough. To some degree, what they are doing is simply mimicking the contract of a first-rounder (with less money, of course) and tying up the player for multiple years on a modest contract while they try to turn him into an NBAer.
But not only is it for less money, it's also with a presumably lesser-talented player. Guys plucked from the Summer League, like NDour, Ashley, and Wilson were judged at draft time to be no better than the 61st pick. These are third-rounders, if you will.
And that reality sends me back to the prior point: if the Mavs in the past haven't been able to identify which kid to pick when only 20-to-25 have been taken, then is it easier or harder to find a keeper after another 40-to-50 have been plucked out of the stack by others? The greatest cap manipulation in the world can't make up for a lack of expertise in player evaluation.
I love the cap tricks. But they are not magic.
DONUT 6: SHOT-GUNNING?
So as they are offering these deals right and left, do they have any clue which are the keepers and which aren't? Or are they simply shot-gunning and hoping for something lucky to happen?
On their face, it initially has looked like the latter. It's a whole slew of partially-guaranteed deals, all at the minimum, and all running for three years. Six of them, so far: Famous, Jenkins, NDour, Ashley, Wilson, Mejri. And shot-gunning makes me worry.
The worry? It's that the Mavs might not be working with an expectation than they do have (or can have) the ability to distinguish trash from treasure. So as a crutch, rather than pinpoint one or two they think can play, they grab-bag a bunch of them with a fancy contract while hoping that contract slickness will be the magic. (And it won't.)
But as details have emerged, we are seeing that the Mavs haven't been blindly handing out hope-based deals to random players after all. These partially-guaranteed multi-year deals may look alike at first, but they aren't.
Yes, all are reportedly for the minimum each year, and for three years. But look at the amount of guaranteed money we have discovered in each deal, as more details have begun to emerge.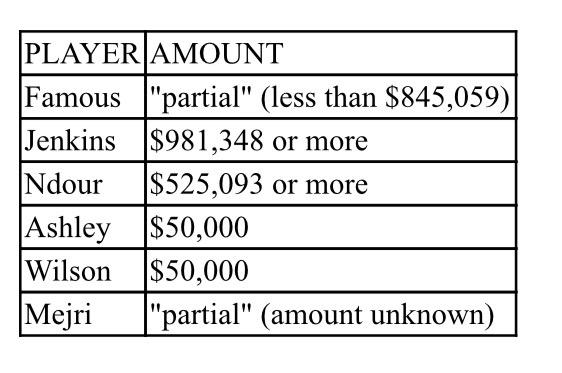 And I'm sure the scouting department would strongly agree with the idea that there is a difference from one player to another. (It's of particular interest that David Pendergraft, who is now the Mavs' Director of Pro Scouting, was in Atlanta when the Hawks picked Jenkins so there is first-hand knowledge there. And Jarrid Famous has played for the Legends, so some inside info there as well.)
DONUT 7: A NEW APPROACH?
On a different front, shouldn't we at least be excited by the fact that the Mavs have started developing a new strategy with contracts? Or that they are taking some chances with some kids?
Nah. This isn't a new approach. Not even to the Mavs.
If we think this is new, we've just forgotten the past. But if we take a look back to a year ago, we are reminded that (a) the Mavs have done this extensively before, and (b) it isn't wise to try to form any hard conclusions on these kids, or on where this roster may end up, based on these contracts.
About this time last year, after the Rashard Lewis contract was voided, there were 3 seemingly-available roster slots up for grabs at the bottom of the roster, and the situation looked like this:

And as the Mavs went to training camp, two other kids were added:

Yet when the season started, out of those 7 players, only Ricky Ledo was on the 15-man roster (and he played almost entirely for the Legends). The rest were waived. Slots 13 and 14 went to Charlie Villanueva (who came to camp with a last minute deal and $0 guaranteed) and JJ Barea (signed at the end of camp after being waived by Minnesota).
And while some kept an eye on those bottom-of-the-roster guys who went to the Legends, none of them ever made another appearance with the Mavs, and even Ledo was later waived by Dallas.
DONUT 8: STAY INFORMED!
*Keep it here on DB.com as we will keep you posted in a variety of ways from inside your team ... Here on the HOME page,
and here on DB.com Boards
... Thanks for joining us as we launch our 16th season inside the Mavs!
*Oh, and if you want to be
a Mavs Insider with Premium coverage? Click here
to take our free 7-day trial and then for 10 cents a day, you are among the most informed Mavs followers on the planet! Go Mavs and Go Premium!
And if you want to hang out with the gang, watch sports on the 200-inch screen, listen to live music on the weekends, enjoy one of our 80 beers and dine on our rave-reviewed Texas-flavored burgers, c'mon by
The Maverick Bar tonight!
DB.commers and Mavs fans love it!
DONUT 9: WHY SO FANCY?
So what are the Mavs gaining from these fancy contracts? Why even bother?
Much of it is simply D-League connected.
If that young player doesn't make the Mavs' 15-man roster, he gets waived. The contract ends. All ties end. But if he wants to play in the D-League, the Legends have first claim because he came from the Mavs' training camp, and he does not go through the player draft to determine who has his rights.
That means nothing in relation to the Mavs or NBA. But it does keep the player "in the organization.'' It does allow for development. And because the player has some guaranteed money in his pocket, maybe he's more likely to remain in DFW rather than take overseas money.
At the same time, let's note the iffiness of this process in relation to producing a bonafide NBA player. The Mavs did the same sort of deals previously with Mekel and Ledo and all they ended up with was a waste of money and roster space, and contracts they had to eat. They had a partially-guaranteed deal for the minimum for two years with Griffin — and he was a standout in Frisco — but he's no longer here. Bernard James got guaranteed money but still went overseas, then bounced back to Frisco, then landed back with the Mavs … but for all the cleverness, still isn't an NBA rotation player.
The Mavs are doing this at the bottom of the camp roster because they can. They entered this process with several million dollars in leftover cap space — the part of this exercise that really is a "first.''  As a result, that gives them the ability to offer a bunch of multi-year minimum-salary cap-eating contracts.
But it's still about identifying the player that can play in the NBA. Without that, it's just a glittery path to nowhere.
DONUT 10: THE PURPOSE
It's needs to be mentioned that this is not a purposeless exercise by the Mavs. There is some upside in this sort of contract for the Mavs, subject to their ability to accurately identify the player who has NBA potential.
If the player with the partially-guaranteed three-year contract at the minimum does make the 15-man roster and does develop, as a member of the Mavs, into a real, live NBA player, that third contractual year helps later. Then when this initial deal ends, they've got his full Bird Rights, with matching rights and a minimum-salary cap hold, and can go over the cap to re-sign him to any max-or-less deal they wish (just like a team can do with a 1st-round pick that pans out). That is a huge plus.
This is all assuming the player turns into something, that is … and again, in a Rick Carlisle-coached program, that's certainly possible. If the player really has NBA talent, Carlisle's mentorship can get the most out of him.
DONUT 11: D-LEAGUE CONNECTION
Maybe one issue is that we are spending too much time concentrating on what the Ashleys and the Wilsons can do
(props to our Matt Galatzan, who has done a good job digging up stats and videos and the like)
when what those guys will actually be doing is playing for the Texas Legends. DB.com knows for a fact that the Jarrid Famous negotiations were all about giving him a chance with the big club while wanting him to also be comfortable if he ends up in Frisco (where he finished last season).
That's OK. But it might not help Dallas this year. And it might not help Dallas ever.
Calling most of these guys "camp bodies'' might be too harsh. But calling them "developmental prospects'' sounds about right. And that's what the "D'' in "D-League stands for.
DONUT 12: THE BOTTOM LINE
Soon enough, we will shift away from poring over these bottom-of-the-roster moves to (quite possibly) seeing if they end up as D-Leaguers with the Legends, shift away from wondering how much real bearing they'll have on the Mavs' team and plans, shift away from the idea they may become midseason trade assets. (This bunch is going to go from D-League caliber in October to "valued trade bait" in February? That would be some trick.)
Then if our talk is not on that, what will we shift to? The top of the roster.
And there are some things there I find quietly promising. For instance, the Mavs system is designed to have a traditional center to man the middle, and needs two who are full-sized, and who can help each other past injuries, fouls, etc. They had that in the title year, but never since.
Now, with Zaza and Dalembert, they finally have two at the same time.?? Not only that, but I see that for the first time since the departure of Jason Kidd, they have some size at the guard positions. They'll have guys to push the pace and handle the ball at PG, guys there who can also hit a basket, and they'll have full-sized 3-and-D shooting guards.
Wes Matthews
is awfully good if healthy. And Anderson, I hope, could be able to do what D-Steve once did, which is physically wear out opposing 2's for at least some of the game.?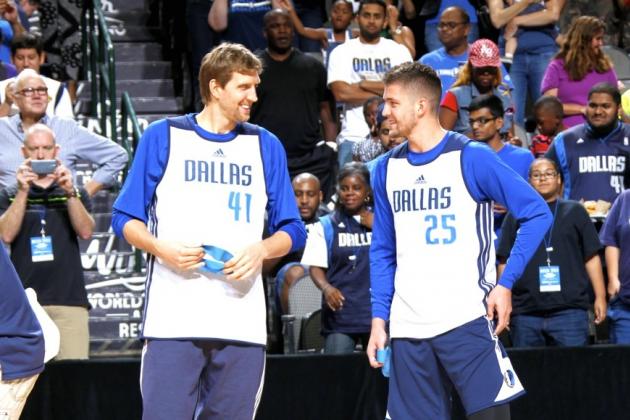 If
Dirk Nowitzki
and
Chandler Parsons
can hold up their end of the deal by keeping up with opponents at the forward spots, I expect this season to have more promise than many believe.
So at the end of the day, for me the creative contracts are fun to talk about ...but I think the "promise" on this roster comes from the big-leaguers, not the Halloween-candy-grabbing little-leaguers.