CONTEMPLATION TIME
It's that time again.
Late August. The NBA season is still a solid two months away from starting and you're worn out from trying to convince your friends and fellow fans that your favorite NBA team just picked up the bargain of the decade with their latest scrap-heap free agency addition. They just don't know basketball. JaVale McGee will be a starter again in this league. Just you wait.
The conversation inevitably turns to a familiar topic; the best players of all time as it pertains to individual franchise. It's a quagmire of out-of-context statistical anomalies, overblown expectations and misguided valuations of role players from a .500 team 13 years earlier. No one wins in this cool game ... though
our man Kelly Dwyer at Yahoo's "Ball Don't Lie'' does a nice job helping make it cool ... and making it a game.
A franchise's "best" players should not be decided on numbers alone. Some make more of an impact as a rental for half a season than others two for double-digit careers. Unless your name is Rajon Rondo or if we're talking a negative impact.
In the case of the Dallas Mavericks, their legacy has been one wrought with emotions, hard feelings, joyous highs and gut-wrenching lows. Basically, the Mavericks' NBA lifetime could fill the plot of any movie on ABC Family, if it's still around.
If we're going to entertain such a question, let's start with the backcourt. Note, my criterion is solely based on my interpretation of each player's impact, which may not always show in the numbers.
POINT GUARD
G: Jason Kidd: It's an easy choice, really, if you throw out (and you don't even have to do that) his first stint as a Maverick, which ended badly. Any time a player can return to his original franchise and make the adjustments needed, and vastly improve a critical part of his game (3-pt shooting) to lead it to its only championship, that player should rank at the top of the list. And that's saying something, with Harp and Nash around here.
It's odd that Kidd was supposed to be the franchise's savior in 1994, some 17 years before he would eventually fulfill that obligation. Kidd, never known for his shooting up until the 2010-11 season, morphed into what the Mavericks' had always needed at point guard; someone who could facilitate (and man, could Kidd facilitate), defend at a high level and shoot a high percentage from deep.
SHOOTING GUARD
SG: Rolando Blackman/Michael Finley: I really hate to do this. It's cheating. But, it's a fake debate, so I'll cheat all I want to.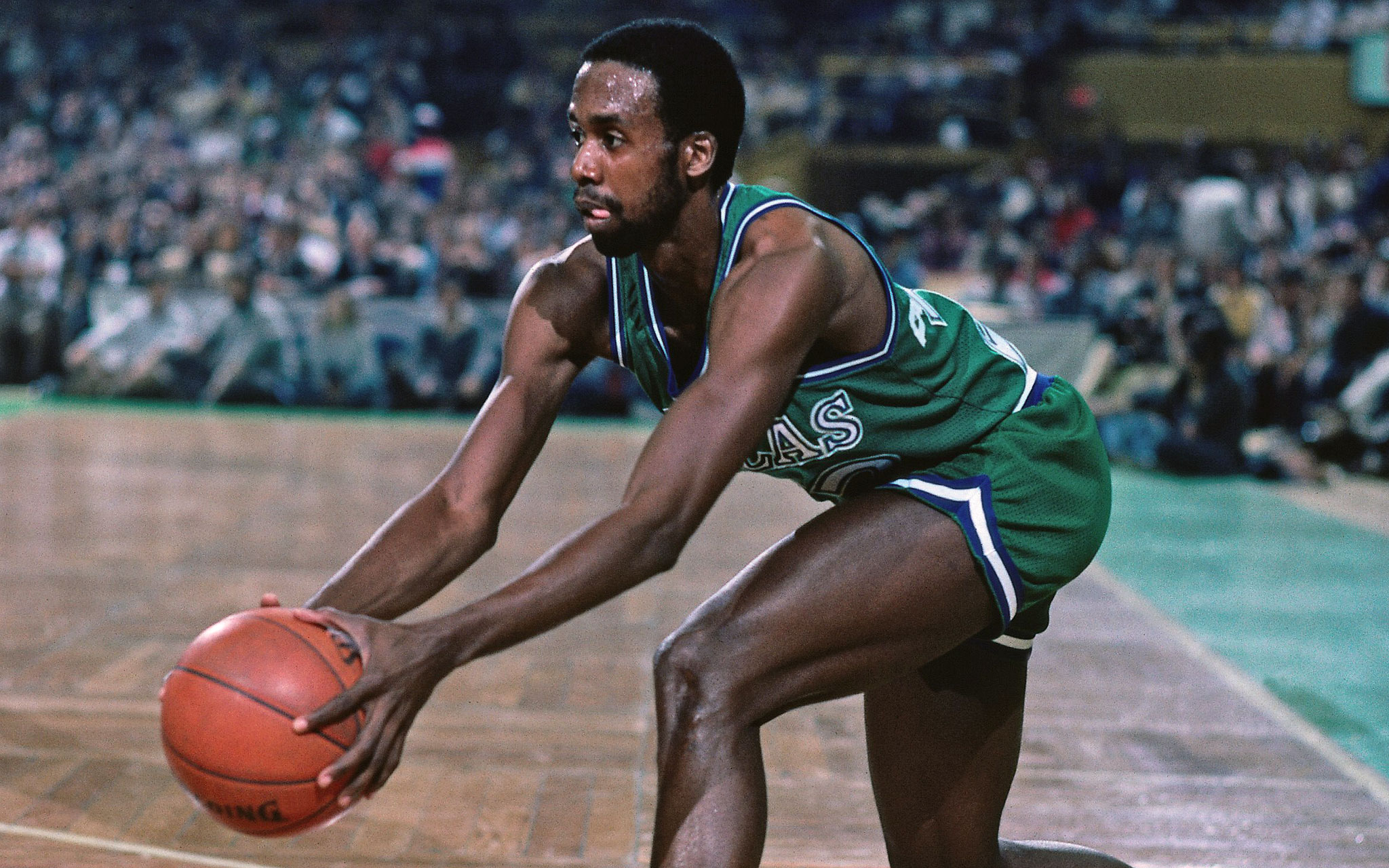 Blackman's name carries heavy weight in Big D along with other greats of the 80s such as Aguirre (though, without the drama) and Brad Davis. If you know the history of the Mavericks' darkest years, then you'll have all the more respect for a player who slipped in the draft and stuck with Dallas for 11 years and averaged nearly 20 points. He also played a big role in helping the Mavericks completely reverse their fortunes and become a regular playoff contender in the latter part of the decade by being a wonderful complement to Aguirre.
Finley's name will make Mavericks' fans groan in the same way that Steve Nash's will in a "what-could-have-been" since. As an absolute bulldog on both sides of the ball, Finley was the third cog in the young "Big 3" which included future franchise cornerstone Dirk Nowitzki and the transcendent Nash, whom the franchise eventually jettisoned because of, you know, age.
It's impossible to know what Finley's impact would have been for Dallas had the team not waived him for salary reasons, but for a guy who lead the team in scoring, assists and steals during his first season with the Mavericks, his impact is not debatable. Honestly, how many Mavericks have you seen pile up eight steals in a half since 2001? I'll let you think on that.
CENTER
C: Tyson Chandler: But, you say, he's only been here two years! Yes, and what did he do in one of those two years? Filled a decade-long hole in the middle of the defense and led his team to a championship and is only the second-most worshipped player in franchise history next to Nowitzki. Don't agree?
All of the dreams the Mavericks had dashed in Erick Dampier, Chandler filled and then some. He was the culmination of a 15-year-long search for a defensive anchor.
The Mavs have a somewhat laughable history of finding successful big men. Seriously, no disrespect to Shawn Bradley, but when your top big man (pre-Tyson) is Shawn Bradley, then you have issues.
Chandler was seen not only as a locker room catalyst and leader, but also somewhat of a bad ass in the middle with his authoritative ability to finish at the rim on pick-and-rolls and anchor what had historically been a leaky defense.
After letting him walk post-title in 2011, the Mavs instantly felt the impact of simply not having the big man's presence in the lane. They brought him back in 2014-15 for another run and, again, his impact was undeniable on both the defensive side and with rebounding, but that year's playoffs also exposed Dallas for its complete and utter lack of defense from anyone besides Chandler.
FORWARD
F: Mark Aguirre: I'll agree with popular sentiment here simply because the Mavericks' are utterly lacking in big name forwards outside of That Dude in the last 25 years. Aguirre nearly single-handedly lifted Dallas from the doldrums of the mid-80s and put up nearly 25-6 numbers during the Mavericks' playoff runs.
Although I'm focusing primarily on impact and not numbers here, Aguirre's numbers are incredible. He holds several Dallas single-season scoring records and ranks third on the all-time scoring list. He averaged nearly 30 points a game during the 1983-84 season. His time her was tempestuous, as was Ray Tarpley's, which keeps him off this list. (I'm not worrying about the 3 vs. the 4 and all that here. Aguirre plus the next guy ... works.)
FORWARD
F: Dirk Nowitzki: It's not even close. Very few players have had such a massive positive impact on their franchise the way Nowitzki has with the Mavericks both with his elite scoring ability, but also his humble and selfless attitude in other aspects.
He's atop the Mavericks' scoring list and it's not even close, either. As of right now,
Dirk Nowitzki
leads Rolando Blackman by more than 10,000 points and is seventh on the NBA all-time scoring list. To boot, he's scored more points than any foreign born player in league history.
The beginning of Dirk's career wasn't exactly promising. Clips of clunky movement and jittery shooting are littered all over YouTube, but he came into his own during the late 90s and early 2000s and survived an epic measure of Finals heartbreak in 2006 to lead the Mavericks to their only title in 2011.
He's been called the sweetest-shooting 7-footer in league history and his near-90-percent mark from the foul line only reinforces that claim. During the most recent seasons of his career, he's turned down max offers and accepted hometown discounts to allow for Dallas to have flexibility to make splashier free-agent signings (which, as you may have heard, haven't always gone as planned). There is no more beloved player in Dallas' history than Dirk.
(That goes for "Deferential Dirk,' "Icon Dirk'' and now "Fun Uncle Dirk,'' too.)
And there you have it. My impact-based all-time Dallas Mavericks' by position. At the very least, I'm sure we can all agree on one.
Related Story: Mavs Donuts: Why So Serious (About The Schedule)?
Related Story: The Pedigree, Promise and Pain of JaVale McGee
Related Story: The DallasBasketball.com MAVS APP is now available!