The NBA has fined the Los Angeles Clippers $250,000 after an investigation established that the team had violated league rules while trying to re-sign
DeAndre Jordan
last month. It's always shocked me that this sort of recruitment tactic -- in the case of the Clippers and Jordan, an "improper offer of a third-party endorsement deal'' -- doesn't happen more often.
And hell, if the fine is only going to be $250K? In the ruthless world of pro sports, everybody has a price at which they'd commit a crime ... and I can get/keep a DeAndre Jordan for just a quarter-mil of owner Steve Ballmer's billion-dollar fortune?
I have my moral compass and all, but ... The temptation is understandable.
Interestingly, the league said Tuesday that the Clippers presentation including a promise of compensation from an outside source (and of course, outside the parameters of the salary cap) came on July 2 and that the endorsement opportunity didn't impact Jordan's decision to re-sign with the Clippers.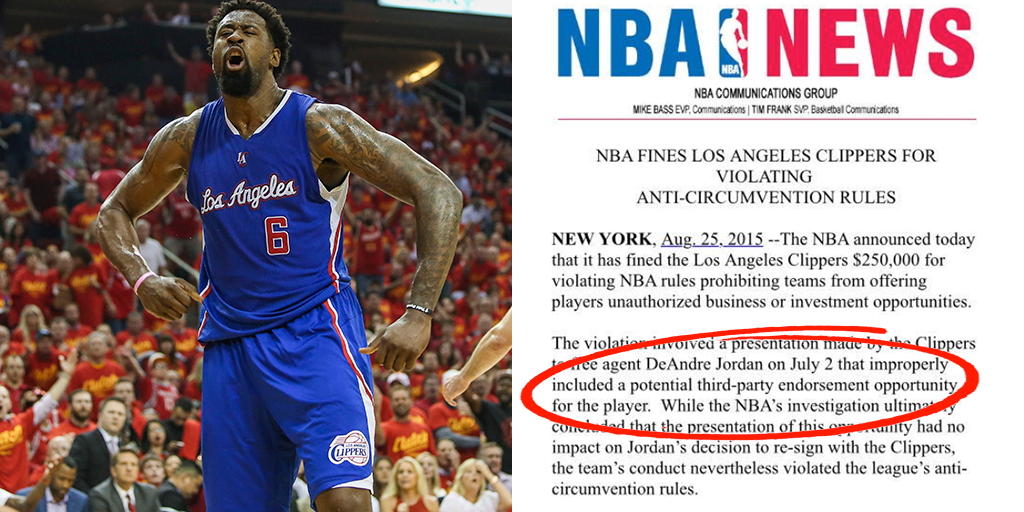 The statement:
The violation involved a presentation made by the Clippers to free agent DeAndre Jordan on July 2 that improperly included a potential third-party endorsement opportunity for the player. While the NBA's investigation ultimately concluded that the presentation of this opportunity had no impact on Jordan's decision to re-sign with the Clippers, the team's conduct nevertheless violated the league's anti-circumvention rules.
One arguable point jumps out.
The July 2 presentation date is possibly important because it was after that when
Jordan agreed to join the Mavs. (Before infamously un-agreeing.)
The suggestion here is that it was an illicit offer made before the Dallas (legal) offer and that because of Jordan's decision to take Dallas' (legal) offer, the illicit offer had no impact.
But how can the NBA possibly know that? Because a man of his word like DeAndre told them so? And what happened on the fateful night of July 8, when the Clippers barricaded themselves inside Jordan's Houston home as they persuaded him to un-do his verbal agreement with Dallas? Was the "potential third-party endorsement opportunity for the player'' (a deal with Lexus) still available on July 8? Is it still available now?
As Clippers Nation tries to sweep this away (and as MFFLs probably wish folks like me would quit writing about it), they have help from the talented broom of Bleacher Report writer Kevin Ding, usually a keen observer of the NBA scene who this time shoves reason into the dustpan.
The takeaway from NBA fining Clippers for endorsement enticement to DeAndre is that Ballmer, like Cuban, will do what it takes. Bottom line.

— KEVIN DING (@KevinDing) August 25, 2015
Mark Cuban's competitive nature gives the Clippers the competitive green light to cheat?
I realize
personal responsibility in sports isn't very popular these days; see my Twitter timeline
for volumes of defenses of
Cris Carter telling young NFL players who make a mistake to make sure they have a "fall guy in their crew'' who can take the blame for the problem.
But barring Bleacher Report knowing something I'm unaware of, there is no record of Cuban's competitive nature manifesting itself in cheating. Indeed, Cuban's only fine-worthy involvement with any of this came in the form of a $25,000 slap when he revealed
the Mavs' upcoming free-agent deal with DeAndre to DB.com in this 1-on-1
and elsewhere on July 3.
And rather than being the "fall guy'' for anything DeAndre and the Clippers have done illegally as someone wants to tie that fine to this one, Cuban should probably petition the NBA to get his $25K back. After all, how can you fine an owner for announcing a signing that never even took place?
Related Story: Mavs Donuts: Why So Serious (About The Schedule)?
Related Story: The Pedigree, Promise and Pain of JaVale McGee
Related Story: The DallasBasketball.com MAVS APP is now available!