DONUT 1: Jesus Could Jump
The website Complex is wondering about Basketball Jesus. (Why? Because it's the offseason, for one thing.)
Certainly Jesus was a man of many talents. But the question might really need to focus on when he's playing. If he's ballin' in his day? Maybe.
Jesus today? Given the possibility that he might've been no taller than 4-6, there might be some issues here.
DONUT 2: Mavs In Top 100
Every summer Sports Illustrated endeavors to rank the top 100 players in the NBA. The first half of the 2016 project is posted. 
And yes, a few Mavs get their due.
DONUT 3: Money Mikhail
Remember when that Russian owner was going to re-invent the NBA and win all those titles and it was all going to be about money.
Well, the "money'' part is right.
 Mikhail Prokhorov is gobbling up all the minority shares in the Nets and Barclays Center. Why? To consolidate power in order to get his beloved Nets to title contention, something that — as I wrote back when he was promising all of that to Brooklyn — is way more difficult than it looks?
Nope. Keen observers say Mikhail is expected to collect the assets and then flip them. Sell the team. Sell the arena. Pocket the money. And carpetbag he was bag to Russia.
Thanks for playing, Mikhail. Sorry you were suckered, Brooklyn.
 DONUT 4: No Trade Pieces
Markieff Morris is making it quite clear that his "future is not in Phoenix." And our David Lord is making it quite clear that Mavs fans shouldn't much bother dreaming about a trade here.
DONUT 5: Donald Trump, Sportsman
Mark Cuban is on-record as saying presidential candidate Donald Trump is good for the process (kinda) because he brings attention to it, and maybe because his presence forces other candidates to be more frank about their positions.
Maybe so.
But that doesn't keep Trump from continuing his life-long habit of boorishness, the sort of trait that gets you punched in the face if your not a billionaire … but coerces people into thinking you're "honest'' if you're wealthy enough to sell the baloney.
From Kareem Abdul-Jabbar, on the above scribblings:
 This note from Donald Trump in response to my editorial is the best, though inelegant, support for my claims," Abdul-Jabbar wrote in his Facebook comment section of his op-ed piece. "Here again he attacks a journalist who disagrees with him, not by disputing the points made but by hurling schoolyard insults such as 'nobody likes you.' But if you look behind the nasty invective, you find the assault still remains against the Constitution in an effort to silence the press through intimidation."
I don't have to agree with Kareem on everything his says. ("Dirk vs. Bird,'' for instance.) But Trump's attempts to belittle anyone who stands in the way of his march to power reminds me why I agree with Trump on so little … starting with how a leader needs to unify rather than bully.
 DONUT 6: Stay in touch!
*The DB.com Mavs App is now available … and getting rave reviews! 
*DB.com Boards offers free membership and tons of smart analysis. And tons of Mavs hoops goofiness, too. I mean, it's got "personality.'' 
*And for $5 a month you can be among the sharpest Mavs fans in the land with a Mavs Premium membership to DB.com. Take a free 7-day trial, support the site of our incredible staff, and get your Mavs fix!
 DONUT 7: Labor Peace?
The NBA's collective bargaining agreement is set to expire in the summer of 2017 but Michele Roberts, the new head of the NBAPA, says she's already been talking to Commissioner Adam Silver about labor peace. This is a good thing.
Roberts also says the union and league hope to announce a new deal "within the end of the season." This is a ... pipedream, I think.
According to a new interview with Italian outlet Sportando. Roberts says she'll meet with Silver again this month. She says both sides "want to do everything possible to prevent the NBA to stop."
It almost never works this way, this fast. But ... look how quickly Silver used simple logic to help fix the NBA Playoffs format so it's 1-through-8? (That story here.)
"I think it's a step in the right direction,'' Mavs owner Mark Cuban tells me of the 1-through-8 change ... and maybe more change is coming. Maybe fast.
DONUT 8: See you at The Maverick Bar!
Man, do we have a blast having a Texas burger for lunch … listening to live music on the weekends … and checking out the Rangers, the Cowboys, our favorite college and NFL teams, and of course, the Mavs … at The Maverick Bar, 1616 Hebron in Carrollton. Join us! 
DONUT 9: Stability up-top
 Deron Williams says he's excited about the Mavericks because he's been looking for stability. Laugh if you must; after all, look at the insane roster turnover around here post-2011 title!
But look deeper. 
The roster has been shaken up. Often. This isn't management's preference; having a loaded roster with a bunch of young studs under long-term contracts would be preferable, and they know it.
But flip back to Donut 3 and see what Deron is really talking about. "Instability'' in Brooklyn wasn't about the roster. It was about coaching. Organizational leadership. Hell, it's even about ownership.
If you come to Dallas, you know the identity of the three guys who are in charge. Assuming, that is, that coach Rick Carlisle is able to enter this final year of his contract and get what everyone wishes.
 DONUT 10: The late, great Chocolate Thunder
Does Darryl Dawkins deserve to be remembered in depth as a "character'' ... but as something more than that, too? Consider that job well done, here.
 DONUT 11: How's Dirk Doing?
Our guys on DB.com Boards are all over the Dirk Work in FIBA Eurobasket. It's one of the coolest things about DB.com Boards ... Mavs fans from Germany, from Spain, from all over the world, DFW and beyond, chiming in on the ups and downs of Deutschland.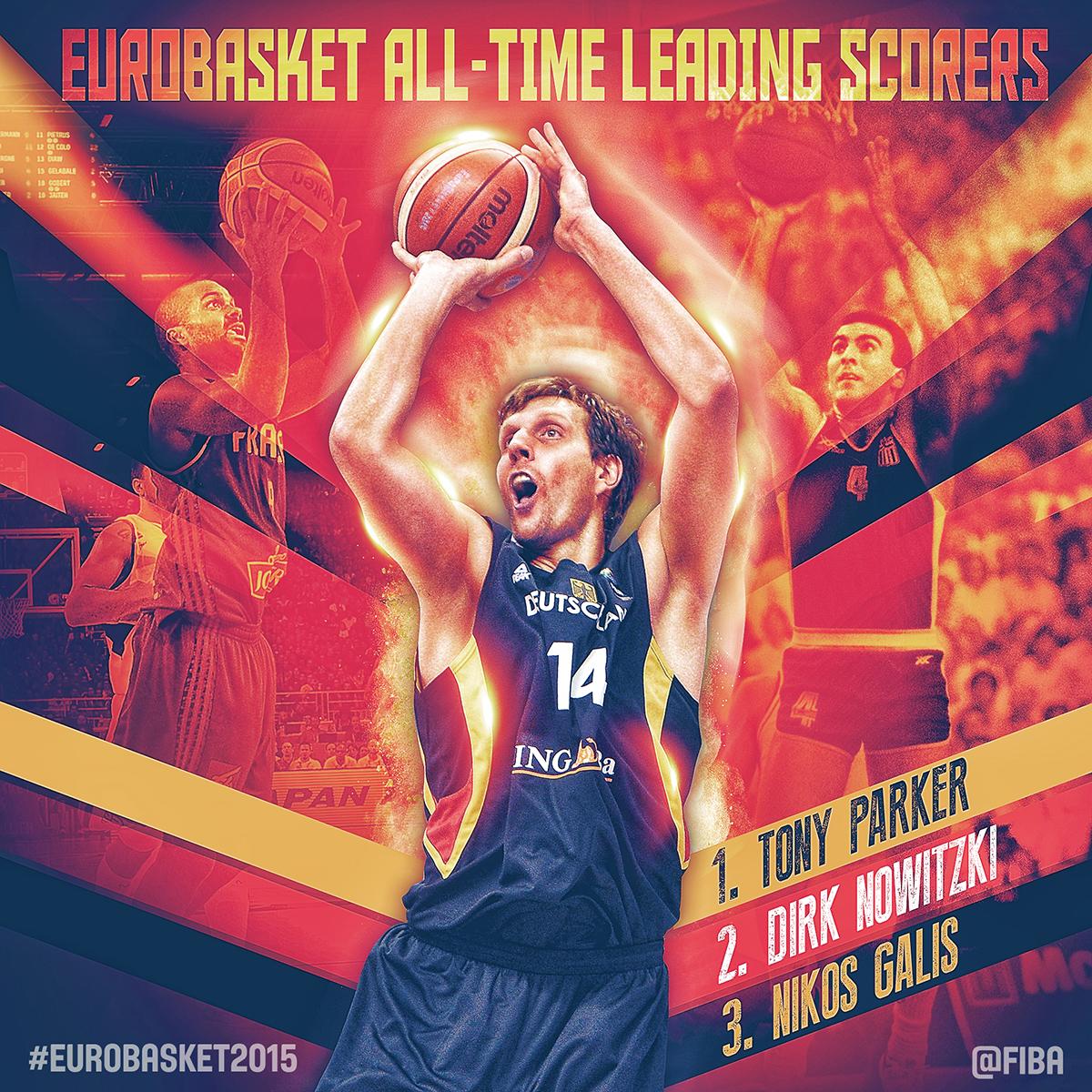 Dirk is now the second-all-time scorer in Eurobasket history after scoring 14 points with 10 rebounds in an OT loss to Italy.
 DONUT 12: The Final Word 
Dwight Howard took a loaded gun to the airport.
No, I'm not going to use this case to help you launch into an anti-gun tirade. 
Just an anti-Dwight Howard tirade.