DONUT 1: A time for optimism
We are on the eve of the start of Dallas Mavericks training camp - Basketball Christmas Eve, if you will, and it's simply not our style to anticipate only coal in our stockings.

Part of that is, we're spoiled. Spoiled by The Dirk Era, spoiled by The Cuban Reign, spoiled by more than a decade-and-half of so much more thrilling good than crushingly bad.

But the other part: it's mid-September. If there is any time for any NBA fan to harbor optimism, this is that time.

We very much feel that way about the reclamation project that is DFW prodigal son Deron Williams. ... who we are "falling in love with all over again.''
But not everyone feels exactly the same way.
Ken Berger's fine piece on Deron's failings in Brooklyn paints an ugly picture of the Nets, and of Williams' attempts to "lead'' there. Writes Berger:
The massive expectations that came with the Nets' historic payroll and luxury-tax payouts during the D-Will era didn't help, either -- nor did the Nets' ever-spinning coaching carousel. Over five seasons in Newark and Brooklyn, including the end of the '10-11 season following the trade, Williams played for four coaches: Avery Johnson, P.J. Carlesimo, Jason Kidd and Lionel Hollins. If Williams thought that he didn't need coaching from the great Jerry Sloan, one can imagine how sideline instability may not have made for the best environment in his new home.
"The coaching rotating door really hurt him," a person close to Williams said. "You had a different style offense and defense every year."
The Psychology of Deron Williams in Dallas isn't a unique project, of course; the Psychology of Everybody matters, on every team. Leadership voids. Bad apples. Fat-and-sassies. Guys in it for the payday. Conflicts with the coach. Lack of acceptance of roles. Egos. They are all in play.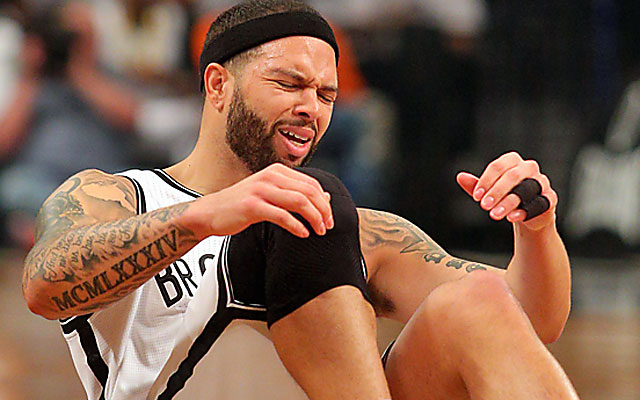 For Williams, this essentially defines the concept of "change of scenery.'' If he's not a star, he cannot be asked to be one. If he is not a leader, he cannot be asked to be that, either. If he is a "coach-killer''? He won't make friends here, won't reinvent himself here, won't keep us in love with the idea of him here. 
DONUT 2: McGee's good report
JaVale McGee is giving himself glowing reports on Mavs.com, saying that he's close to physically ready to "get back to that elite level.''
With McGee, of course, it isn't just physical. And it's quite a stretch to say it's ever been truly "elite.''
But we dig the optimism. Again.
"That was one of the major things about (signing with the Mavericks)," McGee said. "With how good the training staff is and all the training materials that they have and other teams don't have, it's definitely a good thing. ... I'm definitely getting back to that elite level. The injuries really slowed me down, so I'm definitely going to get 100 percent healthy and come out and give it my all."
 DONUT 3: Windex, anyone?
You don't get DeAndre Jordan as he reneged on his verbal commitment to Dallas ... But can you still get Mavs rebounding?  
Our Zack Cunningham examines with an advanced-stats look at if 'Anybody Around Here Can Clean The Glass.' ... and yes, we find ourselves including some hoped-for reliance on McGee here. 
DONUT 4: Tamp-down the optimism
Now, having said all of the above: We have no true indication that McGee and his leg issues are fully cleared up and that he'll start training camp going 100 percent. Nor do we have a true indication -- outside of the proud, blod claims of Wes Matthews and Chandler Parsons -- that those two eventual starters will be ready for the beginning of camp ... or even, in terms of being 100 percent, of being ready to start the regular season.
Think about it: First there is the rehab. That is ongoing. Then there is the return to basketball action. That's happening with them on a very limited basis. Then there is conditioning, no snap-of-the-fingers thing. And then, and only then, is there 100-percent basketball readiness, and that's a ramp-up process.
Mavs training camp, we believe, won't be about the unveiling of a healthy McGee, Wes and CP; it'll be about camp as part of a process that leads to their return.
DONUT 5: Dirk's Top 5
We took the challenge of slicing  Dirk's Greatest Moments down to five, with out Matt Galatzan taking his best shot. 

Argue away! 
DONUT 6: Stay in touch!
You can find DB.com almost everywhere and be a part of DB.com in so many ways. ... 
Follow our gang on Twitter: Zack Cunningham, Johnny Auping, Chuck Cooperstein, Matt Galatzan, Skin Wade and yours truly at FishSports are all part of the family .. 
Get DB.com and Mavs info on Facebook here ...
Grab your free membership on DB.com Boards here ... 
And please consider an investment of just a few bucks a month to Go Mavs and Go Premium!
https://twitter.com/fishsports/status/645984696912900096
Unless you plan on spending all your money on Mavs socks.
DONUT 7: Climbing the parking garage
Guys looking lean. Fellas doing some bonding. A metaphoric Mavs "climb'' of the parking garage.
Oh, and some mellow Mavs music, if that's your thing. 
DONUT 8: See you at The Maverick Bar!
Texas-flavored burgers that are the talk of the town. A choice of beers with a list of 80 to choose from. A 200-inch screen along with 30 TVs for your Cowboys, Rangers, college football and of course Mavs viewing pleasure. And live music on the weekends! Our hangout is The Maverick Bar in Carrollton ... make it your neighborhood hangout, too! 
DONUT 9: Gilligan's Island
As always, I am hesitant to even reference "First Take,'' ESPN's version of "Gilligan's Island'' only with five fewer castaway clowns. This is not a sports-talk show, it's a sitcom, and a silly one at that, with Skip channeling Don Knotts and Stephen A. basically an upated Jaleel White. It's comedy ... until it's not.
https://twitter.com/stephenasmith/status/645735812374634496
Stephen A. Smith, as a columnist, as a journalist or even as a fan, demonstrates poor judgment (again) in celebrating the serious injury to Cowboys QB Tony Romo. The fact that he's not truly invested one way or the other -- Smith is not a "Cowboys hater'' anymore than Skip is a "Cowboys lover'' as they are simply playing their roles on a bad TV show -- should be better-known than it is.
But the fact that Smith here combines poor judgment with poor taste should be earning scrutiny ... but given the habits of his employer will likely only earn him a raise.
DONUT 10: Carlisle as Gump
If I'm not mistaken, Rick Carlisle was at Eurobasket for a moment to support Dirk. Which happened after he revealed that he's a pilot. Which he does in addition to being a sandbagger on the golf course. He's also a ping-pong champion and a rock-star-level piano man. ... 
https://twitter.com/calebjsaenz/status/604706674708873216
And then he gets back into the gym at the AAC but pops his head out of the office for a moment to take in the spectacle that is Donald J. Trump.
https://twitter.com/OmarVillafranca/status/643566549689700352
Rick Cariisle is Forest Gump.
DONUT 11: Mavs and Money
David Lord presents his to-the-dollar measurement of where the Mavs roster and cap is now ... with some notes and predictions about camp battles among the 20 present roster members. 
Come inside and bring your Big Calculator!
DONUT 12: The Final Word 
Mark Cuban  thinks that he could be our next president if he wanted. The Shark Tank judge spoke to CNBC about the idea of throwing his hat into the ring.
"I get asked every day. It's a fun idea to toss around. If I ran as a Dem, I know I could beat Hillary Clinton. And if it was me vs. Trump, I would crush him. No doubt about it," said Cuban.
OK. But let's not and say we did, OK?