PARSONS' CHALLENGE: Our Matt Galatzan helps us with CP's challenge ...
Chandler Parsons' first season in Dallas could not have ended in more agonizing fashion than it did. After playing his best basketball of the season after the All-Star Break, Parsons was forced to exit the Mavs' first-round matchup against his former Houston team prematurely due to a knee injury. Though many, including maybe the Mavs themselves, originally thought Parsons was in need of the dreaded microfracture surgery, all indications are that it was not as bad as originally projected.
And there was evidence of that at the Tuesday workout to start the 2015-16 training camp as Parsons was a limited participant.
Said coach Rick Carlisle: "Parsons did no contact but a lot of running and movement. Today was very positive. (He and Wes Matthews) did a lot of things.''
While Parsons works toward being available on opening night, he's also working to clear up the medical questions.
Said CP: "There was a little confusion on that earlier, it wasn't microfracture, it was a hybrid. It was a minor procedure. When I first went in, the rehab process was going to be a lot longer than usual, but it ended up not being as bad.
"It was apparently in a really good place where it wasn't a weight-bearing injury, that spot of my knee, so they called it a hybrid microfracture."
Post surgery, Parsons is very confident that he will be ready for the start of the season when the Mavs travel to Phoenix to take on the Suns. 
"I'm pushing myself and doing the maximum effort and stuff that I can do every single day to make sure my knee is getting ready, and I'm continuing to get in great shape,'' Parsons said. "The plan is to be ready October 28th. Nothing else really matters until then.''
The Mavs are so confident in their new centerpiece that they plan on extending his role from last season into a point forward role, and putting the team in his hands in multiple sets. CP however, while having to spend a good bit of his offseason in rehab, believes he is ready for the extra responsibility to lead his team.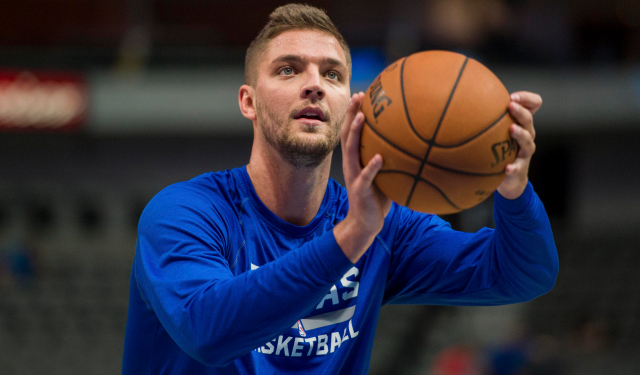 "That's the reason I came here, was for a bigger role and more responsibility,'' he said. "With guys like Monta and Rondo and those type of guys leaving that handle the ball and did the majority of the playmaking, leaves a big opportunity for me,'' said the 6-10 forward. "I think I definitely have more opportunity this year to do that and I've of great players around me this year that can really shoot the ball and spread the floor so, I'm excited and I'm ready."
Well, not ready yet. But it's coming. It is no secret that the Mavs will need CP to be ready as soon as possible if they want to be successful this season, as his new expanded role will be key to the Mavs success on offense. And While Parsons' status for opening night against the Sun remains a question, one thing is certain – The Mavs new leader is confident in is supporting cast, and ready for the challenge.
"With the makeup of our roster, and our guys we have a lot of hungry, humble guys with a chip on their shoulder,'' Parsons said, "ready to prove everybody wrong."
INJURY ROUNDUP: Dirk was a participant in the workout but did mostly non-contact stuff ... until he took the opportunity to prove to the media that at age 37, he's still got it.
https://twitter.com/fishsports/status/648907453078245376
We covered CP above, and again, Wes is in a similar boat as of Tuesday. And, said Rick, a good boat.
But the coach did want to clarify a misinterpretation from Media Day.
"Some idiot ran with some headline saying Wes wasn't going to be back till Christmas,'' Carlisle said. "I never said that. Possibility of Wes being back for the opening game has not been ruled out. It's a longshot. … Impossible to say at this point.''
Deron Williams (calf) was limited. Mavs big-man prospect Salah Mejri is the only guy not with the team. But it's not due to his leg injury. It's a visa thing, and Mark Cuban tells DB.com the injury is "not serious. He'll be back (to participating with the Mavs in camp) in a week or so.'' And JaVale McGee is working through his leg issues but none of that stopped him from working on ballhandling ... including dribbling between those rehabbing legs.
https://twitter.com/fishsports/status/648994065757831168
Oh, and Sam Dalembert? How's he doing, coach?
"Sam,'' Rick said, "needs to get in better shape and he knows that and he's working hard on it.''
https://twitter.com/fishsports/status/648995303589216256
It is also Rick's contention that Sammy D has some shooting range. Let's see ...
JUSTIN SELF-SCOUTING: How does first-round rookie Justin Anderson characterize himself?
"A hard-nosed player that's just going to play hard every possession,'' he said. "Unselfish. Just doing whatever it takes."
And you can see some of that as he worked with coaches on muscling for position with that NBA-ready body.
https://twitter.com/fishsports/status/648996612518207488
MAVSELLANEOUS: Carlisle said the first practice (of two on the day) was "heavy on defense and transition defense, our basic principles.'' ... Zaza Pachulia might very well be best-suited as the Dallas starter at center (especially if Rick C and Sammy D are going to spend the year in their familiar tug-of-war over an NBA player being "laid-back'' -- but he certainly talks like he understand it's gotta be team-first here. "At the end of the day we represent the Dallas Mavericks,'' Zaza said. "It doesn't matter who plays how many minutes. We're part of this team." ... Carlisle said Dallas can be a decent rebounding club if, "from a mental standpoint, we've got five guys tied together.'' ...  
THE FINAL WORD: McGee said he hasn't yet been cleared for jumping and cutting, and he's got that piddly contract that makes him so easy to ship away if need be. But the head coach spend a nice amount of quality time with the enigmatic big man on Tuesday, specifically helping him with his free throws.
https://twitter.com/fishsports/status/649000262888062976
Listen closely to Rick encourage McGee: "Hey, if it feels weird but it goes in, we're on the right track.''