DONUT 1: Rockets Mavs
Dallas drops to 0-2 in the preseason with Wednesday's loss at Houston (the DB.com gamethread is here) and no, the 109-82 score and the 0-2 record isn't important. I swear. What matters -- all that matters right now -- are two things: Health and development, as we address here and here.
DONUT 2: The Caron Butler Story
Caron Butler's autobiography -- "Tuff Juice: My Journey from the Streets to the NBA,"  -- is on the shelves. In it, Caron offers his first-person account of the infamous Gilbert Arenas-Javaris Crittenton gun scene in the Wizards locker room.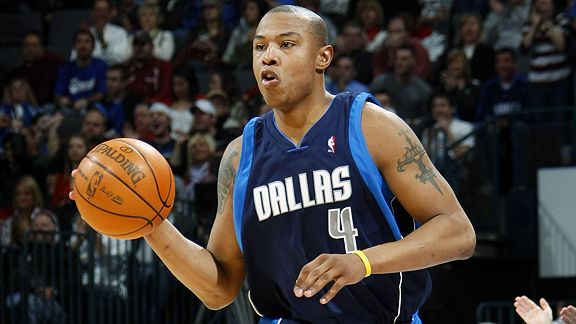 And how good is the ex-Mavs life story? Good enough that Mark Wahlberg wants to make "Tuff Juice'' into a movie.
DONUT 3: The Odds
Our man Shan Shariff begins this conversation on Twitter thusly ...
https://twitter.com/1053SS/status/651894833292800000
Jeff "Skin'' Wade and I are SO over. Now, I'm concerned that the ceiling might not be much higher than that, but yes. Over. 
DONUT 4: Two Losers Fight
For Mavs fans, the battle between Derek Fisher and Matt Barnes can have no winners.
Here's the tale:
Barnes was married to Gloria Govan, a "Basketball Wives''  TV person. So they break up. Meanwhile, Derek Fisher -- the Mav-for-a-minute who "retired'' from Dallas to spend more time with his family except that wasn't really the reason -- got a divorce (from the same wife he "retired'' to spend more time with.) Then Fisher starts dating Ms. Govan. 
There is nothing especially wrong with this ... though maybe it's all too "inside the family'' of the NBA, but, hey, they're both single ...
But Matt Barnes (now of the Grizzlies) disagreed, and allegedly "drove 95 miles'' to show up at Ms. Govan's home to "beat the s--- out of'''  Knicks coach Fisher.
Fisher was allegedly a day late back to work this week and looked like ... well, like he'd been beaten up.
DONUT 5: Salty TY
The heroics of Tyson Chandler in a Mavs uniform never go away.

But TY has gone away. Twice. And when Mark Cuban describes him as "salty,'' it's fitting ... and I argue, deserved on Tyson's part. Is he right about the Mavs "situation''? Are we learning a lesson here about "loyalty'' being a cliche? My column, if you please.
DONUT 6: RJ still can
This doesn't surprise Mavs fans ... but the Cavs announcers are certainly delighted to learn that Richard Jefferson can still dunk.
In fairness, RJ's teammates seem delighted, too. So it's not shocking. But it is cool.
DONUT 7: The Maverick Bar!
 Rangers by day. College football, the NFL and the Cowboys all weekend. Plus live music, 80 beer choices and the best burgers in DFW. It's The Maverick Bar at 1616 Hebron in Carrollton and I'd love to meet you there this weekend!

Join us!
DONUT 8: The Runaway Train
Our Jonny Auping suggests that slow-footedness might be a Dallas problem this year, that "a missed shot by the Mavericks' offense could lead to a transition basket before Dirk and company even cross half court. Players like John Wall, Russell Westbrook, and Ty Lawson will look to slice up Dallas in transition. Stopping them once they get an outlet pass will be like trying to catch up to a train that's already in motion.''
Which brings us to "Mavs Transition Defense - Zaza vs. The Runaway Train.''
DONUT 9: Stay in Touch
You can find DB.com almost everywhere and be a part of DB.com in so many ways. ... 
DONUT 10: Day Off
The Mavericks  are off today before returning to practice on Friday to prep for a trip to Tulsa to take on the Oklahoma City Thunder. That
will be a 7 p.m. tip with no local TV, but Coop brings it to you on 103.3 FM ESPN.
DONUT 11:  Offered (almost) without further comment
Shaq. Dancing. In a phone booth. With Alex Trebek.
DONUT 12:  The Final Word
"We've got work to do, and we've got to get some guys back in there. The guys we've got out there are going hard, and we've just got to get more done." - Coach Rick Carlisle.