DONUT 1: Same timetables?
As it regards Wes Matthews and Chandler Parsons, the Dallas Mavericks have two different timetables for two different guys.
Publically, there is Rick Carlisle's position:
"They're both on a similar path," Carlisle said. "Their situations are slightly different, but their timetables aren't far apart if at all."
There is sense to saying this. Matthews (rehabbing from the Achilles problem) is likely buoyed by the support his coach is giving him as he works to a target that motivates his rehab and recapture what you see in the above video.  The regular season. Oct. 28. In Phoenix.
And Parsons (knee surgery) has the same target, in a general sense.
But Parsons, in reality, might debut in the preseason. Matthews, in reality, might need until December. Those are the more privately-held notions.
The best notion comes from none other than Dirk Nowitzki.
"Parsons and Wes are both guys that want to be here for a lot of long years," Nowitzki said. "So it would be wrong to push them now in October and not have them later on in the season. ... So you want to take it slow, progress from week to week and whenever they're ready, they're ready."
That's not an advanced medical-science opinion, nor is it a psychological ploy, nor is it a PR gimmick.
It's just Dirk. It's just fact. Whenever they're ready, they're ready.
DONUT 2: Trading PGs
Some of us keep trying to trade away a Mavs point guard. After all, they are loaded there, in terms of numbers (and veterans who are proven commodities at some level.)
Coach Rick Carlisle tells us to save our breath.
"We're going to keep all our point guards,'' Rick said, responding to roster-related questions. "All those guys, Williams, Barea, Harris, Felton, those guys are going to be on the team."
That can change, eventually, of course. But given the fact that Deron is struggling with calf problems and now Felton is bothered by a hammy problem that popped up in Saturday's workout? Yeah, you keep all four, because around here right now, you end up only having two healthy ones at a time.''
DONUT 3: After The Rupture

Tremendous work here as Grantland's Jonathan Abrams visits with Wesley Matthews about being a Dallas Maverick and, of course, about the Achilles problem and the ongoing recovery.
DONUT 4: Barnes Vs. Fisher
Here's a very detailed update on the Matt Barnes-Derek Fisher fight, which as we noted the other day seems largely about the fact that Fisher is dating Barnes' ex. 
It seems there is a caveman-level thinking in play here that goes beyond some jokey "man code'' (about friends dating each others' exes) and extends toward women as property. (I say that even with Barnes' explanation that he believed his children, in the house that night, might been in some sort of discomfort. Even if true, "beating the s--- out of'' Mommy's boyfriend doesn't likely raise their comfort level.
We experienced this first-hand and in a high-profile way this week at Valley Ranch, where standout pass-rusher Greg Hardy seems unrepentant about his involvement in a domestic-violence case. ... and where my attempt to volley some of his thoughts back at him have been grotesquely twisted into the suggestion that I somehow "support'' Greg Hardy ... which would extend to somehow "supporting'' Matt Barnes.
I am in neither man's corner here. We shouldn't even need to point out that their behaviors are abhorent. But then I bring it back to reality on this subject, as I've tried to do for years when it comes to sports figures who commit (alleged) criminal acts: OK, now what do we do? Now that we agree that Greg Hardy and Matt Barnes and so many others are malevolent forces ... now what? Wrap ourselves in the flag and proclaim ourselves to be against violence? Refuse to watch sports ever again? Watch ... but promise to boo every time the offender appears on screen?
Being against domestic violence, being against inequality for women, and being against a troglodyte view of humans as property is easy. (Or should be.) What's hard is what to do about it.
DONUT 5: Dirk at Work
A self-effacing Dirk Nowitzki entered Mavs preseason workouts on Friday … But 0-2 Dallas is still low-keying his pace as he won't be participating in their next preseason outing on Tuesday in Tulsa against OKC. 
"Once the (other) guys were good and tired, I stepped in,'' Dirk said. "Actually, I looked decent then."
DONUT 6: Stay in touch!
You can find DB.com almost everywhere and be a part of DB.com in so many ways. ... 
Follow our gang on Twitter: Zack Cunningham, Johnny Auping, Chuck Cooperstein, Matt Galatzan, Skin Wade and yours truly at FishSports are all part of the family .. 
Get DB.com and Mavs info on Facebook here ...
Grab your free membership on DB.com Boards here ... 
And please consider an investment of just a few bucks a month to Go Mavs and Go Premium!
DONUT 7: CP Believes
Good visit with Chandler Parsons here covering a number of subjects, including what we'll call "the bigger Mavs picture.'' It offers a , and more. Offers a lot of hope for the Mavs future (we could use some of that) and it also includes some more DeAndre stuff, though you are forgiven if you choose to skip over that because it's all still so nauseating. 
DONUT 8: See you at The Maverick Bar!
Texas-flavored burgers that are the talk of the town. A choice of beers with a list of 80 to choose from. A 200-inch screen along with 30 TVs for your Cowboys, Rangers, college football and of course Mavs viewing pleasure. And live music on the weekends!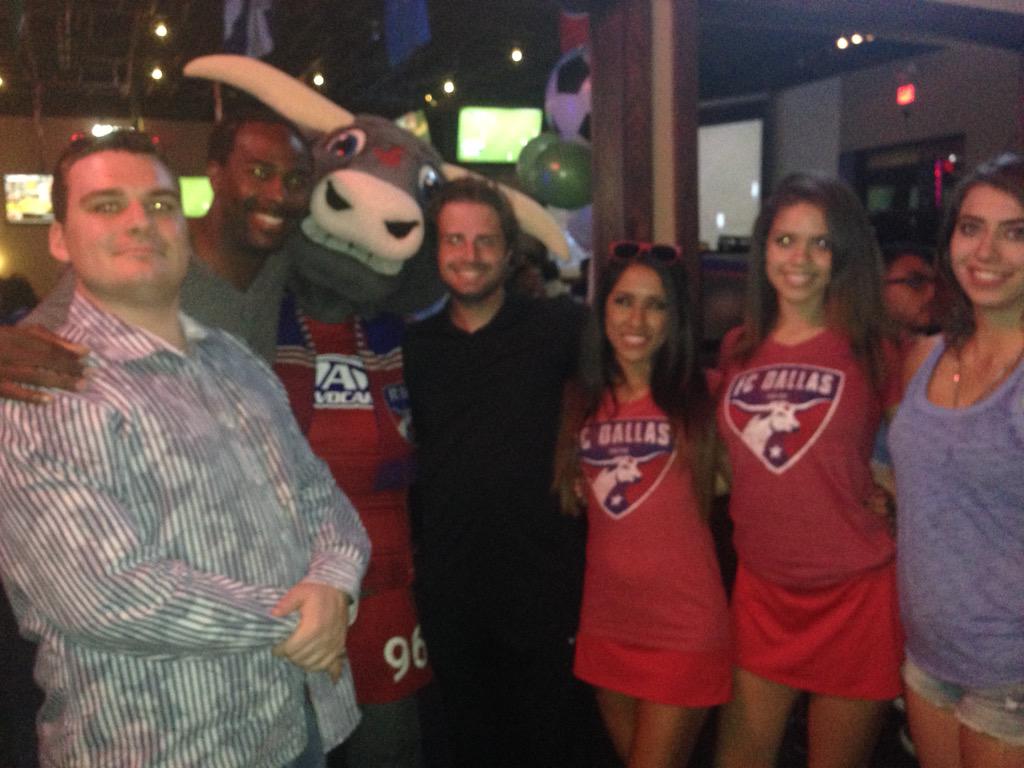 Our hangout is The Maverick Bar in Carrollton ... make it your neighborhood hangout, too! 
DONUT 9: Gilbert responds
Earlier this week, we noted that ex-Mavs forward Caron Butler has a book out that contains sordid details on an infamous guns-in-the-Wizards-locker-room story. 
 Gilbert Arenas is not pleased, and responded by posting Instagrams attempting to straighten out the mess  ...  asserting that the card game morphed into a problem with Javaris Crittenton (currently in prison for manslaughter) ... that  (present Mav) JaVale McGee and Butler tried to hide the weapons later ... and that Arenas and Crittenton simply moved on to the jacuzzi.
DONUT 10: TV experiment 
Rick Carlisle's Mavs will be in Tulsa on Tuesday to take on OKC ... but Followill, Harp and Skin won't be there ... yet they will do TV. It's a FOX Sports Southwest attempt at a more "casual'' way to cover the game. The details are here on DB.com Boards, along with conversation about how you think the experiment might work. 
DONUT 11: Mavs 
As noted above, all four point guards are staying. So ... who has the greatest chance of not sticking around? Who might surprise? David Lord pokes his head into a DB.com Boards survey/discussion of Mavs fans here. 
DONUT 12: The Final Word 
Carlisle is giving his Mavs the day off today. They'll be back at practice Monday and are planning to have a shootaround at the AAC on Tuesday before zipping up to Tulsa. The schedule frees them to watch some Cowboys football this afternoon and then to keep the Rangers bandwagon loaded for tonight.
They're extremely dangerous,'' Rick said of the Rangers, up 2-0 in the playoffs over Toronto and playing across the street in Arlington tonight after Patriots-Cowboys. "They've just got to ride the wave. They're a hot team. It's really an exciting deal.''