If Mark Cuban squints really hard, I imagine, he can visualize it.
Chandler Parsons, Wes Matthews and Deron Williams as one of the NBA's top trios.
Parsons, Wes, Deron and Dirk and one of the NBA's top quartets.
Zaza Pachulia and the centers combining to be one of the NBA's top …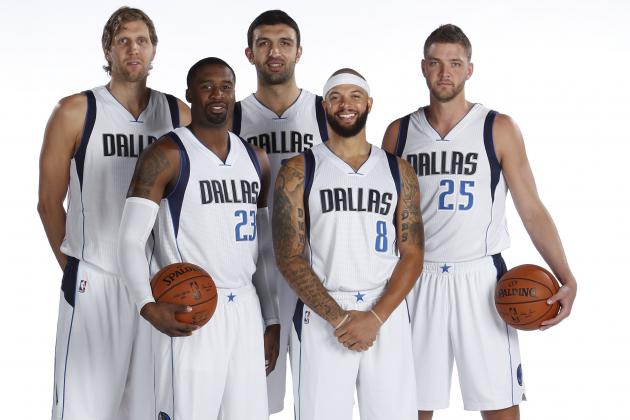 Wait. Stop this.
There is no evidence of any of this being true. Cuban cites something called "internal analytics'' as the evidence. But it's "internal.'' So I cannot cite it. What I can cite is Mark's decade-and-a-half run of predicting the most reasonably optimistic outcome for his beloved team … which is recent years, post-2011 title, has been reduced to "we might make some noise in the playoffs.''
Cuban's used that line this fall, too. And I want to believe, because I am just as much an optimist and a homer as he is. (I fall short only in salesmanship). But parse through Tony Cubes' evaluations here and find me anything that is "objective'' … as opposed to "objectionable.'' 
*About that "top trio'': "You take D-Will, Matthews and Parsons,'' Cuban says. "They're definitely top-of-the-league top three.''
Our Jonny Auping is working on a project regarding this claim. But for now, know that the Cleveland trio of LeBron/Love/Irving will probably end up being recognized as historically great … and that just off the top of my head in the West, Houston, Golden State and the Clippers can stake a better claim here. Oh, and all you need is health from KD for him to join with Westbrook and Ibaka in OKC … Oh, and Aldridge is joining a Spurs team that, when it counts, always finds a way to field one of the best trios in NBA annals.
About that top foursome: "Dirk and Chandler and Wes and Deron, that's going to be money right there,'' Cubes says. "You know, that's a hell of a top four."
Interestingly, and maybe unintentionally, when Cuban mentions his foursome, Dirk suddenly vaults from "not a member of our top three'' to "the first guy mentioned in the foursome.''
I'll give Dallas this: If Dirk Nowitzki is this team's fourth-best player, the Mavericks will be a playoff team. And a real threat to make the aforementioned "noise.'' Because Dirk, even at 37, is a known commodity to me … he'll help you win a lot of games.
But Chandler and Wes and Deron?
Ghost. Ghost. Ghost.
(UPDATE: Wednesday at shootaround, look who's who: Chandler. Wes. Deron. McGee!)
https://twitter.com/fishsports/status/656876578186530816
Assuming CP is available to start the regular season (something we cannot be certain of yet) and returns to last year's form after knee surgery. That'll be terrific. But that doesn't make him LeBron/Durant/Aldridge.
Assuming Wes comes close to where he was as a Blazer before the Achilles? That'll be terrific. But a) there is no guarantee of a return to that level, and b) that level did not make him an All-Star-caliber player and c) even if he returns to that level, it might not happen until December, by which time Dallas might find itself in an NBA standings ditch. (But ... coach Rick Carlisle now suggests Wes hasn't been ruled out of a preseason appearance. So ... maybe.)
Assuming Deron recovers from a calf problem that has kept him from playing during this 0-5 preseason (which continues tonight at the AAC with a 7:30 visit from the Suns), he can certainly be a scoring point guard and an orchestrater of others' success. That's proven. And Deron, unlike his "Big Three'' buddies, does have All-Star credentials. … but they were earned by the now 31-year-old almost four years ago. 
When Mark says, "One of the things we do now, we have what we call 'internal analytics,' where we track everything. You know, we get to see how guys are improving in their shooting in practice and with everything. …''
There are no "internal analytics,'' though, that show you what you need to know about guys who are too injured to actually play.
*About that strong center position: "If our center position is solid,'' Cuban says, "top five.'' 
I'm not certain what Mark is saying here. But if he means that Zaza plus Mejri plus JaVale McGee (yet another intriguing veteran ghost) can add up to Dallas possessing a combination of centers that produces top-five-in-the-NBA results? The Mavs couldn't even do that last year, in my view, when they employed Tyson Chandler (part of tonight's visiting Suns squad). And they knew exactly the path to being top five when they reached their ill-fated agreement with DeAndre Jordan.
Frankly, there is very little about the Mavs at this moment that ranks "top three,'' "top four,'' "top five,'' "top anything.''
Cuban might be right about Dallas defense (eventually) being better than it was last year. He will almost certainly be right about improved shooting, because even if the "Big Three'' are slow to take to the floor to shoot, newcomers John Jenkins and Justin Anderson are establishing that they can pick up some of that slack.
And when he says, "We're going to be fun," he's definitely right in comparison to the Rondo-era Mavs, who were not only not fun for us … they weren't even fun for the Mavs themselves.
Mark Cuban can be an optimist, a salesman and a homer. But I've known the man for 20 years and I know what he's not: A liar. So the parsed quote about how "really good'' Dallas can be needs full context. 
"I think we're not so bad,'' Cuban said. "We could be really good."
Right now, I can squint hard enough to visualize the former part of that sentence. But my eyes hurt trying to see the latter.