Dirk Nowitzki is the cornerstone. The franchise. The foundation.
But he no longer is one of the three best players on the Dallas Mavericks. Well, let's rephrase that: In terms of overall productivity, if Nowitzki is one of the Mavs' three best players, I say the team is in trouble. That load needs to be shouldered by Deron Williams, Wes Matthews, and Chandler Parsons. 
And on Friday in Lincoln, Nebraska in the preseason finale against the Bulls, it was largely shouldered just that way. And as Wes and Deron opened up their Mavs careers, the promise opened up, too.
Recently, Mark Cuban voiced his excitement over the potential of the Mavs' new trio when he said, "They're definitely top-three" among NBA threesomes. Cuban has been known to show a little misguided enthusiasm over the moves he's made. You may remember Darren Collison and OJ Mayo were not exactly the great young backcourt he anticipated, to name one of many examples over the course of an ownership reign that Fish rightly points out is driven by Cuban's enthusiasm, salesmanship and homerism.
Is the Matthews/Parsons/Williams trio one of the three best in the league or ... is that absolutely absurd?
Let's take one step at a time here. 
Matthews and Williams started and played 15 minutes each, all in the first half. Williams had six points and four assists. Matthews had seven points and two steals. They helped a Mavs attack that was led by Dirk (19 points) and Dwight Powell (14 points and 11 rebounds).
"I liked the way they played," Mavs coach Rick Carlisle said of the starting backcourt mates. "Considering that Deron has been out most of training camp, his rhythm was unexpectedly good all things considered. You know, Wes plays the way he's been playing the last week and a half in practice with a lot of grit and a lot of skill. Having those two guys out there was very important, and they did a really good job."
Good enough for this "Big 3'' to eventually be "special''?
The Hard (to hear) Facts:
There is very little hard evidence that comes remotely close to backing up this claim by Cuban. The premise that Nowitzki's decline is made up for by an improved roster is actually quite the stretch. Ian Levy over at Nylon Calculus calculated that, based on BPM ("a box score derived estimated of a player's net impact per 100 possessions") that this season's supporting cast is tied with his rookie season for the worst of his career. 
This is a tough pill to swallow, and it's not all that subjective. It's what the numbers say. Sure, recent injuries by Deron Williams may skew those numbers, but is there any indications that he will come into this season with better health, or that Parsons and Matthews will be fully recovered from major leg surgeries in the offseason? Friday gives us a tentative "yes'' there ... but we'll need to see more.
But even with health: None of the three will come into this season terrifying defenses as individual scorers. Parsons has always been a secondary scorer at best. Matthews is a spot-up shooter who can occasionally post up smaller guards, and Williams hasn't averaged more than 15 points per game in three years. 
It's a plus that all three are very good three-point shooters, but a top trio in the league needs to be able to play off each other repeatedly in crunch time, and it's to be determined if these three can do that. A Williams/Parsons pick-and-roll/pop sounds awkward and difficult to pull off, but it's something Carlisle may explore. 
Other Dominant Trios
Cleveland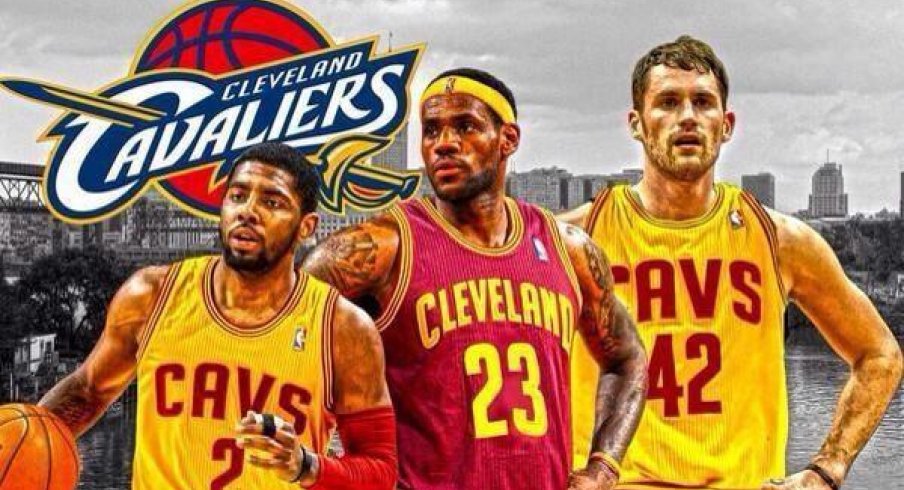 In terms of sheer talent, LeBron James, Kevin Love, and Kyrie Irving are a much more dangerous trio. For starters, they have LeBron James and that pretty much settles any type of argument in basketball. It's true that, when plays break down, Love often becomes a simple spot-up shooter and Irving relies on breaking down his opponent off the dribble, and thus chemistry is hard for these three to sustain. They are still three of the most skilled players in the NBA and much harder to gameplan for than the Mavs' trio.
LA Clippers
This one might hurt to hear, but the Clippers still have a dominant trio with years of experience playing together. There is no comparing Chris Paul and Deron Williams over the duration of their career. Williams has had his moments, but Paul has been much better. Blake Griffin has developed into one of the most effective players in the NBA. Plus, between Griffin and DeAndre Jordan you can be assured that the Clippers will dominate the boards. The Mavs' trio cannot guarantee dominance in a particular area like that. 
Oklahoma City 
The Thunder have Kevin Durant, Russell Westbrook, and Serge Ibaka. That level of athleticism is exactly what you worry that a team with an aged Nowitzki and Williams, and post-surgery Parsons and Matthews will have no chance of containing. 
Golden State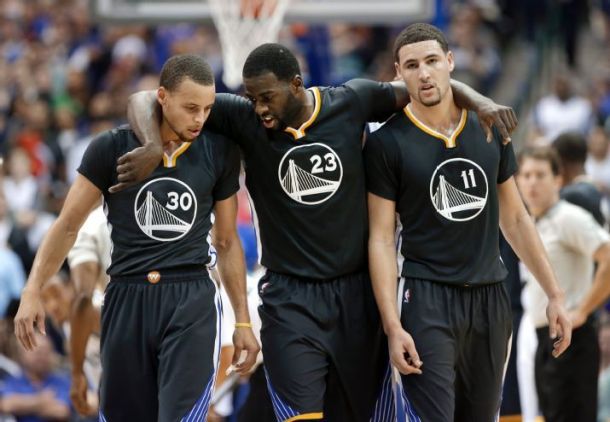 The Warriors will always have advantages over teams as long as Steph Curry, Klay Thompson, and Draymond Green are healthy. The effect of this trio is what the Mavs will look to mimic. Dallas' trio, playing with Nowitzki, will look to spread the floor and kill teams from the three-point line. They also hope that Parsons and Matthews can provide defensive versatility that fits into Carlisle's system. But the Warriors are younger, healthier, and scarier than what Dallas has to offer. 
There's no rational way of claiming that Dallas sports a trio that can be ranked higher than any of these teams. 
Blue-Tinted Glasses
There's hope. 
The sheer versatility of Parsons, Matthews, and Williams provides a lot of promise. The best versions of these three players is something Carlisle will absolutely love to give free reign. They are all unselfish players who are not overly concerned with scoring. They can all hit the defensive glass and start fastbreak opportunities. They are all knock-down shooters, and when fully healthy, they can all be excellent defenders. 
They also have the advantage of having Dirk Nowitzki as their fourth best player. As a seven-foot, highly intelligent, dead-eye shooter, he opens up driving opportunities for all of them 
It's rare to have three players as versatile as these who don't need the ball much to have an impact. Ultimately, what you're looking for is that these three can click and play off each other immediately, to have the kind of dynamic that would win a lot of three-on-three games. The Rondo/Monta pairing led to a lot of ball-stopping. The ball needs to move quickly with these guys. They are all heat-check players and if those shots are dropping then the rest of the roster can be entirely more effective. 
The Verdict 
Cuban was on to something. Kinda. These three are good, and might complement each other in a way that gives the Mavericks life. 
Unfortunately, a lot of things have to go right for that to happen. Health might just be fading as a huge question mark.  Good. But ... The phrase "if Deron Williams can return to his prime…" is a very optimistic one. Players rarely take a step back and then return to glory. All these players have to stay healthy and click with each other.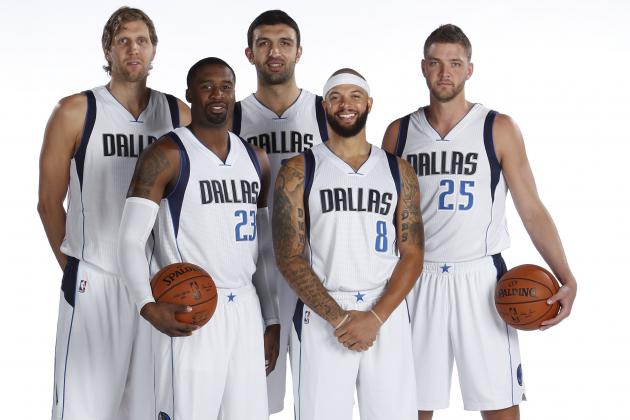 The smart move by the Dallas was putting together three players who don't need to rely on systems being built around them. Don't hold your breath that enough things will come together for them to be one of the top three trios. ... but Deron, Wes and Parsonsneed to be put on the court to be effective in one way or another. ... and it's very positive that two of the "Big 3'' just did so.