The Dallas Mavericks are chasing cohesion and they are chasing 50 wins because this is what they do. But even with the desire for continuity comes the desire to be even better than they are and that is why, even after last year's start -- when Dallas won 19 of its first 27 games -- the Mavs made a blockbuster December 18 trade for Rajon Rondo.
It didn't work.
I bring up the Rondo Era (from "cue the parade'' to "quitters never win'' and The Disconnect Four) because it serves as a reminder as here comes another swing at cohesion ... that comes with no guarantees.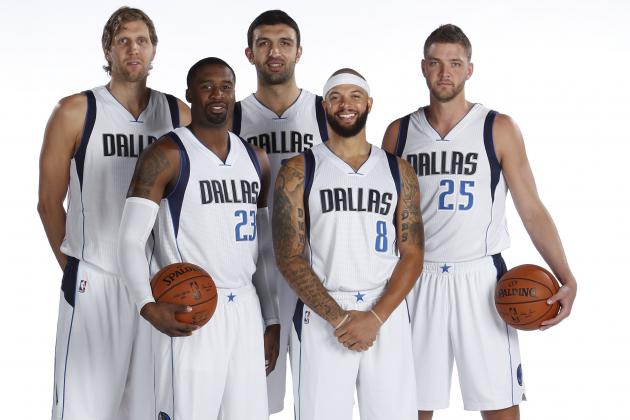 The Mavs open the 2015-16 season on Wednesday in Phoenix (9 p.m. tip DFW time on FSSW and 103.3 ESPN) with a roster and salary totem pole that looks like this ... 
.

Player

Team Salary

1

Wes Matthews

$16,407,500

2

Chandler Parsons

$15,361,500

3

Dirk Nowitzki

$8,333,334

4

Deron Williams

$5,378,974

5

Zaza Pachulia

$5,200,000

6

J J Barea

$4,290,000

7

Devin Harris

$4,053,446

8

Ray Felton

$3,950,313

9

Justin Anderson

$1,449,000

10

JaVale McGee

$1,270,964

11

Jeremy Evans

$1,100,602

12

John Jenkins

$981,348

13

Charlie Villanueva

$947,276

14
 

Dwight Powell

$845,059

15

Salah Mejri

$525,093
Is that a group that allows owner Mark Cuban to justifiably claim "we might make some noise in the playoffs''? Well, with full health, maybe. Though step-by-step, Tony Cubes is awfully excitable regarding what it all means. To wit:
*"You take D-Will, Matthews and Parsons,'' Cuban says. "They're definitely top-of-the-league top three.''
*"Dirk and Chandler and Wes and Deron, that's going to be money right there,'' Cubes says. "You know, that's a hell of a top four."
*"If our center position is solid,'' Cuban says, "top five.'' 
 Easy, big fella.
 I write about Cuban's optimistic salesmanship in my Mavs column here and our man Jonny Auping uses some advanced stats as he breaks down the "Big Three'' concept in Dallas here. But everything you see about that roster above, everything you see about the desire for continuity, maybe everything you know about the chances to win 50 or to at least "make noise'' is predicated on health. But because there is no time for optimism like the moment you are still 0-0, I'll point out that Dallas' Health-O-Meter is actually pointing up with Deron Williams and Wes Matthews debuting in the preseason finale.
Nevertheless, Dallas last year was 50-32, finishing 4th in Southwest Division and 7th in Western Conference and in theory can build on that because of the continuity that does exist ... meaning 37-year-old Dirk Nowitzki and coach Rick Carlisle, who celebrates a birthday Monday that might come with the gift to all of us of his re-upping with Dallas under the terms of a new five-year contract.
Chandler Parsons can be part of that, too, and while he won't be ready for the opener following knee surgery, I think back to last December when he averaged over 18 points per game while shooting almost 52 percent and have visions of him being asked to do a little more ... and doing so. I try to envision a comeback-player like performance from Deron Williams,  the three-time NBA All-Star back home in DFW trying to resurrect his career from off the scrapheap. I easily see Wes Matthews putting in the work and flexing the leadership muscle so well that the bloated four-year, $70 million contract is no longer an issue, behind him  like the torn Achilles seems to be. And I'm already impressed that Dallas' trade of air to Milwaukee in exchange for Zaza Pachulia is destined to be a success. He was worth eight points and seven rebounds and nice ball movement and tough-guy moments as a part-time starter for the Bucks last season and will do it all again here.
Part-time? Yeah, because maybe JaVale McGee gets healthy in the coming weeks and climbs off a scrapheap far scrappier than D-Will's and becomes an NBA center again. No, not a "Shaqtin' a Fool'' TV star; an "athletic freak'' (Cuban's words) who contributes like a self-controlled member of the squad.
The depth chart? Something like this ... sometime soon:
C - Zaza Pachulia / Salah Mejri / JaVale McGee
PF - Dirk Nowitzki / Charlie Villanueva / Dwight Powell
SF - Chandler Parsons / Jeremy Evans
SG - Wesley Matthews / Devin Harris / John Jenkins / Justin Anderson
PG - Deron Williams / J.J. Barea / Raymond Felton
DeAndre didn't come here. Lost in that bizarre tale was the fact that DFW native LaMarcus Aldridge didn't come here, either.  Deron Williams calls himself the "consolation prize'' but that's not true, either. I don't think of him that highly ... yet. He's no more a "prize'' than Wes (even with his "Basketball Soul'') or Zaza or JaVale or Evans or Jenkins or Mejri or rookie Justin Anderson, not yet. Not until Deron's "re-set button'' is fully engaged.
But if he, and his new mates, compete for a playoff spot in 2016? It'll be, as Cuban calls it, "fun.''  If the newcomers buy what Carlisle is selling, it can happen and be even more than "fun.''  ... as long as we understand that on paper there are as many as seven teams that look superior to Dallas and that the "championship-trophy bar'' is now a "playoff-berth bar.'' And while we're at it, we should understand that the aforementioned roster is a work in progress ... as it always is around here for a franchise that values continuity but also values winning 50.