Athleticism is important in the NBA. Even bypassing a statistical or nuanced argument to prove that statement, I'd ask you to take a look at the Oklahoma City Thunder, Golden State Warriors, and LA Clippers. Those teams are full of strong, fast, and powerfully skilled athletes. If for no other reason, it requires a certain amount of athleticism just to compete with them. 
Comparatively speaking, the Mavericks are lacking in this regard. Age has drained it from some Mavs, and injuries may or may not reduce it in others. They do not have a single elite athlete in their current rotation. This would spell doom for most NBA teams. The key for the Mavs success in their two wins, and the key to a successful season for them, is to make up for this disadvantage with efficiency, which can be accomplished through peak athleticism but doesn't require it. 
The Mavs went after athleticism when they tried to sign DeAndre Jordan, and we all know how that went. Jordan is better than Zaza Puchulia because he is bigger and considerably more athletic, but in an under-the-radar-sort-of-way, Puchulia is able to narrow that gap by being efficient in a lot of little ways.
Zaza, coach Rick Carlisle says, "is better than I thought he was, and I thought he was good."
Better how?
Puchulia is an instinctively better defender than most, especially at guarding big men in the post. He is more than competent putting the ball on the floor, and more importantly, is deliberate with his decision-making. He can catch the ball 10 or so feet away from the basket, make one hard dribble towards the rim, and perhaps whip the ball to a teammate in the corner. This is how you develop good ball movement, and potentially great offense, if you have other efficient decision makers on the floor. Fortunately, the Mavericks do have other efficient decision makers on the floor. 
Dirk Nowitzki is about as efficient of a basketball player as there is. His threat as a shooter influences the way defenses have to operate. Say what you will about Deron Williams, but he is rarely knocked for being too hesitant of a player. He is a quick decision-maker who doesn't usually dribble himself into situations he can't salvage. Wes Matthews (with his legs fully under him) is a deadly shooter and willing to move the ball immediately to keep the offense going. And Parsons is a versatile offensive player with a pump fake that can scramble a defense. 
It's totally fair to criticize some of the Mavs for being old or coming off injuries or unproductive seasons. But when you step away from those criticisms, you might realize the Mavs are not a roster full of inefficient players, of which there are quite a few in the NBA. 
Bobby Karalla of Mavs.com pointed out that against the Lakers, Dallas shot over 50 percent on two-pointers. That might not take your breath away, but it's a sign of a team that doesn't beat itself by taking bad shots or missing easy ones. Monta Ellis shouldered a huge scoring burden and he did what he could to get buckets, but he was not going to be confused with the most efficient player in the NBA. There were a lot of long contested two-point shots and drives that featured other Mavericks just hoping he knew what he was doing. On top of that, Rajon Rondo all but crippled the offense.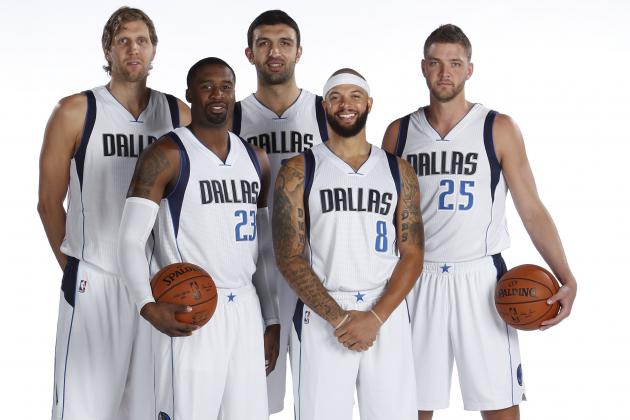 Individually, the Mavs won't beat any of the top ten teams in the league, but if all of them are playing efficiently together, the hope is they will be hard to beat. 
The high rate that Nowitzki has played at the past two games (he scored 25 points off 10-13 shooting against the Lakers and 18 points off 6-10 against the Raptors) likely won't sustain itself game-in and game-out, but don't dismiss it as a fluke or a case of getting hot at a random time. The offensive fluidity and ball movement makes it tough for defenses to pay extra attention to Nowitzki. Factor in his basketball IQ and you can count on him to find looks within the offense that are essentially second nature to him. 
The first problem with this, specific to Dirk, is minutes management. Dallas is trying to be conservative here, but it's challenging when three other guys are in the same limited boat.
"We have to hold the fort down and we have to find creative ways to win,'' Wes says. "I'm on a minute restriction, so I've got to deal with that. Chandler (Parsons) is obviously on his, but we've still got a job to do, and that's win games."
The second problem is that with a deficit in athleticism and a limit on "stars'' minutes, "winning games'' requires no lapses in execution. There is a certain margin of error that is allowed to teams that can compensate for it with elite athleticism or dominant players in their primes. The fourth quarter of the Mavericks' 102-91 loss to the Raptors on Tuesday night was an unspectacular showing of shots that defenses will always give the Mavs. Dallas didn't respond well to Toronto's increased physicality (and perhaps unfortunate officiating) during a 12-0 run.
"A boxing match,'' Carlisle says of Toronto's style there, meaning it as a compliment.
Williams came off screens and shot jumpers without any ball movement. Steph Curry can take those shots, but the Mavs are capable of working to get Williams better shots. The ball didn't move and Dirk, who was hot in the first three quarters, took only closely contested shots in the fourth. 
The saving grace is that Parsons fit right into the starting lineup. In seven first-quarter minutes he shot 3-4 for 8 points, two rebounds, and an assist. Again, he is still on a minute restriction and played just 14 minutes total. Parsons mentioned after the game that part of him wishes that he could play his 12-14 minutes at the end of the game. They surely could have used him in crunch time. ... and DB.com believes a theme going forward is deciding if CP is the "go-to guy'' in the clutch or if that's going to be by committee, too. (We discuss here in Donuts.)
For considerable stretches this season players like Nowitzki and Williams have looked refreshed. That's perhaps a good physical sign, but more likely it was the result of well-run offense that doesn't ask too much of them. In the fourth quarter on Tuesday, they looked like two players that shouldn't be shouldering a scoring load. They didn't age drastically over the course of the game; they just saw a functioning offense disappear.
The Mavericks won't be getting much more athletic this season (unless JaVale McGee earns a steady spot in the rotation upon his return from injury). It will take very efficient play just to survive.  Halloween is over but a Mavs mask is still needed. A Mask of Efficiency.