DONUT 1: Hornets 108, Mavs 94
What may have looked like one of the easier games on Dallas' schedule turned out to be anything but on Thursday night as the Mavs fell, 108-94, to Charlotte in what could be described as their worst performance of the young season. The Mavericks struggled to get anything going offensively and shot less than 20% from deep and got mauled in the paint behind a monster effort from Al Jefferson.
"We laid two eggs, and we've got to get better on both ends,'' said Wes Matthews, harkening back to Tuesday's "boxing match'' home loss to Toronto. "The Toronto game was just a little bit here and there, and tonight it was a whole half. We have to look at the film, but absolutely, we have to play with a sense of purpose and we've got to play together on both ends of the court. And as much as I'm one to hate this phrase, it's a process. But we've got to speed (that process) up, because the West isn't going to do us any favors."
We'll get to the West in a moment. But let's focus on this one. It wasn't pretty … but if you can stomach it, keep reading.
DONUT 2: Al Jefferson is a problem
Another litmus test for Zaza Pachulia, another set of hand-wringing results. Al Jefferson had his way with the Mavs newcomer in the first quarter and helped Charlotte set the tone in the early going. Such an effort likely won't suffice against the bigs of the West either … and it's unsure what kind of relief JaVale McGee can bring in the future as he still seems to be a while away. "It's a weeks, not days, thing,'' coach Rick Carlisle reported.
Of course, Big Al has done this against Dallas before. But never before in the previous 14 visits has Charlotte won at Dallas. Thursday marks a tipping point ... an end of an era and the end of the aura.
DONUT 3: Re-Upped Rick
What Dallas does have going for it is more Rick Carlisle, as he's signed his new five-year extension. 
"Mark Cuban, Donnie Nelson, and Dirk Nowitzki are the reason an extension like this is possible," Carlisle said. "I have the best owner and general manager in sports, and one of the greatest players in NBA history to thank for this opportunity. There is much work to be done as we move forward."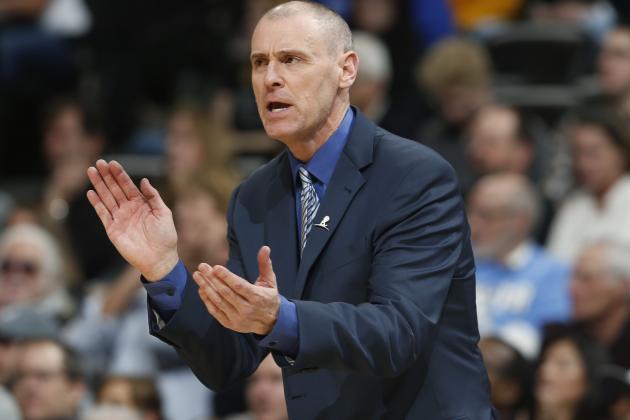 Indeed. But for now and for the future, Rick is ours. Mavs fans discuss that here on DB.com Boards.
DONUT 4: Pain in the paint
For the second straight game, Dallas was brutalized down low. Al Jefferson made Pachulia's night miserable, but other Hornets were swarming to the rim all night long as well. With 8:24 left in the second quarter, Charlotte had already put up 24 points in the paint … and it only got worse. This is where Dallas' need for a rim protector is most evident and while things are bound to improve slightly when JaVale McGee gets a crack at things, it certainly seems to more of an issue for Dallas than one man can fix.
DONUT 5: Pachulia passing
One thing Zaza does have going for him are sick passing skills that far dwarf any other Mavs big man in recent memory. While he continues to find his way on both sides of the ball with his new team, it's clear the Mavs have found an offensive weapon and solid conduit for their flow scheme. And he makes his free throws.
Our Jonny Auping notes that it's "efficiency'' that's going to have to power Dallas, rather than "athleticism.'' "The Mask'' analysis, Premium Mavs stuff, is here.
DONUT 6: Slow starts
As was the case on Tuesday against Toronto, the Mavs struggled to get things going offensively in the opening period, falling behind Charlotte, 27-23. While they didn't give up 31 points (good), they did allow Al Jefferson to score 11 points in the frame mostly on finger-rolls and short-range shots without much resistance.
"You know, we've got to play better,'' Rick said. "We've played poorly, really, two consecutive games, and that's not good. I've got to look at this objectively and see where we need to get better. I don't think it's necessarily an effort thing as it is we've got to be more physical. I think our mindset has to be more physical. Two nights in a row, you know, we've really been beaten up by physical teams, so we'll look at adjustments for that. And no excuses.''
DONUT 7: Parsons' impact
Understandably after Tuesday's loss, Chandler Parsons pined for the days when he could play with his team when they needed him most, namely crunch time. As Dallas went ice cold down the stretch against the Raptors, it was all Parsons could do to watch his team fall in defeat … and he wasn't happy about it.
Thursday offered the Mavs young star the chance at playing exclusively in the second half provided, of course, he stuck to the conditions of his minutes limit. Dallas struggled offensively without Parsons on the floor and it's clear they need him in the mix to be an efficient unit.
But yet ... the new second-half-only plan didn't work, either.
"Obviously, that's not how we saw it going," Parsons said after not starting the game and being used as a second-half-only weapon, playing 14 minutes but making just one of five shots. "We got nothing going in the third quarter with not being able to make shots to them scoring at will and getting easy shots. Obviously, we didn't see that coming. It was worth a shot, and we tried it out. Things just really escalated in the third quarter there, and we couldn't come back from it."
DONUT 8: This Weekend at The Maverick Bar
Live music. College football, the Mavs, and the Cowboys and the NFL ... on 30 TVs, including our 200-inch big screen. Plus Texas-flavored burgers that are being proclaimed as the "best in town.'' It's The Maverick Bar at 1616 Hebron and we'd love to see you for lunch, happy hour or late night this weekend!
DONUT 9: Quotable
"It's almost like the basketball gods saying, 'Here you go for that dumbass idea.'" - Chandler Parsons, on his second-half-only plan.
DONUT 10: Living and dying from deep
Dallas will be a 3-point shooting team this year; that much is not up for question. With that, however, comes the potential for periods like what happened Thursday night against Charlotte (although, the Hornets weren't exactly making it rain like the other night against Chicago).
Several wide-open looks from Deron Wiliams and Dirk along with Parsons clanged off the basket and lead to not-so-good things on the other side. It stands to reason the Mavs will be on some night and off some nights from 3-point land … but therein lies the risk.
DONUT 11: This was supposed to be the easy part
For those looking at the Mavs schedule and hoping for some relief … don't. Dallas opens a stretch next week of four games in five nights and will begin battling some of the premier teams in the West.
The Mavericks may have missed an early chance in this young season to gain some temporary ground in the standings with losses at home to two Eastern Conference teams … including to a Charlotte team that hadn't won in Dallas since I was 12 (that's 1998 for those keeping score … I'm 29 now).
DONUT 12: The Final Word
"As much as I'm one to hate this phrase, it's a process. We've got to speed (the process) up. The West isn't going to do us any favors." - Wes Matthews.