1. The Mavs came into Saturday night's game on the heels of a two-game losing streak, and looking to bring the fans at the AAC their first home victory of the season against an 0-5 Pelicans team that has been decimated by injuries this season. Dallas took advantage of a depleted Pelicans roster, and knocked off New Orleans 107-98.
Maybe it's because the coach is so "upbeat.''
"I'm always encouraged,'' coach Rick Carlisle deadpanned. "Very upbeat, g---ammit."
2. Dirk was frustrated by the Pelicans defense and Anthony Davis's length in the first half on Saturday night. Davis is one of the few players in the league with the ability to legitimately bother Dirks patented shot. Dirk was able to find some room to operate in the second half however, finish the game with 18 points and seven boards. 
3. After Thursday night's loss, Rick Carlisle talked about the importance of coming out strong in the first quarter. They were able to accomplish that against New Orleans in this one, winning the first quarter 26-21.
4. Dallas played much better perimeter defense than it did on Thursday night in this one. It's encouraging to see the Mavs staying in front of their matchups, and forcing more contested looks for opposing offenses.
5. CP looks to be getting better and a little bit more confident with each and every game. Parsons finished the first half (his designated half) with six points in 15 minutes. 
6. The Mavs lack of players (outside of the point guard position) with the ability to create their own shot is a glaring weakness on this offense. Good ball movement can disguise it at times, but when the point guards aren't able to create, this offense can really struggle. The Mavs need Chandler Parsons' shackles to be unlocked (health permitting) if this offense is going to succeed.  ... and here, his health allowed a dunk ...
https://twitter.com/tim_cato/status/663176507771125760
7. Anthony Davis is a supremely talented player. He might be the most talented player in the NBA right now, and yes I know who LeBron James is. In two years, we all might be talking about how Davis is the best player in the NBA. Davis had 25 points, six boards, four assists and two blocks. ... and yet ... they cannot win.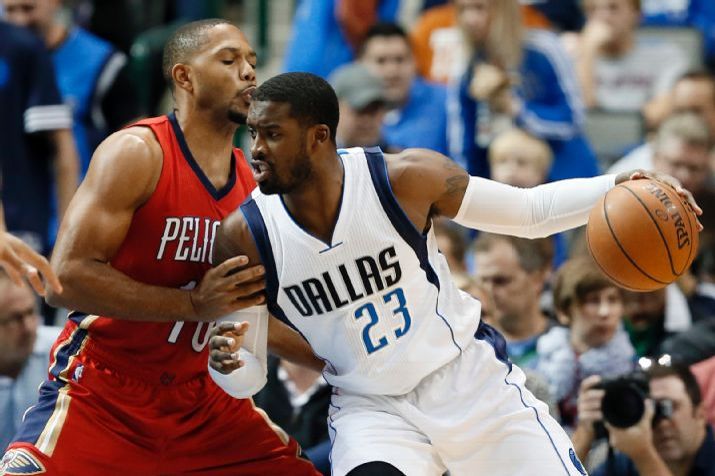 8. Wesley Matthews had perhaps his best game as a Maverick in this one. Matthews drove the ball to the hoop, used his post game, and played solid defense all night. Wes finished the game with 13 points in 29 minutes. 
9. Opposing bigs once again feasted on the Mavs defense on Saturday night. As Johnny Auping pointed out in his article about protecting Dirk on defense, it is a glaring weakness for this team. For everything that Dirk brings to this team in terms of offense and leadership, Dallas has to find a way to fix this leak in it's defense or its going to be a major problem moving forward. Ryan Anderson had 21 points and nine boards in this one. Ryan Anderson. 
10. Johnny also pointed out that the Mavs perimeter D must do a better job of preventing opposing scorers driving to the hoop against the Mavs soft interior. In our opinion they looked much better in that aspect of the game this time out. 
11. J.J Barea is masterful on the pick and roll, especially when paired with Dwight Powell. Barea was averaging 9.6 points and 5.8 assists in just over 22 minutes per game coming in, and (along with Powell) has arguably been the Mavs best bench player so far in the young season. His chemistry with Powell is a great offensive weapon that Coach Carlisle can implement when his "big guns" aren't on the floor. Barea finished Saturday's game with 13 points and two assists in 24 minutes.
12. Dwight Powell is not so quietly becoming an extremely important part of the Mavs success early on this season. His rebounding ability is invaluable to this team, and he's found a niche offensively. Powell had 15 points and seven rebounds, while playing very respectable defense against Anthony Davis. 
Skin asked Powell about having a "green light.''
"I wouldn't say my light is green,'' Powell said. "We have an offense and I have a role in that offense."
13. Deron Williams continues to look more comfortable in Rick Carlisle's system as the season progresses. Williams is has been one of this teams most consistent offensive threats, and Saturday night was no different. Williams posted 13 points and two assists in team-high 30 minutes in the game.
Said Rick: "I though D-Will played great. I thought he had really terrific command of the game and in the third quarter he was a key guy as far as getting the ball to the basket and getting other guys involved. He led our team and that's important. It's pretty clear that his legs are getting under him better, his rhythm is getting better and the outside shots are looking more rhythmic. He has to stay the course. He was tremendous tonight."
14. Zaza Pachulia was a glass eater in this one, pulling down 14 rebounds and contributing nine points in the process. Pachulia was just one point away from his third double double of the season. 
15. Jeremy Evans replaced Charlie Villanueva in the rotation in this game and played pretty well. His presence was an asset on the defensive end, and he had a couple of momentum shifting dunks as well. Look at the reaction from Tony Cubes on this one ...
https://twitter.com/cole_mentzel/status/663199031812866048
16. Balance was the name of the game for the Mavs here, as they ended the game with five players in double figures. This will be one of the keys to success for the Mavs all year long. 
17. Dallas was also able to battle well on the boards, drawing even with the Pelicans 42-42. 
18. Dallas also took much better care of the ball in this one, finishing with 20 assists to just nine turnovers. When the Mavs take care of the ball and move it well, they are a much better offensive team. Shocking, I know. 
19. In the end, the Mavs played efficient, balanced basketball in this one. They played with great energy and tenacity on both ends of the floor, and it proved to be the difference in the game here. 
The Dirkie/Player of the game: Deron Williams. D-Will was the Mavs closer in this one, scoring 19 points and icing the game down the stretch for Dallas.  That's my vote, anyway. How about yours? We kick it around all night on DB.com Boards!
Stat(s) of the night: A balanced attack. The Mavs had five players score 13 points or more in this game, with Zaza contributing nine points of his own. Balanced efficient offense is what the Mavs need to be successful and they had that here. 
This game was over when... Deron Williams iced the game with a pair of free throws with 1:18 to go in the game. New Orleans was attempting to make a late run at the Mavs lead but Williams drew a foul from Tony Douglas to end things for Dallas. 
Should have seen coming... Dirk bouncing back. Dirk got off to a rough start, going two for 10 from the field in the first half. However, Dirk battle through the sluggish start and in typical Dirk fashion went six for six from the field in the second half to finish with 18 points. 
Couldn't see coming... Defense. The Mavs have been bad on defense the last two games, but had a much-improved defensive effort against the Pelicans in this one. 
https://twitter.com/ESefko/status/663220326478680064
What's next?: The Mavs (3-3) will hit the road to take on the Pelicans (0-6) once again. Tip off is set for 7:00 pm Tuesday from the Smoothie King Center. The "freak'' Davis will get another shot at Dirk, a "freak'' in his own right, no joke.