1. The Game is the Thing. We know this.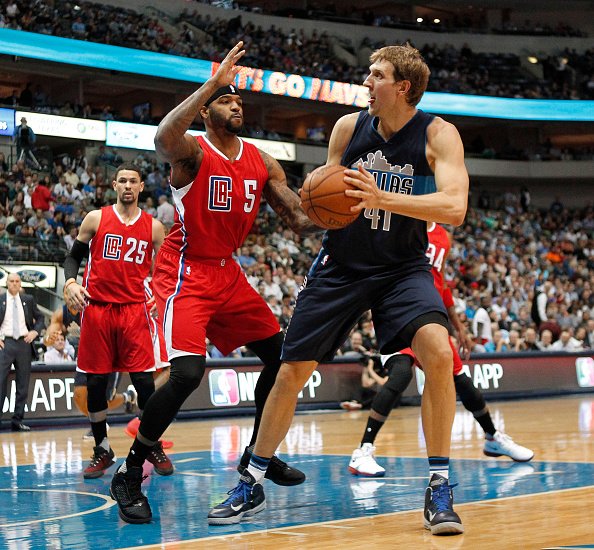 It's about cool new uniforms ("Skylines''!) and it's about Dirk Nowitzki scoring 31 points and it's about Wes Matthews playing shutdown D on Chris Paul and it's about Zaza Pachulia muscling his way to being the best center on the floor ...
And yeah, it's about that, too, about the Dallas Mavericks exacting revenge on DeAndre Jordan in his first trip to DFW since his offseason free-agency defection. And that factor must be included, prominently here, because it was central to the inspiration that spurred the Mavs' 118-108 upset of the loaded Clippers.
"Not everybody played great,'' coach Rick Carlisle said. "But everybody played with great energy.''
The Mavs aren't good enough for everybody to play great. But they were inspired here to attempt that. And it was plenty good enough.
2. Dallas admits to some "effort embarrassment'' from one game ago. After being dominated in every facet of the game on Monday night in New Orleans, the Mavericks came into Tuesday night's game with something to prove on multiple levels. Dirk was vintage, and his support cast was nothing short of marvelous -- in effort, at least -- and the Mavs looked nothing like they did 24 hours before.
And so much happened early.
The Mavs came out hot in the first quarter, but ultimately couldn't keep up with the supremely athletic Clippers, losing the first quarter 35-27. J.J. Redick and Jamal Crawford gave the Mavs D fits from the get-go, while Chris Paul had a whopping eight assists in the first frame. Redick however, would leave the game in the first half with back trouble and wouldn't return. 
Emotion was high for all involved ...
https://twitter.com/MacEngelProf/status/664616927059316737
3. Mavs fans gave DeAndre no quarter from beginning to end. He was booed from warm-ups until the final buzzer and every touch in between. Say anything you want about the Mavs organization and team, but if one thing is consistent, it's the fans. We aren't a throw-eggs-and-beer-bottles-on-the-court crowd. But we're going to show up ... and we're going to treat DeAndre and Rondo (you watch) and Odom (maybe not anymore) the way an unwelcome guest in our home deserves to be treated.
To wit ...
All of this was much too much for Jeff Van Gundy, in town with ESPN to telecast the game to a nation that absolutely wanted to see Dirk and DeAndre and Doc and Cuban all yelling at one another ... 
And Van Gundy amatuerishly whacked his network-sized stick against the hornet's nest by opening the show by pondering how the same DFW fans who boo DeAndre Jordan can live with themselves cheering the Cowboys' Greg Hardy.
This is a remarkably juvenile attempt at trolling, and yet it took hold on Twitter (where you can find Fish here and Galatzan here) with the poor LCD fans enthusiastically raising their metaphoric pitchfolks. In doing so, they forgot that:
a) All Mavs fans aren't Cowboys fans.
b) All Cowboys fans do not support domestic violence. (In fact, probably pretty close to none of them do.)
c) Van Gundy didn't have to reach so far for a domestic-violence offender from another sport inasmuch as the Clippers' starting lineup on Tuesday included Lance Stephenson, who was involved in a horrible case of domestic violence that Jeff surely is aware of.
d) Van Gundy didn't have to use other people's struggles with the issue and could've instead added his own coaching experience inasmuch as he once traded for Latrell Sprewell -- immediately after Spree had choked his Warriors coach.
e) Van Gundy  didn't have to use other people's struggles with the issue and could've instead added his own broadcasting experience inasmuch as he once stood by his mentor Marv Albert even after the legendary NBA voice pleaded guilty to sexual assault in a case that included charges of sodomy of a woman.
In short, Jeff Van Gundy need only look at the next cubicle in Bristol to recognize he has no right to a high horse. Indeed, he's partnered to the NBA, a place that harbors miscreants and criminals. And the same goes for the workplace for many of us, and the world of consumerism for all of us, and we're growing increasingly suspiscious of the high-horse riders and the finger-waggers as we come to the realization that so many of the wagging fingers are attached to dirty hands.
One more time: You boo DeAndre or Rondo or Odom or Robin Ventura or Daniel Snyder or Eli Manning and none of it has a damn thing to do with Greg Hardy.
4. Wes Matthews got off to a very hot start on Wednesday, scoring seven of the Mavs first 14 points. After finishing scoreless against New Orleans on the night before, Wes looked hungry to make an impact offensively. Matthews finished the game with 25 points on 9-13 shooting. This was without a doubt Wes' best performance as a Maverick to date, especially because he was also key to controlling Chris Paul and because he showed the BBIQ to find Dirk.
https://twitter.com/KirkSeriousFace/status/664632219831558148
"He has an iron will,'' said Carlisle of The Ironman, who exchanged texts with Dirk after the Tuesday loss as they vowed to each other to "step up'' here.
Added Dirk: "Yeah, he's an iron man for a reason. We really didn't know how fast he could be effective (after Achilles rehab), but he wants to play and he wants to be out there all of the time and he wants to help. He showed tremendous leadership after last night and really setting the tone.''
5. After an early first quarter alley-oop, DeAndre Jordan looked at the crowd and screamed "What Now?!" DeAndre then proceeded to go 1-2 from the floor for the rest of the half, going into the locker room with just five points.
Cool story, bro. DeAndre finished the game with an inconsequential nine points and 11 rebounds. 
Far more consequential was his opposite number, Zaza Pachulia, who earned this comparative remark from Carlisle: 
"Our guy is a 90-percent free-throw shooter, and we love him."
6. After a poor first quarter, the Mavs found a way to fight their way back into the game in the second. Outscoring the Clippers 26-19 in the quarter and taking a one-point lead into the locker room. This represents a psychological leap here, as the team concedes it had some concern about the crowd and the team not being "early-risers,'' if you will, regarding the 7 p.m. start.
Listen, fellas: You keep scheduling wins over DeAndre Jordan at 7 p.m., we'll keep showing up.
Hey, even the non-DeAndre stuff was fun ...
7. It's difficult for the Mavs to find their stride with minutes restrictions on key players like Wes and CP. If this team is going to be successful, team chemistry on the court is going to be paramount. We all know about the off-court chemistry -- see the Fish Premium column on that Dallas strength here -- but the Mavs need these guys to be on the floor more consistently. 
And yet ... this was a Chandler Parsons (knee rehab) rest night. So if they can do this without him, just think ...
8. Raymond Felton was a big part of the Mavs success early in this game, scoring seven points in the first half, and helping the Mavs climb out of their early hole. Felton also hit a big shot down the stretch with just over a minute to go in the game that helped bury the clippers. Felton finished with 13 points and we're gonna say it again: Every single time this coaching staff has called on him, dating back to the second half of last year and right up until this moment, he's done all he can to deliver.
There is a certain rookie coming on to maybe steal some of his minutes, but that's not because Ray-Ray's done anything wrong.
9. Dirk came into this game hungry, and put on a show for the crowd at the AAC. If nothing else Dirk is a competitor, and he tends to get the Delorean up to 88 miles-per-hour for games like this one. The Taller Baller from the G went 11-14 from the field en route to a 31-point/11-rebound performance. 
We say simply that we're going to stick with Nowitzki until he dies, or until we do. Which ever comes first. And what does Dirk say?
"I feel good right now. I did a lot of work this summer. I played Europe all this summer so I'm in decent shape and hopefully I can carry it on. It's a long year and it's early so hopefully I can keep my shooting rhythm and the guys kept finding me in good spots and that last shot was pure luck."
More about that below.
10. Things started getting chippy between these two teams in the third quarter. Blake Griffin became very frustrated with Dwight Powell's energetic play and pushed Powell, earning a technical foul. The Mavs really got underneath the Clippers skin with hard-nosed rebounding and pesky defense. That trend continued late and featured a sequence when Blake twice tried to toss Mavs to the floor. On the second toss, Zaza was the guy put to the ground. But while Griffin grimmaced and received the foul, Zaza remained on the floor, grinning and pumping his fists. 
11. Justin Anderson played very well early in the contest, but suffered a knee injury and was forced to miss some time. Anderson made his return in the fourth quarter and played quality minutes for the Mavs. 
And then made what amount's to a win-clinching stop.
https://twitter.com/KirkSeriousFace/status/664650796097761280
More of Justin, please.
12. Deron Williams had another good night running the Mavs offense. Truth be told, the Mavs probably haven't had a point guard of his skill level or with his intangibles since Steve Nash was wearing a Mavs jersey. He is the quintessential floor general for this team. D-Will finished the night with 13 points and six assists to just two turnovers. 
13. It turns out that Paul Pierce is still a really good basketball player. The 38-year-old stepped up and hit some really big shots for this Clippers team in the fourth quarter in typical Paul Pierce fashion. It's a loaded roster over there, it really is. 
14. Blake Griffin had another good performance against the Mavs interior, but his presence wasn't nearly what it was in their previous matchup. Dallas seemed to plug a few leaks in this game, and it started with the play of Wes and company on the perimeter.  Griffin finished the game with 21 points and nine boards, and was a non-factor in the fourth quarter. .. except for the goofy-wrestling-match part.
15. The Mavs entered the fourth quarter with an 84-78 lead after a rough stretch at the end of the third that saw the Clippers cut their 13-point lead in half. After the lead dwindled to just two points early in the fourth, Wes and Devin Harris hit a pair of big threes to answer.
16. Hack-a-DeAndre was out in full force in the fourth quarter for Dallas. The guy is getting paid about $88 million over four years to play a game where you put a ball in a hoop, and he cant put a ball in a hoop unless he's dunking. No one can really blame the Mavs exploiting this part of his game. If DeAndre wants people to stop fouling him, then he needs to make his damn free throws… end of story. 
Indeed, he isn't able to be on the floor at the end of games because the Hack renders him so ineffective.
And another way to bug him might be to ... bug him.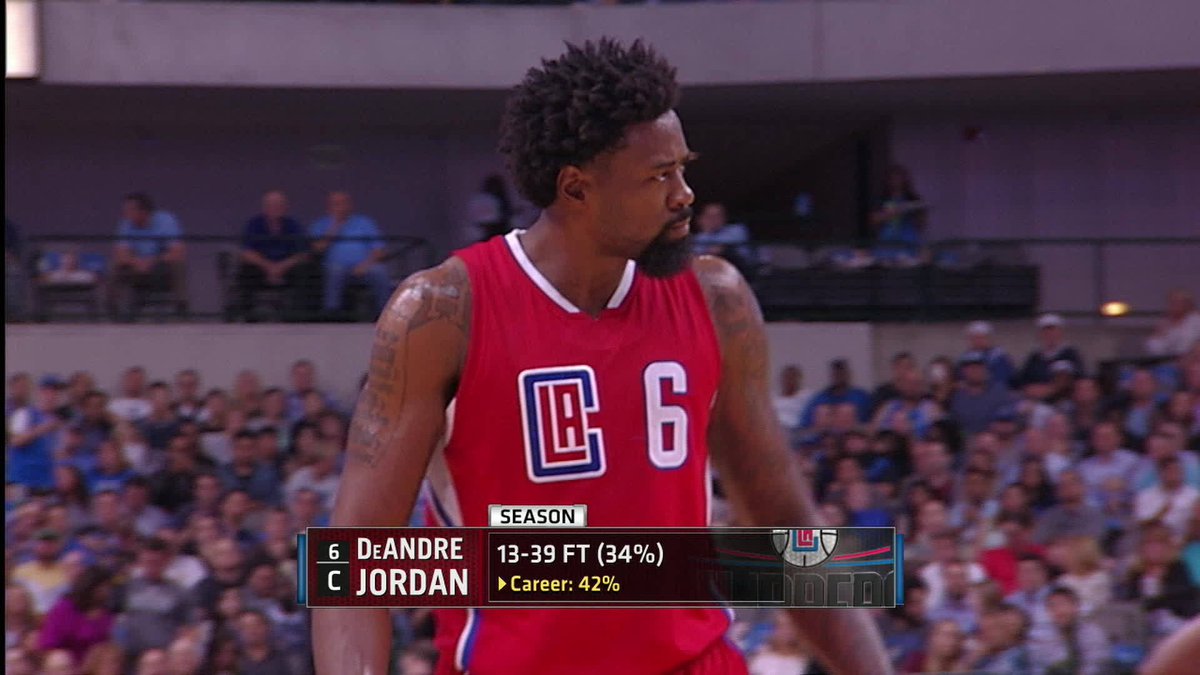 "He's not a priority to us,'' fibbed Chandler Parsons, "and by the looks of their team, he's not to them either."
17. The Mavs (specifically Wes Matthews) did a very good job on Chris Paul in this game, holding him to just 11 points. The assists were there for Paul (he had 11 of them), but his court vision and ability to find open shooters are unparalleled, so that part of is game is very difficult to stop.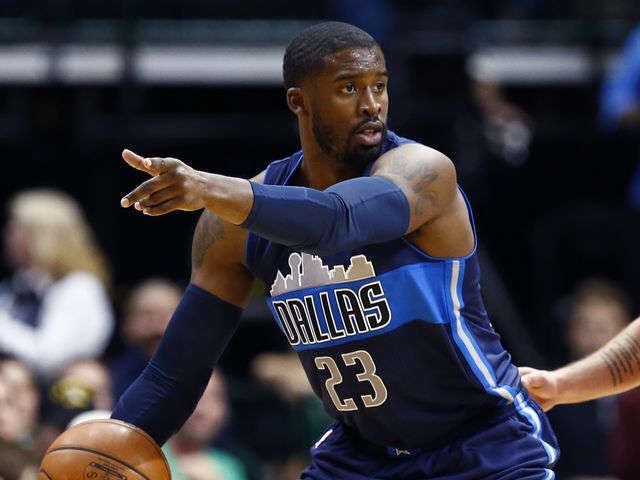 Said Dirk: "He took the matchup with Chris Paul, who's one of the best guards in this league, and that was big for us. It was a big win."
18. Zaza Pachulia was everything the Mavs needed him to be and more in this game. He made his presence known on both ends of the floor, and played tough, gritty basketball on the boards. Pachulia finished his workman-like performance with 10 points and 10 rebounds, though his presence was felt far beyond the stats. Pachulia is turning into a double-double machine!
OK, that might be a bit much. But in the late-going, LAC tried to feed Blake inside. And repeatedly, Zaza built a cinder-block wall around Griffin, stealing away all options.
19. These are the kinds of games that really show the potential of this Mavs squad. When they are on, they are very tough to beat. Fantastic ball movement and great shooting are almost impossible to stop, and frankly is beautiful to watch as a basketball fan. The Mavs did just about everything well in this game. ... and yet, when we ask ourselves the question, "Which is the real Mavs team? The one that got blown out by previously-winless New Orleans on Tuesday or the one that dismantled the loaded Clips on Wednesday? ... the answer is ...
Both.
20. In the end, the Mavs showed what they were capable of in this game, and they did it without Chandler Parsons. All five starters for Dallas finished in double figures, and they shot the lights of the gym. Combine that with pesky defense, great ball movement, and good rebounding, and the Mavs can be a very difficult team to beat. 
We think. Maybe.
Dirk, at least, is with us here.
I think when we keep moving the ball we're tough to guard,'' he said. "We've got a lot of older players that know how to play, veteran players and just play off of each other and have some fun."
The Dirkie/Player of the game: The Tall Baller From The G. Dirk. Dirk put on a vintage 31-point/11-rebound performance, putting the Mavs on his back down the stretch. It is really a blast to see Dirk play like this, whether you are a Mavs fan or not. He's playing fantastic basketball right now, and he gets our vote. But this is a democracy. YOU vote on The Dirkie here on DB.com Boards!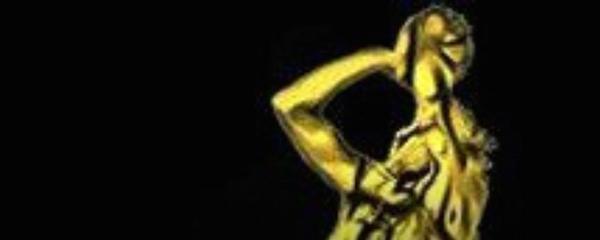 Stat(s) of the night: Shooting, shooting and more shooting. The Mavs shot a crisp 55.3 percent from the field in this game, including 45.8 percent from three. It is very tough to beat the Mavs when they shoot like that. 
This game was over when... Dirk banked in a three with just over a minute to go in the game to put the Mavs up 103-98. That shot really took the wind out of the Clippers sails, and pushed the Mavs over the finish line. But watch shot after shot and all of Dirk's shots took some wind from the visitors.
https://twitter.com/LiveScoresPH/status/664666138874281984
Should have seen coming... Energy. The Mavs came out of Monday night's loss to the Pelicans with a horrible taste in their mouths and wanted redemption. Combine that with all the DeAndre drama and it was clear the Mavs were going to come to play tonight. 
Couldn't see coming...  Rebounding. In what was thought to be a weakness of this team coming into the season, the Mavs have been very respectable rebounding the basketball so far this season. In this game, they went toe-to-toe against one of the best rebounding teams in the NBA and won the battle on the boards 44-41. 
You know, it's that old Coach Ortegel thing about needing every player to just grab one more. Dallas is doing that now.
Quotable: Mark Cuban on  the misreporting about DeAndre Jordan: "You mean Chris Broussard? He's an idiot. No, I take that back. My sources say he's an idiot."
Best decision: Putting the game in Dirk's hands late. Dirk is 37 years old, but sometimes you just have to let the big dog eat. 17 years after being drafted, he is still the best player on this team… it's incredible. 
Not the fourth-best. The best.
What's next?: The Mavs (4-4) will stay home and prepare for a Friday night matchup against Kobe Bryant and the Lakers (1-7) at 7pm from the AAC.
The Final Word
 "Tonight was a circle-the-wagons night. The guys got together and they found a way. This was a very important win for us.'' - Rick Carlisle.