The Best of Wes is Yet to Come
Wes Matthews was not himself the first eight games of the season. Whether or not the version of him that showed up against the Clippers on Wednesday is here to stay is anyone's guess, but it allowed for a little perspective. The Mavericks signed a gem in Matthews, and if things had seemed to lack a little excitement in Dallas' early schedule, it's because he was not yet ready to provide it. The Clippers game provided a glimpse ...
"This was huge," said Matthews of that win. "We needed that marquee, signature win for ourselves - to see it. It's one thing to believe it. It's another thing to do it. And we did it."
And now we're ready to see more Wes. And to believe more Wes.
First, let's talk about why we were seeing a lesser version of Matthews. You may know that he suffered a torn Achilles at the end of last season and made an almost unfathomably quick recovery to be able to play the season opener. But something still wasn't right. There's the pessimistic way of looking at this: He suffered one of the most serious injuries an athlete can sustain, and therefore, he is still lingering from the injury, or even worse, he has become a less athletic player because of the injury. 
Both of those theories are possibilities, but I find them unlikely. For one, the things that Matthews is capable of doing (i.e. dunking without a running start, sprinting, and moving laterally) would be very difficult to do without a grimace if he were still feeling the affects of a torn Achilles.
More likely, it's the little things that come from such a grueling rehab process that have affected his ability to do all the things he is used to. Conditioning is an obvious one; athletes typically have an offseason regimen that allows them to come into the season in game condition. Matthews was barely allowed to walk for a chunk of that time, let alone get in shape. 
He also has had a 30-minute game restriction thus far, which he surpassed for the first time this season against the Clippers when he played 32:48. He was allowed this because he only played 15 minutes the night before in New Orleans. I'm no doctor, but I would imagine the restriction has less to do with a possible re-injury and more with the fact that rehab involved slowly building strength back into the injured leg. One would assume that immediately putting constant wear and grind on a leg that was rendered immobile for a long period of time could result in minor problems. The minute restriction is likely just precautionary, but there is no telling when it will be lifted for good. 
The final thing to be considered is the mental aspect. Matthews has looked a step slow at times. He wasn't moving without the ball with the willingness he's known for. His drives haven't been explosive and he hasn't been a consistent and full defensive force. That isn't necessarily because his body is incapable of doing those things. It might be because his mind is currently incapable of demanding his body do that. When you spend a significant time immobilized because of an injury, there is a certain amount of second-guessing or delayed reaction that might linger. A split second is hardly anything to be concerned about, unless of course you're on a basketball court and that split second is the difference between a hard cut to the basket and a move that is too late to act on. 
In Saturday's victory over the Pelicans, Matthews played 29 minutes and looked especially limber in the third quarter. At one point, a few minutes into the third, Matthews received a pass in transition and took the ball directly to the body of Anthony Davis, finishing the layup with the foul. It was an athletic, fearless play. It was one of very few from him this season.  He finished with 13 points, two rebounds and two assists in that contest.
The next game, a loss against the Pelicans, Matthews played terribly (along with most of the Mavericks) and sat after only 15 minutes with an 0-5 shooting performance.
The version of Matthews that we are waiting on might be the most exciting player on the roster because he can do so many things with intensity. He is a deadeye shooter. He is still finding his rhythm, and will eventually cover more ground without the ball to find more open shots. The Mavericks throw four point guards out in their rotation who are still trying to figure out how to get their own shots in this offense. Once those guards begin to develop chemistry with Matthews they will have a better sense of where he is going and where he'll be when plays break down. This will lead to more three-point opportunities.
He can also make an impact with his defense, his slashing to the basket, and his ability to post up smaller guards. 
We saw big, bright flashes of these things in the Mavericks' 118-108 victory over the Clippers. In some ways, Dallas' energy might've been "artificially created.'' But Wes? His is always real. Matthews finished with 25 points off 9-13 shooting. He made 3-4 three-pointers. He had six rebound and three assists. He scored two early baskets taking Lance Stephenson on the block and backing him down. In crunch time, he picked up Chris Paul at half court. He was more than a role player. He was an all-star caliber player.
The healthiest version of Matthews may not average 25 points per game, but he will resemble the player that showed up against the Clippers. In previous games, Matthews looked sluggish, indecisive, and frustratingly ineffective. But you can bet that was a result of a grueling offseason rehab process. Ask fans in Portland and Utah: Wes Matthews is not known for inconsistent intensity.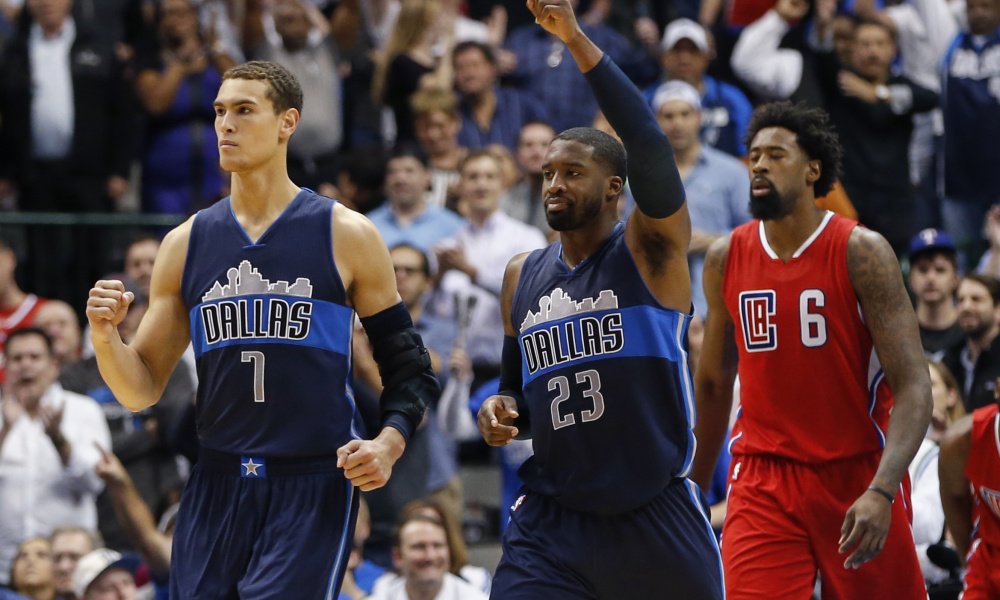 "What can you say about Matthews? He's a horse," Mavs coach Rick Carlisle said. "He's got an iron will, just like Dirk."
The question coming into the season was whether the Mavericks would still be in a competitive position by the time "The Ironman'' is completely back to his old self. They are 4-4 entering tonight's visit from th Lakers and that question may still apply, as it certainly still does for Chandler Parsons. But as the offseason injury becomes farther and farther in the rear view, the more consistency we will see from Matthews.
If you're looking for something to look forward to in Dallas, well, it's Wes Matthews.