1. On Friday night, the Mavs entertained Kobe Bryant and the Lakers in what may be Kobe's final appearance at the American Airlines Center. Though we all would have loved to see Kobe and Dirk trading bucket for bucket in a shootout, that just wasn't in the cards tonight, as both teams struggled mightily from the field. 
"We lacked energy early in the game, and we picked it up," Mavs coach Rick Carlisle said of what would become Dallas' second straight win, a 90-82 decision.  "We did better as it went along, but it's a hard game. We weren't shooting the ball well, so we had to make up for it with a lot of grit. And we had a lot of guys contribute in little ways to help us win."
2. Kobe got off to a hot start in the first quarter, hitting his first four shots. For the Mavs however, the opposite was true. Dallas started ice cold shooting three for 12 from the field. Dallas was able to find its stride as the first quarter came to a close however, hitting seven of their last 11 shots of the quarter, including two three's from Charlie V.
3. Dallas won the first quarter behind hot shooting from the aforementioned Villanueva as well as eight points from Deron Williams, who closed out the first quarter with eight points, two rebounds and two steals. If Williams is hitting his shots, the Mavs offense really starts to click.  There were times on Friday, though, when Deron's work was a tad ... frustrating.
4. Zaza Pachulia's interior defense has really improved over the last couple of games. He's not Tyson Chandler by any stretch, but he has given Dallas some semblance of rim protection lately, and its really paying dividends. He's done everything Rick Carlisle has asked him to do and more since Wednesday night's game against the Clippers. If he can keep this up, the Mavs defense will continue to improve. Zaza finished the game with a monstrous 18 points and 16 boards.  
5. Powered by Hotel Zaza, the Dallas defense really caused trouble for the Lakers after Kobe's hot start. The Lakers finished the first half shooting 35 percent from the field, while Dallas shot a more respectable 42 percent.
6. After a great performance against the Mavs in their first meeting, Julius Randle was stymied by the Mavs interior. The Mavs held the Dallas product to six points and 10 rebounds; a much improved effort from Dallas in that aspect of the game. 
7. Dirk struggled from the field for the most part on Friday night after having a vintage Dirkie performance on Wednesday. Dirk isn't 25 anymore; hell, he's not even 35, so nights like this are to be expected from time to time. Dirk ended the game with just nine points on four of 13 shooting. 
But one of them was fairly momentous ...
https://twitter.com/nick_pants/status/665357309778857985
8. Tonight's struggles aside, the most encouraging thing for Mavs fans so far this season, is that Dirk seems to be in better form than he has been in the last couple of years. Coming into the game, the ageless wonder is shooting 55 percent from the field while averaging 18.9 points and 7.5 rebounds per contest. Dirk has only finished a season shooting over 50 percent from the field twice in his career, 2006-07 and 2010-11, two pretty decent years for Mavs fans. 
9. For the first time this season Chandler Parsons played in more than one half of a game. CP's minutes are going to start ramping up week-by-week, which is good news for the Mavs who need a healthy Parsons if they are going to make a playoff push down the line. CP continues to look more and more comfortable on the floor, and finished the game with nine points in 18 minutes. 
"It's the first time I've played in the second half … but it felt good,'' Parsons said. "Definitely different, but as you can see, my minutes are continuing to go up and up."
Most immediately, there is a decision regarding CP's burn to make for tonight against his old pals in Houston ...
10. Just two days after putting on his best performance as a Maverick to date, Wes Matthews struggled big time from the field in this game. Matthews has been inconsistent offensively for the most part this season, but one has to think he will find his rhythm as the season progresses. On defense however, Wes has shown up in each and every game he has played so far this season, and is with out a doubt the Mavs best perimeter defender. Matthews finished the game with eight points on just two of 11 shooting.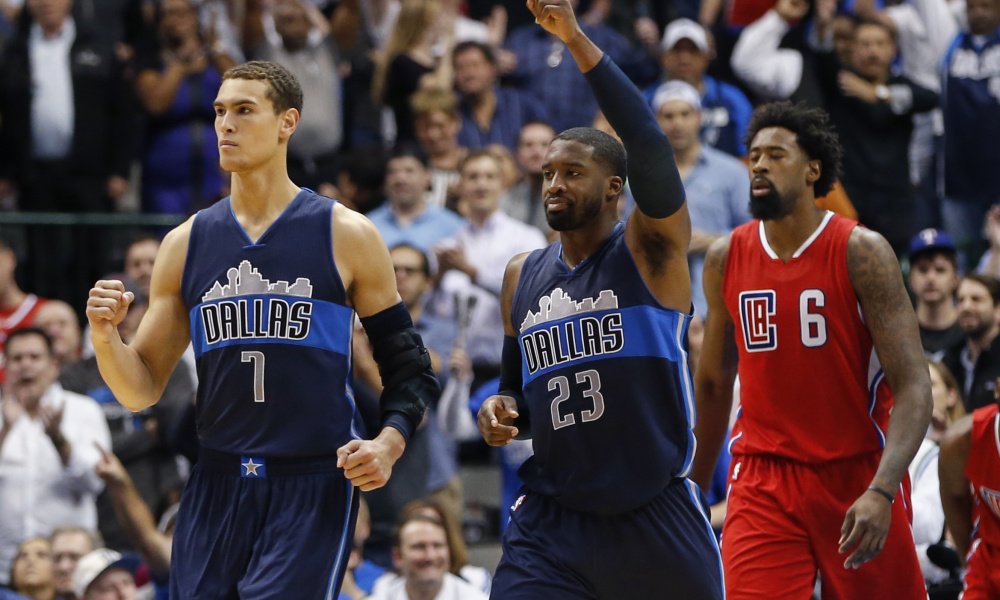 I love Jonny Auping's piece here on "The Best Of Wes (Is Yet To Come).'' It's a smart article and it's a true article.
Oh, and what about Wes for the second night of a B-2-B at Houston?
"I told (his Mavs bosses) I am not bringing a suit," Matthews said.
11. Devin Harris might be one of the best players at taking charges in the NBA. He closed out the first half taking a charge off of Kobe, and then flew down the other end of the floor for a buzzer-beater layup. Devin has been struggling offensively so far this season, but he can still get out and run in transition with the best of them.
12. Ron Artest (No I will not refer to him as Metta World Peace) is apparently still playing basketball. Not only that but coming into the game he was leading the league in three-point percentage. Who knew? Artest - who the Lakers envision as a future member of their coaching staff, which is ... interesting -  finished the game going zero for nine from the floor.  
13. The Lakers are a pretty bad basketball team, and no one outside of LA is really too upset about it. 'The Evil Empire' of the NBA is an absolute trash heap and its kind of satisfying to watch. If the Mavs had even shot above-average from the field, they would have run the Lakers out of the gym in this one. Remember when the Lakers coming to town was a big deal? Not so much anymore, as there were fewer brand-new-out-of-the-wrapper Lakers jerseys being worn by Metroplex residents at the game than ever before.
14. J.J Barea went scoreless for the second game in a row, and has really had a hard time finding his shot in the last couple of games. Dallas will need J.J.'s offensive spark off of the bench as the season goes along if they want to continue to be successful. Or ... they did to dig into their bench as see if somebody like John Jenkins deserves some run.
15. Dwight Powell had his second double-double of the season on Friday night, finishing with 10 points and 12 boards. Powell stepped up at the end of the game, hitting two free throws, and pulling down a couple of clutch rebounds near the end of regulation. Powell just continues to make plays for the Mavs each and every night. 
16. All in all this was an incredibly sloppy game on both sides. The Mavs turned the ball over 15 times, while the Lakers turned it over a whopping 20 times. Both teams also struggled mightily from the field as well, with the Lakers shooting a crummy 33 percent, while the Mavs shot a poultry 36.6 percent themselves. In the end Dallas just had a little bit more in the tank than the Lakers in this one, and have now won three straight games at home. 
The Dirkie/Player of the game: Zaza Pachulia gets our vote. Hotel Zaza had a monster game, scoring 18 points and grabbing 16 boards in what was his best game as a Maverick to date. But DB.com invites you to vote on "The Dirkie'' yourself!
Stat(s) of the night: Turrrrible Shooting. Both teams were just abysmal from the field in this game, with the Lakers shooting 33 percent, while the Mavs hit just 36.6 percent. 
"It's not too many times when we can win games only shooting 36 percent,'' Dirk said. "But defensively, we tried to keep them out of the paint and tried to force them into some tough shots. And I think we were good enough to get this one defensively."
This game was over when... Dwight Powell knocked down a pair of free throws with 25.8 seconds to go in the game. 
Should have seen coming... Tired Legs. This was the third game in four nights for the Mavs and the fatigue was pretty evident from the start. The Mavs are two for three during this brutal stretch of games with one more to go tomorrow night in Houston. 
Couldn't see coming... Julius Randle's bad night. The Mavs really frustrated Julius Randle from beginning to end in this one. The Mavs seem to have found a way to plug a major leak in their defensive scheme in the last two games, slowing down two of the better power forwards in the NBA in the process. We've cited this as a Dirk-related problem before. It'd be nice if the leak is truly corked.
What's next?: The Mavs (5-4) will head down I-45 on Saturday night to take on James Harden, Dwight Howard and the Houston Rockets (4-5) at the Toyota Center at 7pm. 
The Final Word: "The good thing is we won. Honestly, I don't know any other way. I'm a big believer in team basketball. My numbers don't count and don't matter without the win. These guys made it so much easier for me. … It was a total team effort, and we'll take this win and move on to the next one." - Zaza.