DONUT 1: It's Easy Being Green
Dallas came into Friday night's game as winners of five straight games, and looking to make it six against a young and pesky Utah squad that ranked second in opponents points per game defensively. In the end, the veteran-laden Mavs would use big nights from Hotel Zaza and D-Will to power past the Jazz 102-93 and bring home their sixth straight victory in the process. 
It's important for a number of reasons, including rubbe-game-type forecasts.  We all thought of Dallas as being a team that might be fighting for the seventh or eighth playoff slots in the West. And Utah thinks of themselves the same way. These two clubs play each other only three times, so a head-to-head edge might be helpful ... 
But maybe the Mavs - now 9-4 -- are better than "just an 8-seed''? 
Or maybe the Mavs just look better in part because they broke out their classic green throwback jerseys against the Jazz in this game and man … they're sweet. We like the Skylines and we like the standard fare and hey, we like the Mavs so we'll roll with whatever ... but the Green Curlicues deserve to have some staying power, OK, Tony Cubes?
Thanks.
DONUT 2: D-Will's Thrills
Deron Williams spent the first six years of his career in Utah under the tutelage of Jerry Sloan, where he would eventually become an All-Star. After a rough exit from Salt Lake City, Deron was hungry to have a big night against his former team, and he would have just that. D-Will finished the game with 23 points, eight assists and six rebounds.
https://twitter.com/Steve_Wells_/status/668020460555124736
He is well-aware that his time in Utah (not to mention with the Nets) helped forge his rep as a "coach-killer.'' His quick meshing with coach Rick Carlisle is repairing that rep.
"When I got here (in signing a one-year deal in Dallas) and talked to Coach, he told me that the ball was going to be in my hands,'' Deron said. "I know Monta (Ellis) had the ball a lot last year so I kind of filled a little bit of that role. It's a good feeling to have the ball in your hands at the end of games and not only make plays for myself but for my teammates."
https://twitter.com/CVBelieve/status/667937655187894272
D-Will is even a gymnast, it seems. Nice "floor exercise,'' Deron.
DONUT 3: The Turnaround
Utah came out in the first quarter looking to prove something of its own however, hitting four of nine shots from downtown. Utah held a 26-21 lead at the end of the first frame behind eight points (and a lucky bank-in three at the end of the shot clock) from Gordon Hayward. 
But when it comes to sheer will, few Mavs match  Zaza Pachulia, who powered Dallas in the sense that his work kept his club afloat whenever there was an issue ... and hasn't that been a theme in the early going this season? He scores (10.3 ppg), rebounds (9.8 rpg), plays solid defense, passes and even shoots well from the charity stripe (79.1 percent). ... and while it's a safe bet to say that nobody was expecting Zaza to be this big a part of the Mavs success this season ... it's fully counted-on now.
And here he was again, helping Dallas ride out that early storm as Zaza had a dominant first half, scoring 10 points and grabbing nine boards in the first 24 minutes of game time. Pachulia would finish the night with 15 and 12 boards, good for his seventh double-double of the season. 
"The key was that in the second quarter we buckled down,'' Carlisle said. "In the first quarter they hit us for, I think, 13 points in the last six seconds of clock. We knew the possessions were going to be long, but we did a poor job concentrating throughout the clock in the first quarter and we were down five. Second quarter they only hit us with two points in the last six seconds so we did a much better job. ...  I thought the play that changed the game happened in the second quarter when Pachulia went up and got one or two offensive rebounds and we ended up scoring.That energized the building and energized the team and we started to play at a different level." 
Dallas used a 35 point second quarter to take the lead away from Utah behind the aforementioned Pachulia, Dwight Powell, CP and others to take a 56-43 lead into the locker room at halftime. Perhaps the most impressive thing about this team is that just about on the team is an offensive weapon in some way, shape or form. This quarter was a fantastic example of that.
DONUT 4: Stay in Touch!
You can find Fish on Twitter here and you can find Matt Galatzan here. We also invite you to join us on Facebook, and for your free membership at DB.com Boards ... and of course, if you need to catch up on Mavs news, views, videos, quotes and scoop, jump into the Mavs Archives here!
DONUT 5: Tucked Away
While we're Mavs-centric here, you can see why the Jazz believe they have promise. Utah has a very impressive combination down low between Derrick Favors and Rudy Gobert. Gobert's length and athleticism on defense and Favors' offense and rebounding make this a very formidable tandem in the West. If Utah had more consistent play in the backcourt, they could be a scary team to deal with in the future. 
So again, it's good to tuck away a victory against a foe like this when there's one to tuck away.
DONUT 6: Up, Up, Up
After a rough opening quarter, the Mavs really lit it up from the field in this game, shooting 47 percent from the floor. Despite their overall struggles from the three-point line this season, Dallas continues to find ways to score offensively. This team will shoot the three better as the season progresses -- they have too many shooters not to.
When that does eventually happen, this team will be hard to stop offensively. 
And that truth will become increasingly evident as Chandler Parsons' numbers -- minutes and shooting -- rise. CP had another solid outing with restricted minutes again on Friday night, scoring nine points on 50-percent shooting from the field in 22 minutes of action. CP's minutes continue to increase bit by bit each night. 
DONUT 7: Chemistry Matters. So Does ...
We've written about how this team seems to have a bond ... and how Mavs kinship might trump any lack of superstar talent. Zaza talks this way every day and every night:
"It's so much fun to play with these guys," Pachulia said. "Guys that we have in this locker room really know how to play, and they're unselfish guys. I definitely enjoy it. … We work with each other and we help each other offensive and defensively. And winning is the best situation for a basketball player to be in."
Ah, yes. We thought they had chemistry before they'd won nine games in 13 tries. ... but they certainly have it now.
Of course, Dirk-led teams usually do have chemistry. .... and talent. After starting slow in the first half, the Big German had another impressive outing on Hardwood Classic night. Dirk closed the game with 19 points on eight-of-12 shooting to go along with three blocked shots. The guy is 37 years old, and he was still arguably the best player on the court in this game… unreal. 
Also contributing: J.J. Barea, who came off the bench and had a really nice game for the Mavs offensively. The diminutive guard scored 12 points and dished out three dimes in 19 minutes of action. 
And then there was Wes Matthews, whose offensive inconsistency continued on Friday, with Matthews scoring just seven points off of three-of-12 shooting from the floor. Matthews has only scored in double-digits twice in the last seven games for Dallas. The D is there, the Mavs just need the three to get there, too. 
And yet ... the coach stuck with IronMan. The result?
https://twitter.com/kbrosports/status/667911707210084353
Wes Matthews converted that three-point play off of a Gordon Hayward with 1:30 to go in the game. Dirk would then put the icing on the cake, hitting a midrange jumped with 35.1 seconds left to go in the game. 
DONUT 8: Quoteboard
"Well when you have a veteran team that's prepared to play that plays with a lot of energy is hard.  I thought they played well and played hard. I thought we played hard, but we weren't tough enough at times offensively in the first half. When you have that and you can throw the ball to Dirk down the stretch and they score. They were able to score late and close it out. That's what those guys can do for you." - Jazz coach Quin Snyder on Dallas.
DONUT 9: Stat O' The Night
D-Will is now 35-of-35 from the line on year. He's the first player to make his first 35-plus free throws of the season since ex-Mav Jose Calderon did so in 2008-09 with Toronto. And of course, that's one way to close. The Mavs, meanwhile, had five guys in double figures on Friday night, as well as another nine points from CP. ... so while they are leaning on Deron, there is also that aforementioned balance.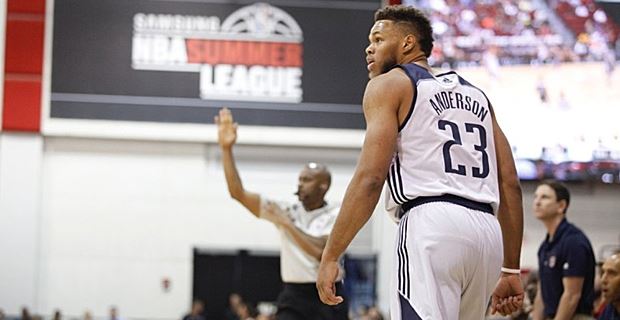 And then there is the juggling of some of the guys who make up the depth. As DB.com reported yesterday, Justin Anderson and Salah Mejri have been assigned to Frisco for tonight's Texas Legends game against the visiting OKC Blue. Learn more about the Legends here.
DONUT 10: Who Deserves "The Dirkie''?
D-Will is our vote for Player of the Game, as  the 10-year vet took over the game for the Mavs, playing a nearly flawless game while orchestrating the Mavs victory from start to finish. But you are invited to head over to the DB.com Boards and give us your choice as you vote for "The Dirkie''!
Our Mavs coverage here, by the way, is made possible by our friends at LS Wealth Strategies. Bill and Woody have been invaluable in helping our family manage its financial future and they can do the same for you. Give them a click or a call at 972-702-6080.
DONUT 11: What's Next
After the DeAndre fiasco, this roster seemed like its was pieced together with duct tape and super glue, but right now they are clicking big-time and are currently sitting at third place in the West.  The Mavs (9-4 and now second in the Southwest Division) will head up to Oklahoma City to take on Russell Westbrook and the Thunder (7-6) at 6 p.m. Sunday at the Chesapeake Energy Arena.
The Mavs will be looking to secure their seventh straight victory against a Thunder team that has been struggling without Kevin Durant (hamstring) on the floor. 
"Now, the games are getting tougher and tougher, and the schedule will get tougher here," Nowitzki said, with a nod towards upcoming  stops in Oklahoma City, Memphis and San Antonio.
DONUT 12: The Final Word
"This is a great win for us. Any time you come off the road you have a tendency to let down and we didn't let that happen. Our energy was great from the start. We lost the first quarter but we kept playing and battling. Our execution was great, especially down the stretch and I thought we did a great job defensively." - Deron Williams