DONUT 1: The Pit-Stop
Maybe you get all the "feel'' you need from the major players in Rajon Rondo's brief and cancerous stay in Dallas when you throw essentially the same question at the major participants ... and are able to gauge the class of the participants by their answers.
The Mavs at 9 tonight are at the Kings, new home of Rondo, where he's on a one-year contract as he tries to rebuild a reputation he ruined in Dallas thanks to the virtually unprecedented act of quitting on a playoff team in the middle of a postseason run while holding the keys to the car. 
Coach Rick Carlisle, your thoughts on the Rondo Rebuild, which has the point guard averaging a league-best 11.0 assists per game with an NBA-high four triple-doubles with the Kings?
"Someone's going to have to back up the truck to pay him,'' says Rick, who adds some more "it's-not-Rondo's-fault'' niceities in this ESPN interview.
Well, ain't that lovely!
Rajon, your thoughts on your Dallas experience?
"It's not Boston. It's not a big deal," Rondo said, via The Sacramento Bee. "That's different. (Boston)'s always going to be special. Dallas was just a pit-stop in my career. I was there for less than five months. It was a blur. I have some good relationships in that organization but it wasn't my best."
Well, ain't that ... Rondo.
DONUT 2: 'Me Are One'
History is allowing some to forget this, especially as Rondo is putting up numbers (albeit in the vacuum of Sacto's 6-12 start). But I'm not forgetting, and Mavs fans, I believe, aren't, either. While some Mavs "enemies'' are sports villians -- The Retiring Poet Kobe comes to mind -- Rajon Rondo's betrayal of the 2015-16 Mavs, and his betrayal of the game in general, deserves to be recited and recalled.
Remember?
The Mavs had a slogan on their t-shirts going into last year's playoff series against Houston that read, 'WE ARE ONE.' It was supposed to mean something; Dallas was an underdog, but had loaded a lot of eggs into the Rondo basket via his December trade from Boston. Unselfishness was a team theme, keyed by Dirk, who was playing under the terms of a contract that was paying him $8.3 million ... the same salary Monta Ellis happened to be making ... but about half what Chandler Parsons was making.
So "WE ARE ONE.'' Be more bonded than a Houston team always on the precipice of coming apart at the seams (as we've seen this season) and maybe Dirk and Monta and Rondo could manufacture a shocker.
Oh, it was shocking, alright.
DONUT 3: Toxicity
Rondo's  Game 2 performance -- and worse, his bizarre and selfish behavior -- in suggests he misread his own t-shirt as 'ME ARE ONE.'
For a refresher, watch the above video as the player falls apart ... on purpose.
To a man, after that game, the non-Rondos on the team (veteran backups like Barea and Villanueva) insisted that the 111-99 loss and the 0-2 series deficit didn't represent basketball "Armageddon." 
But they were lying. This level of toxicity within a basketball team was indeed catastrophic, and everybody knew it.
This franchise committed to Rondo in its two-years-in-the-making December trade for him, in its March decision to "give him the keys to the car" and in its gameplan for Houston, with a focus on him contending with James Harden.
How did Rondo respond? By mishandling those car keys like a drunken teenager with a learner's permit, by inviting suggestions that he played horrifically in Game 2 on purpose, by allowing his camp to float the idea that his position with the Mavs was "It's Gotta Be Me or Rick" and that the impending free agent was already mapping out an exit to the West Coast. 
DONUT 4: The Bus Ticket
I wrote at the time, after watching Rondo protest his own coach's control by letting an 8-second get-across-half-court clock expire, that the way Mavs brass should respond to all this -- to sitting helplessly while watching a quarterback throw playoff interceptions on purpose -- would be to unplug immediately, to buy Rondo a bus ticket back to his precious Boston or to his guessed-at Lakers destination or anywhere.
Anywhere but this locker room, which for a decade-and-a-half had been largely harmonious thanks to the unusual leadership skills and personalities of people like Dirk Nowitzki ... Dirk Nowitzki, who does not "deserve'' to win another championship (because sports doesn't work that way) but who damn sure didn't deserve to be dragged down by a poisonous teammate.
DONUT 5: A Bad Goodbye
And by God, they did it. The Mavericks came limping home from Houston with Parsons bound to get his knee surgery right then and there, with Devin Harris not healthy enough to contribute, with Dirk a defensive liability (something this year's team is laboring to fix), with rim-protector Tyson Chandler overwhelmed, and most disturbingly, with Monta seemingly drawn to Rondo's unique personality and therefore prone to floating in and out of basketball consciousness ... 
Yet the organization stripped itself of the guy who was supposed to lead them. Rondo was disinvited from the locker room. Sent away under the pretense of a back injury (when we all know it was actually a backbone injury, due to the lack of one) and eventually, when playoff money was divided up in the locker room, voted to be a non-recipient.
DONUT 6: 'Basketball Soul'
It was in the weeks previous to the playoff loss that, surfing on Carlisle's nudge to the media that we investigate the "soul'' in his locker room, that we came upon the concept of "Basketball Soul.'' It seems like the simplest and most fundamental thing: Effort. Want-To.
Most of the players Rondo left behind in Dallas do not possess his basketball talent; that is evidenced by the numbers he's posting with the Kings ... though again, they've lost six straight (not to mention 21 of 23 meetings with Dallas) and may not have Boogie Cousins tonight due to a back strain. (P.S.: Our man David Lord has played with the dreamy idea of the Mavs trying to trade for Cousins. That smart, fun write-up is here. Oh, and we've also gotten to the bottom of the Joakim Noah-to-Dallas trade gossip as well.) But those teammates at least appeared to be attempting to try last year in Houston. How could Rondo, billed as a fiercely competitive guidepost who by the sheer nature of his position must be a leader, even look those people in the eye? How could he let the "Me-or-Rick" balloon be floated and look his coaching staff in the eye? How could he cash these checks and look Mark Cuban in the eye? 
How can he seem to be so unapologetic now about his basketball crime as he prepares tonight to look into the eyes of the men he robbed?
DONUT 7: Answer ...
Answer: He doesn't. Rajon Rondo doesn't look anybody in the eye. Again, I take you back to that Game 2: He sat motionless and emotionless on the bench during the humiliating fourth quarter, his only movement being to later retreat to the out-of-bounds floor, away from his teammates. Indeed, he spent more time "on the floor" than he did "on the floor," registering 9:55 of playing time before his mindless 8-second violation, his foolish fouls on Harden and his clever passes to nowhere finally exasperated his coach. 
Oh, yes, those fouls. It quickly became clear that Rondo was fouling Harden on purpose as a protest of what the coaching staff had instructed him to do.
It was mutiny, really.
Said Carlisle after that game, trying to keep the damn thing together: "All I know right now is that we need everybody at their competitive best. This isn't about one guy who did or didn't play. This is about everybody pulling in the same direction for the organization. That's what it's about." 
DONUT 8: In Dallas today
Actually, "that's what it's about'' for the Mavs today, post-Rondo.
Listen to Dirk talk about his 10-7 Mavs team now.
"We've got an unselfish crew, guys that want to play with each other and veterans that have been around and have been in all sorts of situations and just want to make it work, want to play off each other and want to have some fun," Nowitzki said. 
That remark can be all about Wes Matthews (this team's defensive go-to guy, as evidenced in the weekend win over Denver in which the Mavs allowed a franchise-low five points in a quarter) or Deron Williams or Zaza Pachulia or Chandler Parsons, all of whom seem to be buying what Carlisle is selling. (As always, players who do so end up thriving. Players who don't? Well, let's watch Rondo's full career arc before he's used as evidence one way or the other.)
The Mavs went 0-3 on last week's roadie. But they are 10-7, they are fun to watch, they are interesting, they feature one of the great non-poets in the sport in Dirk ... and they have Basketball Soul ... something Rajon Rondo probably still cannot understand.
DONUT 9: DisConnect Four
Rick and Rajon had themselves a series of man-to-man conversations last year -- including a Rondo-soothing "Connect Four" game, all designed to increase his level of understanding and comfort. Nothing took. By the time Dallas got to 0-2, it wasn't really about winning that Houston series, as teams ahead 2-0 win NBA series 95 percent of the time. 
No, it was about testing Rondo's manhood, really.
I suggested then that all Rick had to do was ask Rondo a simple question: "Do you want to help us win?" ...  And I predicted that once asked that question, Rajon wouldn't answer it. Instead, his body language while sitting in a chair in front of Rick's office desk would mirror the body language we saw from the player when he was not getting his way ... or hell, sometimes when he was getting his way. He'd hang his head, glance awkwardly around the room, and mumble something fake-deep.
Rondo, so proud and cocksure of his BBIQ, surely was submitted to such a test. And he failed.
DONUT 10: Comeback Player of the Year?
It's been suggested that Rondo's turnaround makes him an early "Comeback Player of the Year,'' candidate. But that would mean he's a sick patient who spread his disease and then woke up one day and decided to not be sick anymore.
He's still "sick,'' really, because this sort of illness doesn't disappear just because a guy gets a triple-double. I remember being bothered last year seeing Shaq offering TNT-platform excuses for Rondo's work, being bothered when Rondo apologists talked of "adjustments" and "injuries,'' and I guess I'm a little bit bothered now at Dallas' gentlemanly way of dismissing the issue.
This  "Rondoddity'' was Odom-like, and you'll remember it was Dirk who finally took the step to urge management to cut those sickening ties. Nowitzki wasn't asked to make the decision this last  time around, with Rondo, though in the video at the top of the page, in the middle of that fateful game, you can see Nowitzki all-but screaming at Rondo to get his act together ... after which time Rondo lazily fouls Harden again, on purpose, a monstrous F-you to Dirk, to Carlisle, to Cuban, to his Dallas teammates and to Mavs fans. (Mavs fans like you who kick it around here on DB.com Boards.)
Rondo wasn't a symptom of a Mavs illness last year; he was the disease. 
DONUT 11: My Dread
Will it bother me if tonight Rondo supplements his 11-assist average by also scoring his usual 12 points and maybe exceeding his usual seven rebounds and notching a fifth triple-double? Oh, it'll bother me. And it'll bother the "basketball gods'' that Carlisle likes to cite, too. ... even though, I promise you, Rick will continue all day and into the night saying positive things about Rondo. (While at the same time trying to devise ways for Matthews and Deron and company to control him.) 
DONUT 12: The Final Word
Rajon Rondo came to Dallas saying he "wanted a (championship) parade.''  Now what was to be a celebratory float is a junker that not only leaked oil ... it stole the oil it leaked. 
"S--- happens, right?" Mavs owner Mark Cuban recently said about the trade that flopped.   "There's a lot of risk I've taken that have worked out just fine. They're not all gonna work. I think when it's all said and done, that Crowder-for-Powell trade will be a break even."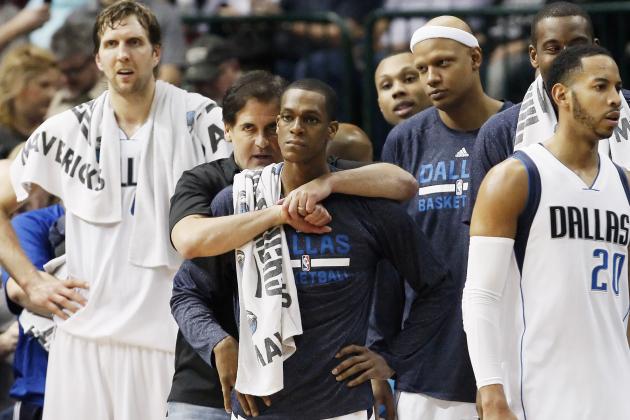 That's funny ... But there is nothing humorous about basketball cancer, and there is no question who among the participants has earned rights to the last laugh.