JaVale McGee was the final piece that the Mavericks have been waiting on. JaVale's pre-Thanksgiving debut against the Oklahoma City Thunder meant that the Mavericks now have a full arsenal of available players for the first time this season, albeit with a number of key contributors still on minute restrictions. (including, so far this year, Wes, CP and JaVale) ... as we will see on display tonight as Dallas hosts Atlanta -- two 13-9 teams -- in an 8:30 start at the AAC that will feature coach Rick Carlisle patchworking together lineups that don't exceed those minutes limits.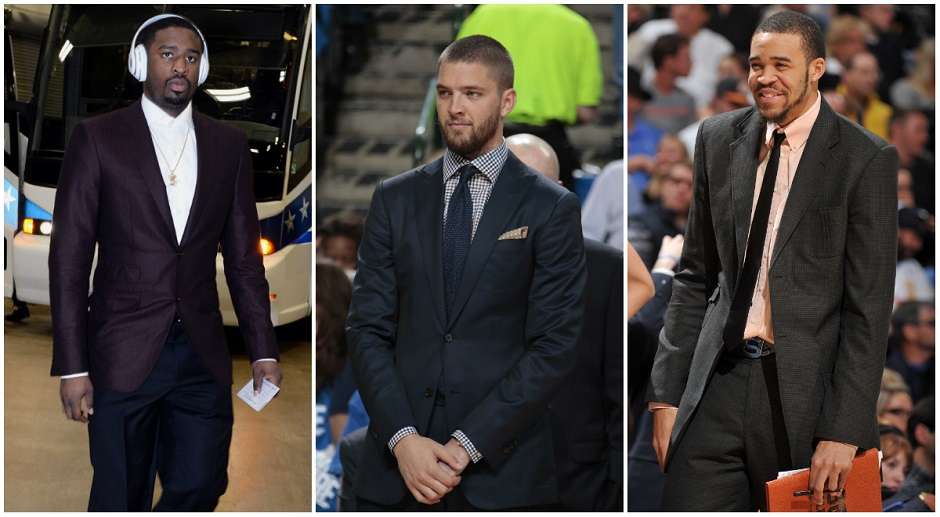 But, says Rick, "I'm encouraged that our health situation seems to be trending the right direction ... Parsons is feeling a lot better and playing better, so we've got to stay the course. McGee is another guy that played some important minutes in the first half (in the Monday win at New York), so this was a long process when we set out at the beginning of the year.''
McGee has DeAndre Jordan-type size and DeAndre Jordan-type athleticism.
He does lack a certain amount of polish, focus, and discipline. It goes like this: A two-minute highlight reel of McGee's most impressive plays would be enough to convince an uninformed person that he is the best center in the NBA. Unfortunately, a two-minute blooper reel of McGee would be even easier to come across. ... as viewers of TNT know all too well.
What should we expect from McGee this season? That's the million-dollar question. The best comparison I can come up with is that he could fill a role similar to what Festus Ezeli does for the Golden State Warriors. In other words, rim-protecting defense and rebounding to go with being an above-the-rim threat off the bench. 
One thing that Ezeli excels at is setting screens ... in general ...
... and in the pick-and-roll. The Mavs will need that from McGee too, and while he will need to learn to set good screens for every ball-handler that meet the physical standard that Zaza Pachulia has set this season, there is one player in particular who can really benefit from having McGee in the offense, and that's Chandler Parsons.
There's been a lot of talk since Parsons signed with Dallas about him developing into one of the league's most well-rounded players. It's something the Mavericks are still waiting on, but there have been plenty of glimpses of that potential, and the area that will make all the difference for Parsons (and the Mavs) is his ability as a ball-handler and creator. The luxury of being able to run healthy doses of Parsons at the point-forward for stretches of each game not only allows the Mavericks to exploit mismatches, it also takes advantage of Deron Williams' effectiveness as a spot up shooter.
Last season, we saw glimpses of Parsons running the pick-and-roll with Tyson Chandler. The sample size was relatively small, but the results were very promising. Of course, Tyson Chandler has always been a good pick-and-roll player, primarily because he sets excellent screens. But Parsons' length and long strides made the play tough to defend. It was extremely simple.
Chandler rarely received the ball on the roll when Parsons initiated the play—his role was primarily to set a screen and bring the rim-protecting opposing center away from the basket. Even though the screen was set at the top of the key, Parsons was able to get the basket in two long strides, euro-step to either side of the rim, and finish undeterred. Of course, sometimes Parsons' creativity allowed him to get the ball to TY without the screen, too ...
McGee's explosiveness (assuming he battles through the leg ailments and regains all of his past explosiveness) adds a whole new dimension to plays like that, and to pick-and-roll plays, too.  Defenses will eventually converge on Parsons after the screen and prevent him from getting deep into the paint. A hard roll to the rim by McGee could potentially lead to a lot of easy lobs.
Imagine the play as follows:
Parsons handles the ball at the top of the key with McGee coming up to set the screen. On either wing are Wes Matthews and Deron Williams (or Devin Harris or Raymond Felton). 
If either wing defender cheats off their man to help defend the screen then it should be enough to set up an open three-pointer for Williams or Matthews. If Parsons' defender is a split-second slow fighting through the screen then Parsons can drive, looking to score. If the two defenders switch while defending the screen then it will leave a smaller man on McGee. Parsons just needs to take a dribble forward to create the opportunity to throw up a lob to a rolling McGee. 
Dirk Nowitzki, as years worth of basketball experience has equipped him to do, simply needs to freelance in the midrange area, careful not to clog the action, but prepared to put himself in position to receive a pass. If the play breaks down in any way and Parsons is unable to get to the rim or find McGee then a pass to Dirk is about the best possible bailout. Whenever the action of a play doesn't primarily involve Nowitzki, it usually means that he'll be able to find the little bit of space required to get a decent shot at the basket. 
This play either forces the opponent to allow Parsons to take one-on-one drives to the rim with little rim protection, allow an above-the-rim threat to McGee, or give space to a shooter. The defense has to react one way or another and the decisions are left to Parsons.
This is a very simple play that is run at all levels of basketball, but having the personnel to run uncomplicated sets with consistent success is the key to controlling basketball games.  
Unfortunately, neither of these players currently have fixed roles in the rotation because they're still on strict minute restrictions. Parsons can't go above 25 minutes, and the Mavericks are now experimenting with him coming off the bench so that he can have the opportunity to play deep into the fourth quarter. McGee can't exceed 20 minutes in a game and hasn't been playing on the second night of back-to-backs.
This is no doubt frustrating for both of these players—and the Mavericks—as it can't be easy to find rhythm or chemistry with teammates while burdened with these restrictions. Will we see much of the Parsons/McGee pick-and-roll much in the near future? Probably not. Their current limitations decrease the probability that the two players even share that many minutes on the court together. But assuming there is a point in the season when both are fully healthy and available without restrictions, it's a weapon that the Mavericks will have in their arsenal, and it's a weapon that opposing teams might not have an answer for. 
"We knew it was going to be well into December before we were anywhere close to being fully healthy,'' Carlisle says specifically of Parsons and McGee, "and we're making strides."
Now, with McGee available and with Parsons saying his "real season starts in January,'' we might see a few samples of it here and there. It just might be a sign of things to come.