DONUT 1: Hawks Sink Mavs, 98-95
Wednesday night marked the beginning of a desperately needed three-game home stand for the Mavs. Having played the most road games in the NBA up to this point in the season, the Mavs were excited to return to the AAC with the support of their loyal MFFLs behind them. 
But Hawks 98, Mavs 95 is the result ... and it's the result in part due to abysmal shooting. Dallas shot 36 percent from the field and 22.6 percent from three. The Mavs won in just about every face of the game on Wednesday, except the one that mattered most, and it cost them in the end.
"Our shooting wasn't good," Dallas coach Rick Carlisle said, pinpointing one clear measurable before moving to an intangible that Fish will be writing a column on later today. "And there's not a stat for 'disposition.'"
Yes, OK, the Mavs didn't win in that category. Even still ...  D-Will missed a three as time expired. The Mavs had a chance until the final buzzer, and by all rights should have won this game.
DONUT 2: Getting More Healthy
J.J Barea and Devin Harris returned to the lineup on Wednesday was a welcome one for Dallas, who has sorely missed the backcourt depth in their last two outings. Barea's return in particular provided some much-needed energy off the bench at he point guard position. Despite his shooting struggles, Barea did a lot of good things in his return to game action. 
https://twitter.com/dallasmavs/status/674804871426633730
Javale McGee was absent from the lineup again for Dallas, however, as he continues to be eased back into game shape.  (You can see the hopes we continue to harbor for JaVale here.) In Javale's absence, Dwight Powell was a big part of the offense on Wednesday, scoring14 points and adding six boards. Powell continues to be an important piece of the Mavs rotation in a position that Dallas sorely needed contributors coming into the year. 
Additionally, Dallas held its own on the boards despite Javale's absence mostly due to the relentless effort of Zaza Pachulia. 
DONUT 3: Hotel Zaza
Zaza Pachulia, who spent eight years in a Hawks uniform, had another terrific night for the Mavs on Wednesday. This is a much different Hawks franchise than the one he was a part of from 2005-2013, but he surely had some extra pep in his step coming into this one. Pachulia is at his best in big games, and this was no different, as he added 11 points to his 17-rebound performance.
Zaza was also at his best in evaluating the night.
"All game, really from the beginning, I think we just couldn't get the rhythm offensively,'' he said. "It definitely was not our day. Everybody, the whole team kind of struggled. We couldn't get the crowd involved as well. There were little runs, but there were only a couple of them. And unfortunately not enough to win tonight's game, especially playing against a good team."
DONUT 4: Quarter-by-Quarter
The Mavs held a 23-22 lead at the end of the first quarter thanks to a quick eight-point start by Wes Matthews. Dallas shot 40 percent in the opening frame, but hit 50 percent from beyond the arc as they continued their solid shooting from three. Dirk and D-Will also contributed five points a piece in the quarter.
The second quarter went to the Hawks, who outscored Dallas 27-21 behind a balanced first-half offensive effort that saw seven Hawks score five points or more. By halftime, the Mavs jets had cooled, and Atlanta was outshooting them 47 percent to 37 percent from the field. The Mavs also struggled from three in the quarter, going just one-for-nine after a three-for-six start in the first. 
The third quarter was a tight one, with The Mavs outscoring the Hawks 28-27. Atlanta would hold a four-point lead going into the fourth, with the gap between the two clubs shooting percentages increasing to 16 percent. Dallas ended the third at 35 percent, while Atlanta was up to almost 52-percent shooting. 
And then ...
The Mavs had seemingly found a way out of their shooting valley over the last couple of games. Coming into the matchup versus Atlanta, they had shot high percentages from the field in each of their last two games. Here, they fell back into three-point shooting purgatory, hitting just 22.6 percent from beyond the arc.
Dallas even had a wedgie layup attempt ...
https://twitter.com/larryluk/status/674787059614265344
"Disposition''? We -- and the Mavs -- will work on that one.
But shooting? This needs to be a good-shooting team to be consistently successful. When you review the 31 treys attempted you'll see lots of them coming when the Mavs were wide-open. ... and they didn't make 'em. Dallas is 13-10 now ... and would be better without the shooting struggles.
DONUT 5: Dirk's Night
Dirk got off to a slow three-for-10 start in the first half, missing a few open jumpers and really struggling to find his form early in the game. Dirk would end up shooting just 30 percent from the floor and scoring 13 points. The Big German would also contribute eight rebounds, and make two huge defensive plays late in fourth quarter, showing that he's not a complete liability on that end of the floor. ... on this night, anyway.
DONUT 6: Quotable 
"This is a tough one,'' Dirk said. "We fought hard here the last week. It's been a lot of traveling, and I think it caught up with us a little bit. But hey, I thought we kept fighting. We didn't particularly play well in the first half, but we kept lingering around. And the same with the second half."
The only dispute with that analysis is the "fighting'' part. The coach seems to disagree with The UberMan.
DONUT 7: Respect for Hawks
Let's not blame Dallas here without assigning credit, too.
After making it to the Eastern Conference Finals last season, the Atlanta Hawks came into this season with high expectations (and some really gross new uniforms). After a 7-1 start, the results for the Hawks have been middling to say the least, as they have dropped eight of their last 14 games. Still, the Hawks possess solid depth in the frontcourt with Tiago Splitter, Al Horford and Paul Millsap, as well as solid outside shooting, and impressive point guard play behind Jeff Teague and Dennis Schroder.
The closest thing that the Hawks have to a superstar is probably Horford, who averages 15.8 points and 7.4 boards per game. But the heart and soul of their team might be point guard Teague. The 27-year-old is an elite-level point guard with great pick-and-roll skills, who also possesses good vision and quickness. He's a perfect fit for the Hawks system, and his teammates thrive off of his energy. Here, Teague scored 14 points and handed out six dimes. 
The Hawks, which hired former Spurs assistant Mike Budenholzer in 2013, run a remarkably similar offense to the Mavs' longtime rivals in to the south and feature a team-based system. Their organizational structure models that of the Spurs as well; and hey it works, so how can blame them for trying?
DONUT 8: Streaky Wes 
 Wes Matthews had a rough night from the field, shooting 35 percent, including 2-of-6 from three. Wes has been streaky all season, and it doesn't appear that will change anytime soon. Wes would hit a couple of big shots late in the game to keep the Mavs in it, but couldn't ever find his consistency. 
But Wes, too, thinks the loss isn't all about shooting.
"The (Hawks) definitely made things tough on us," Williams said. "The first half wasn't great, especially defensively. I thought we could have done a better job. We just kind of let them be the aggressors. And when we do that, we kind of get in trouble at times."
And if you haven't already figured it out, that "aggressors'' thing is the theme of the day.
DONUT 9: Deron's Step-Up
Deron Williams stepped up in a big way in the fourth quarter, and knocked down a handful of clutch shots to keep the Mavs in it. He's been at his best in the fourth quarter all year, and Wednesday was a great example of that. D-Will ended the game with 18 points, seven rebounds and six assists. 
DONUT 10: Mavsellaneous
*If the outcome of basketball games was based solely on shooting statistics, Dallas would have gotten run out of the gym by the Hawks. Instead, the Mavs were able to keep themselves in the game thanks to rebounding (19 on the offensive end). So, that shows some grit, right?
*Paul Millsap's double-double demonstrates yet again: pposing power forwards just dominate the Mavs. it's that simple.
*Kent Bazemore and Dennis Schroder killed combined for 23 points and 10 rebounds off of the Hawks bench. Yikes.
*The Mavs -- well, the Mavs owner -- was unhappy with the officiating here. 
Mark Cuban, speaking after the game, mentioned what he said is a season-long trend by refs to not call defensive 3-second violations. Cuban said the team has reported it to the NBA office but added it wasn't an issue in Wednesday's game.
"The league sent out a memo that 'defensive 3' was a point of emphasis," Cuban said. "Somewhere underneath them, the decision has been made. It was not just obvious; it was blatant."
Cuban is a busy speaker right about now, especially when he puts presidential candidate Donald Trump on blast, as he does here.
DONUT 11: What's Next?: 
Dallas welcomes John Wall, Bradley Beal and the Washington Wizards to the AAC on Saturday night for the second and final matchup of the season. It'll be a rematch of Sunday's game in D.C. (a Mavs win that we detail here) and the prep for it begins today in the AAC basement with an 11:30 a.m. practice.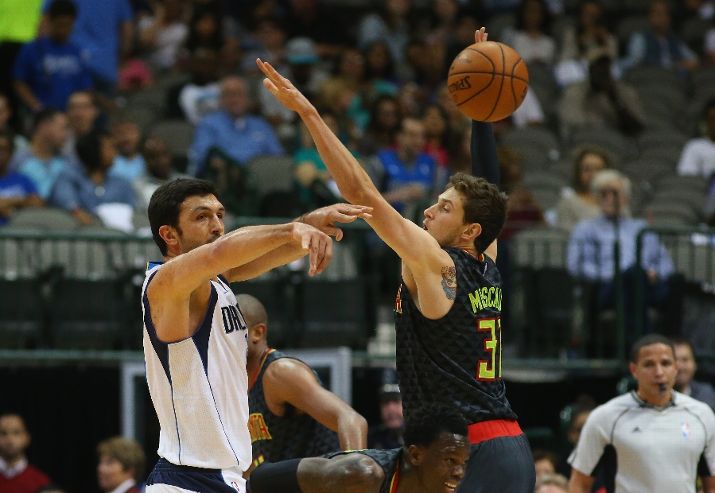 DONUT 12: The Final Word
"Our undoing tonight was the first half, where we had our lowest activity numbers for the entire year in terms of contesting shots and 50-50 balls. Even though the score was relatively close, you know, we weren't playing to the level of intensity that we needed to." - Rick Carlisle.