The Brooklyn Nets never quite got good.
We tried, over the course of the years starting with the ownership reign of "The Russian Cuban'' and the love-triangle romancing of Deron Williams, to explain to them that such would be their fate. (Not that we or the Mavs were especially right about Dallas' "3D Blueprint.''
Mikail Prokhorov would simply money-whip-will the Nets to a championship, because heck, isn't that all Mark Cuban did to bring the Mavs to prominence?
And Deron Williams would be happier staying in one of his many adopted NBA hometowns, Brooklyn, because there would be too much pressure, or something, in simply reuniting with his actual hometown of Dallas.
Oh, and the shiny bauble of Joe Johnson? He was to be the Nets' version of Dirk Nowitzki, the centerpiece/last piece to greatness.
"It just never went well," Williams said of his Brooklyn experience. "I just felt like everybody felt I was the problem, and so now I'm gone."
Was Deron "the problem''? Nah. Believing that the Nets could shortcut their way to the championship mountain Dallas has climbed in the spring of 2011, just before their 2012 free-agency pursuit of him, that was the problem. 
They spent money foolishly. Joe Johnson is emblematic of that, the free-agency-period acquisition that Mavs management thought the very-bright Deron would see as team-building suicide but that Deron instead viewed the way a kid viewed getting all the Christmas candy.
The Nets made deals. They escaped New Jersey for Brookyn's  Barclays Center. They became attractive to the entertainment crowd, rappers and such. They tried everybody at coach, Avery Johnson and P.J. Carlesimo and Jason Kidd and Lionel Hollins. They never quite got good and Prokhorov never quite stayed interested and New York City eventually went back across the street to the more rooted-in-love Knicks and the next thing you know, a couple of years passed and Deron Williams was asked to leave, paid to leave, a broken-down ex-star with a $25-mil buyout with nowhere to go but … home.
"I was injured pretty the whole time I was there," said Williams, who will be asked to give quotes like this before tonight's game, will be booed during the game and will be congratulated, hopefully, after the game, for being the 31-year-old go-through guy who helps Dallas to a 16-13 record. ... even though his hamstring issues will likely keep him out of action. "Four coaches in three-and-half years doesn't help as a point guard for chemistry and things like that and just constant change.
"It just didn't work out."
Deron has talked openly about his coach-killer rep, mostly through the prism of Jerry Sloan's retirement in Utah when Williams was there. Surely that was a contributing factor to Dallas' willingness to "re-court'' him this summer — but only after so many other point-guard preferences had fallen through.
Sources told DB.com in July that the Mavs' pecking order at the position went something like: Jeremy Lin, Mo Williams, Corey Joseph and then, Deron, the aging reclamation project.
The Mavs gave him what was billed as a two-year, $11-mil deal but is actually a one-year deal designed to help Williams relaunch his career … and that's happening now. There is, alongside Dirk, the promise of "Over-The-Hill Sustainability,'' as we call it here.
It's all about what Deron himself at camp termed "the re-set button.''
"Talking to Mark and talking to Coach (Rick Carlisle), that's kind of the plan here,'' Deron said. "Hitting that re-set button, clearing my mind, clearing my head, getting away from a situation that wasn't going well for me, or going well for the team in Brooklyn. I think it's just a total change coming here." 
Again, Williams is nursing hamstring problems at the moment, so the boos will likely come with him wearing street clothes. He and trainer Casey Smith have tried to nurse him along, injury-wise, but a problem arose in Tuesday's loss at Toronto. (A problem besides the one that has coach Rick Carlisle threatening to trade some of his rotation guys to Siberia.)
"My hamstrings have been a little tight the last couple of games, and then I came to the bench and told (Smith) they were a little tighter than normal," Williams said. "As soon as I went back out there, I went to plant and push off, and I just felt a little pop. ... 
The Nets are 8-20 and are starting over ... again. Deron is no longer the "big fish'' as he starts over, too.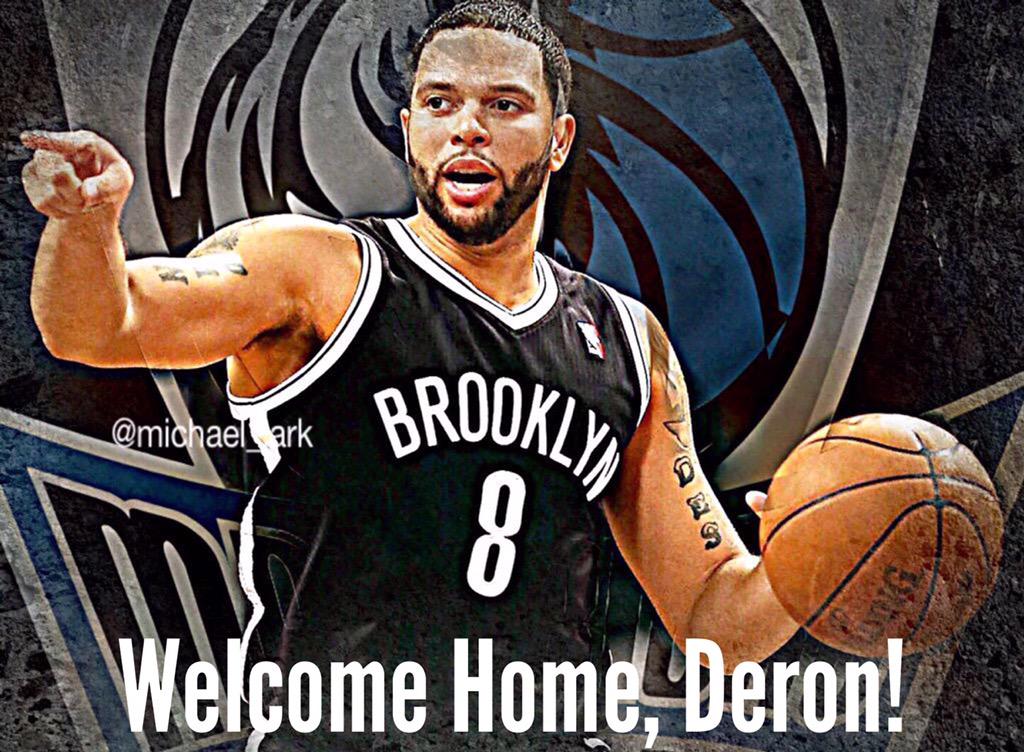 "The last thing I want is to miss (this) game,'' Deron said on Tuesday, but even his injury absence wouldn't change the storyline. It's an emotional return before a bedeviled fan base that needs an enemy to blame. It's the NBA mill. And Deron Williams is the grist.