The core understanding of a point guard's responsibility over the past fifty years has been to elevate the skills of each of his teammates and create easy scoring opportunities for them. That idea, we might have come to realize, is an outdated philosophy, and perhaps, was never totally true.
Looked at through those lenses, Deron Williams' tenure in Brooklyn was a failure. Perhaps he did that on some nights, but on a whole, Joe Johnson, Paul Pierce, Kevin Garnett, and Jason Terry didn't look like players revitalized by the opportunity to play with Williams. They looked like former basketball stars who should have been playing roles much smaller roles than were asked of them.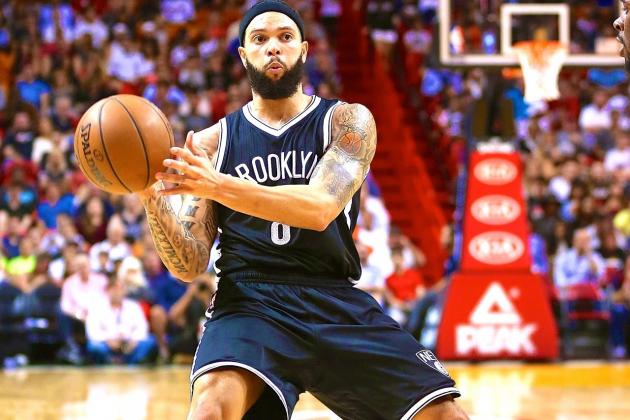 So why is Dallas so happy with a point guard who can no longer perform that task, if he ever could in the first place? Simply put, that's not what they're looking for from that position. Debates could rage on whether Rajon Rondo is still capable of such capabilities, but his attempts in Dallas weren't exactly productive. 
Creating offensive opportunities is not a burden reserved for point guards, nor is it one that every player in the league can shoulder. Some players can create opportunities each and every offensive possession for themselves and their teammates. Dirk Nowitzki, a power forward, is one of them. Other players must simply react to opportunities. 
Jason Kidd has always had the perception of a creator, but in his second stint in Dallas, it was all about reacting to what Nowitzki could create. Kidd's initial pass in the half court offense very rarely led to an assist. He was a catch-and-shoot three-point specialist and was especially adept a moving the ball in the right direction against a scrambling defense, and Dirk has always been pretty good at forcing defenses to scramble.
The point is, asking Kidd to be the team's primary creator at that stage of his career would have been disastrous. 
It goes without saying that in order to be a legitimately competitive team it helps to have a player whose abilities, decision-making, and mere presence on the court, regardless of position, can create opportunities for his teammates. Everyone else must react. Deron Williams can't match the rapid decision-making of Kidd (has anyone ever been able to do this?), but he is even more of a scoring threat when reacting to Nowitzki's presence. 
In his prime, Williams was remarkably close to being an elite scorer and an elite creator. His prime was quite a few years ago and is never coming back. In Brooklyn, he didn't consistently get his teammates easy buckets, and his one-on-one scoring attempts were never going to win the Nets many games. We see it in spurts ...
But it's not going to happen time after time, 82 times.
Much like Monta Ellis, Williams's game is experiencing a revitalization playing alongside Nowitzki. (Conviently, we get to shop-and-compare Deron-vs.-Monta tonight, as the Mavs are at Indiana in a 6 p.m tip. We'll all talk about it live on DB.com Boards here.) For the first time they experienced the benefit of having a teammate make their life easier as opposed to vice versa. The difference between Ellis and Williams, though, is that Williams is already more understanding of the difference between reaction and creation. Ellis, a born scorer, spent quite a bit of possessions trying to create offensive opportunities of his own device (sometimes heroically so, often maddeningly so). Ellis did this with scoring. Rondo did it with passing. In a sense, as you see here (not with the basket but rather with the concept), Deron is trying to do both in concert with Dirk.
The lesson here is that Nowitzki can always make the game easier for you than you can for Nowitzki. 
That difference between Ellis and Williams has something to do with personality (Fish has good pieces on Mavs team chemistry here and here) but a lot more to do with specific skillset. For starters, Williams is a much better three-point shooter. In fact, playing off of an elite scoring presence in an offense full of ball movement has allowed Williams to really exhibit his potential as a spot-up catch-and-shoot player. And while Ellis is as good or better at finishing near the basket as Williams, he is not as sharp with his decision-making. The ball will often come back to the perimeter after Nowitzki touches it or swing to another perimeter player when teams try to deny Nowitzki the ball. The way a player like Williams immediately responds to receiving that pass and the attention that Nowitzki has drawn is crucial. Parsons, Wes Matthews, and Williams are not elite creators to the degree that a few rare players in this league are, but when their reaction is quick and precise, they're nearly impossible to contain. Matthews' three-point shooting, Parsons' pump-fake, and Williams ability to pass or finish in the paint are just three deadly examples of reaction plays. 
This is what is asked of Williams in the Mavericks' offense and his resurgence has a whole lot to do with taking the burden of creation away from him. He was not on the verge of becoming an unproductive player in Brooklyn; he was simply unable to shoulder that burden successfully enough to make the Nets a winning team. It would make sense that Felton, a lesser but similarly crafty and reactive player, is experiencing a resurgence playing essentially the same role. 
It's also a huge benefit for Dallas that Williams, at least thus far, has been able to show short glimpses of his former self and shoulder the scoring when Nowitzki is out of the game or the offense is simply stalling. The reason Williams scoring numbers (39.2 points per game on 57.1 FG% per 48 minutes in clutch situations according to Tim MacMahon) in fourth-quarter crunch-time opportunities is because he is not asked to perform that role for the entirety of the game.
When Dallas first signed Deron to his very affordable short-term deal, Carlisle said, "I'm a long-time fan. When this situation popped up, it was almost like it was too good to be true."
Williams will never look like he did six years ago. But what you are seeing now is not a fluke. It is good and it is true and it is a product of a system build around Dirk Nowitzki, and it's entirely sustainable. 
null