DONUT 1: The 2-8 Tuck
It may be the most stunning and most damning stat tucked inside the Mavericks' overall-decent 14-12 record: Dallas is terrible against teams that aren't terrible.
 The Mavs' record against teams with winning record is a dismal 2-8.
DONUT 2: Talking the Talk
 "We've got to win some games against good teams," Wesley Matthews says. "We've just got to do it on a nightly basis. We've got an opportunity to do it on Friday.''
Well, that's one way of looking at tonight's visit from the Southwest Division rival Memphis Grizzlies. Memphis' record is 14-13. But the realities of that team's talent says this would mark a "quality'' win'' for a Dallas team that, to its credit, is staying afloat in the Western Conference — unlike other more heralded teams — by sitting in fifth place in the standings.
"Enough talking about it,'' says Wes. "We've just got to go out there and do it.''
DONUT 3: Our Frustration
I certainly understand the frustration of the fan who is rather tired of hearing team spokesmen like Dirk or Carlisle or Wes continue to repeat this sort of result-less mantra ... and that frustration might go double for some fans who hear Chandler Parsons saying it ... when his performance certainly doesn't indicate that he's capable of walking the walk.
"We've got to do everything better," Parsons says. "We've got to defend much better, we've got to play more aggressive, we've got to knock down open shots, and we can't turn the ball over. We've got a lot to improve on ...''
Well, yes, as CP just pretty much addresses every single thing in that "lot.''
"And,'' he adds, "we've got to start beating some of these better teams."
DONUT 4: Of Human Bonding
So how does that manifest itself in bettering the 2-8 against good teams or in bettering the similarly disappointing 5-5 against visiting teams?
Sadly, there's no formula there. Otherwise, why would Carlisle wait until the second quarter of the season to have his fellas gulp it down?
What there is, is this:
"We've got good chemistry in our locker room,'' Carlisle says, "because we've got really good guys. But building that collective toughness and that collective will ... we've got to keep working on that. We're not where we need to be. And that means hanging in and really bearing down ..''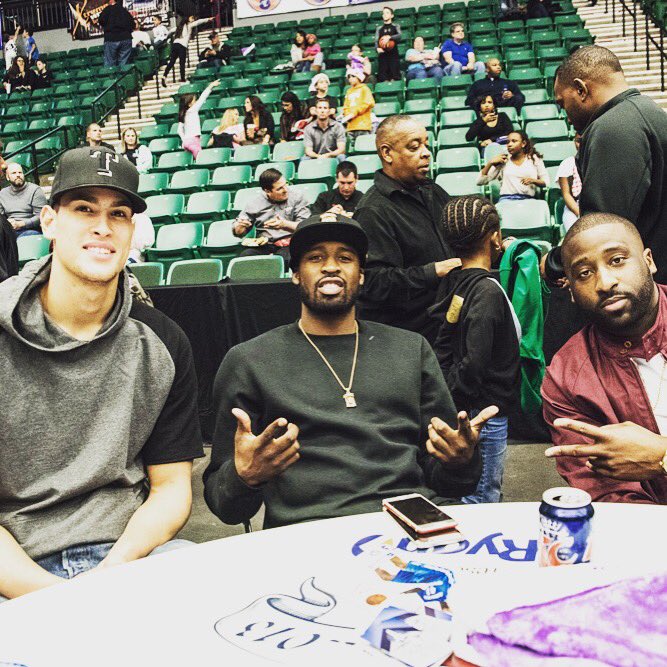 "Hanging in.'' "Bearing down.'' That's just talk, until it becomes action. But "chemistry''? That's a real thing, which I explore in this tale of Matthews, Felton and Powell's travels to the front row in Frisco.
DONUT 5: Speaking of Frisco ...
The Cowboys will have their dazzling new facility done in time for the beginning of th 2016 season. Mavs owner Mark Cuban tells the Morning News that his organization is considering also building a state-of-the-art practice facility, "Hopefully,'' he says, "within the next two years," Cuban said.                       
Think "medical facilities'' and "technology'' ... and, I'm told after conversations with higher-ups, don't bother thinking "entertainment destination.'' An "advanced-biotechnology destination''? Yes, that's more like it.
Additionally, as one DFW power-broker tells me about the concept, think "about how such a facility can be a lure for players, free agents, a continuation of all the things Cuban's done for his players in the locker room at the AAC.''
Yup. Where once fluffy towels were enough ... now a new "advanced-biotechnology destination'' facility -- where Cuban and Carlisle and Donnie and Casey Smith are allowed to continue to show their cutting-edge nature -- might be due.
DONUT 6: This Weekend At The Maverick Bar
We'll have the Mavs game on Friday and the Cowboys game on Saturday and the centerpiece is the 200-inch TV screen, and 30 more brand-new HDTVs to show you all the games all the time ... plus the best burgers in town ... C'mon by The Maverick Bar! 
DONUT 7: Seeing Monta
For the most part, our Monta Memories are good ... and his takeover of Wedneday's Indy blowout of the Mavs (see our review here) serves as a reminder of how good it often was. I found Monta fascinating when he was here, and important to keeping Dallas buoyed as a team, too, at least pre-Hemerrhoidal Rondo.
But he was also enigmatic, a characteristic on display leading up to the Pacers-Mavs game when he was asked  if he had any thoughts about facing his old team.
"No, not at all," he responded.
And that was that.
Here, our buddies at Indy Cornrows break down Monta's usage and production with the Pacers so far ... and it's so-far/so-good for Ellis and a team that is finding a way to put him in places to succeed.
DONUT 8: Over-The-Hill Gang
Meanwhile, in many ways, Monta's "replacement'' in Dallas is Deron Williams. Different positions, obviously, but similar responsibilities. And how is that working our for the Mavs so far?
When Dallas first signed Deron to his very affordable short-term deal, Carlisle said, "I'm a long-time fan. When this situation popped up, it was almost like it was too good to be true."
And this is also "so-far/so-good.''
Our Jonny Auping lays out the thesis here in his piece on "Deron and Dirk and Their "Over-The-Hill'' Sustainability: Williams will never look like he did six years ago. But what you are seeing now is not a fluke. It is good and it is true and it is a product of a system build around Dirk Nowitzki, and it's entirely sustainable. 
For this line alone, the column is golden: "The lesson here is that Nowitzki can always make the game easier for you than you can for Nowitzki.''
DONUT 9: A Missing Grizz
Memphis is loaded in many ways; Gasol and Randolph inside, Conley and Lee on the perimeter. But they will be missing old friend Brandan Wright, who underwent surgery on his injured right knee and will miss six to eight weeks. Wright hurt his knee in a game against the Jazz on Nov. 7. Before the injury, he averaged 6.6 points and 3.4 rebounds in seven games.
https://twitter.com/bwright34/status/677513637506891777
Glad he'll be fine. Wishhe was still in Dallas.Yet another casualty in the Mavs' understandable chase for greatness, even if all it achieved was a hemmerhoid.
DONUT 10: Down On The Farm
RJ Choppy and I will have the Friday night Texas Legends telecast on Channel 47, with sources telling me the Mavs plan to assign Justin Anderson and Salah Mejri to Frisco for tonight, and then possibly Anderson, Majri and Jeremy Evans for Saturday. (Both games against Reno tip at 7 p.m.) Also included in the fold now: Manny Harris (6-5, 185, Michigan), acquired in trade from the D-Fenders, who has played in eight games this season averaging 23.4 points per.
Last week, we had some "Star Wars'' fun on TV ...
Keep and eye on your Mavs and their little brothers by sticking with Choppy and Fish on TV! Oh, and hook up with me on Twitter here at FishSports!
DONUT 11: Injury Update
John Jenkins took a blow to the head this week in practice and is therefore going through concussion protocol. He hopes to be available for tonight. Devin Harris (hamstring) will not play against Memphis.
DONUT 12: The Final Word
Dirk Nowitzki is just 50 points shy of passing Shaquille O'Neal for sixth on the all-time NBA scoring list. As always, when asked about it, Dirk goes humble, saying, "It's still kind of surreal that I'm up there."
He adds that he has no interest in padding his stats and that  his "body will know. My mind will know when it's done. And I won't be dragging myself just to chase more records. ... My goal was to have fun."
Well, it has been that.
And he's reiterating that when it is time, there will be no city-by-city presentations of jerseys and rocking chairs and motorboats.
"I don't need the whole farewell tour,'' Dirk says. "When I'm gone, I'm gone."