GOOD STARTS
One of the themes of the Dallas Mavericks' practice inside the basement of the AAC: Get off to a good start in games, beginning with tonight's 6:30 tip at Toronto.
"Every team in the league wants to get off to a good start to the game,'' coach Rick Carlisle said. "That's a given.''
He's right. For the Mavs, that might mean the elevation of Chandler Parsons to the starting lineup as he seems ready to go 30-minutes plus now. For the Raptors, that means avoiding what happened to them on Sunday, when they lost at home to the Kings, 104-94, in part due to allowing Sacto to get off to a 17-2 start.
''It's terrible,'' said coach Dwane Casey.''I mean it's totally unacceptable the way we performed. Shame on us. The way you come into the game with that disposition of 'OK, we're at home, we're OK.' It's not OK. How many times do we have to do that before it smacks us upside the head and wakes us up?''
In Dallas' last outing,  Friday's 97-88 home victory over Memphis, the Mavs view their 55-49 advantage midway through the second period as a "good start.'' It blossomed into a lead of 18 over the course of the second half.
"We got a good start, and we got the first punch,'' said center Zaza Pachulia. "It really helped compared to some other games in the beginning of the season where we just started slow and then tried to catch up ... For our team, I think it's very important that we have a good start.''
Where does most of this talk generate from? Nov. 3, when the Raptors came to Dallas and recorded a 102-91 win by both getting ahead early (31-25 after a quarter) and crushing the Mavs late (a 20-5 run to close).
THE RAPTORS CHALLENGE
Toronto is led by ex-Mavs assistant Casey, who has "changed the culture'' there, Rick said. The Raptors are leading the Atlantic Division through 29 games with their 17-12 record.
"They're a top team in the East, and the East is a lot better this year,'' Rick said. "We're going to have to do a lot of things well. They're an extremely difficult team to match up with, because of how hard they play. They've got a great backcourt, and they've got a lot of guys who cause problems shooting the ball and driving the ball."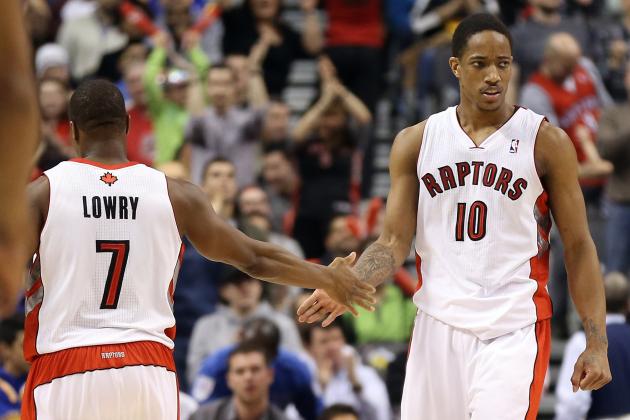 Dallas' top two concerns: Kyle Lowry and DeMar DeRozan.
"They have an All-Star backcourt," Carlisle said. "Lowry makes so many things happen and DeRozan is one of the best scorers in the league. He's extremely talented and he's a big problem.
"Pound-for-pound, I don't know of another team in the NBA that plays harder than them on a consistent basis."
RING THE BELL
It is a Mavs basement tradition that when a player has a successful shooting run (from the 3-point line, for instance), assistant Darrell Armstrong trots to a large bell hanging from the ball and rings it, along with pronouncements of "Hear ye, hear ye!''
But on Monday, JaVale McGee took to the bell. 
"What did you do?'' Dirk yelled tauntingly from across the gym. "How many?''
https://twitter.com/fishsports/status/679319449321652226
McGee didn't reveal the details of his statistical success, instead giggling as he loped up the staircase to the locker room.
Dirk's evaluation of McGee's bell-ringing work last Friday, when the backup center scored 10 points (his first double-figure game since November 2014)?
''He was fantastic,'' said Dirk. ''If you look at all the good teams, they all have athleticism from their bigs. He was definitely a game-changer for us.''
PRAISE FOR EVANS
As DB.com was first to report, Jeremy Evans' participation in the D-League on Dallas' off-nights was the brainchild of … Jeremy Evans.
"He's working on his game,'' Carlisle told me. "I greatly admire his desire to go play minor-league games. No NBA player has ever (volunteered and) done that. Yes, it was his idea. And he's getting better.''
https://twitter.com/fishsports/status/679319106621825024
The Evans plan, which has included two D-League assignments to Frisco, is all about improving his perimeter game. The Mavericks would love to see Evans be more on offense than just a dunker (something he's tremendous at) because he certainly has the body of a stretch-4.
"I look at everything," Evans told Mavs.com. "I'm pretty hard on myself, which all NBA players are. Offensively, I'm still hesitating to shoot the ball. That's why I'm here. … I never really took 6 (threes) before this year," he said.
Evans shot more threes in a recent Texas Legends game (those six) than he's taken in entire NBA seasons.
"He's developing a different skill set, to become a guy who can play on the perimeter on a regular basis,'' Rick said. "He's defending perimeter guys, making plays on the ball. … a phenomenal example for all NBA players who are interested in getting better.''
MAVSELLANEOUS
Dirk needs 30 points to pass Shaquille O'Neal for sixth on the NBA's all-time scoring list. … Devin Harris (hamstring) is likely out for the Mavs tonight … The Mavs follow this game with a quick visit to Brooklyn for Deron Williams' "homecoming'' of sorts. DB.com will have a lengthy look at that situation on Wednesday. … I admit that I was in a state of disarray when I walked into the gym on Monday but I was not prepared for the onslaught of insults from the coach. "Fish, you didn't have time to comb your hair or shave?'' Carlisle chided, despite the fact that his beard was as scruffy as mine and despite the fact that he will never has hair as luxurious as mine. ... The West features the Warriors and the Spurs and then? A field so wide-open that Monday night results shove the Mavs up to fourth in the conference. That's maybe six spots higher than many projected -- and optimism that this club isn't even close to rounding into the form it hopes to find next month and beyond.
THE FINAL WORD
"I can't imagine a place where you can do more fun things than at a Texas Legends game. And we're not even talking basketball yet — the basketball is good, too! That Food Court they have there? You can find virtually anything. A phenomenal place. I went and played in the Bounce House a little bit. They had an artificial skating rink, I skated on that a little bit. Doing that Hula-Hoop thing down at the end. It was a blast!''  — Rick Carlisle to DB.com on his recent visit to Frisco.