DONUT 1: Carried By The German
After one of their most disappointing losses of the season on Tuesday night against Toronto -- a game that resulted in the coach threatening the job security of his rotation players -- Rick Carlisle and the Dallas Mavericks looked to get their fire back against Deron Williams's former team (grist for the NBA mill), the Brooklyn Nets. With D-Will out due to injury, the Mavs would look to J.J. Barea and the Big German to carry the load in a crazy back-and-fourth affair. ... and Matt Galatzan joins me in making the Donuts ...
The countdown to passing Shaq on the all-time scoring list was in full effect for Dirk Nowitzki on Wednesday, as he needed just 10 points to overtake the Big Diesel. And with 9:50 left in the second quarter, J.J. Barea hit an open Dirk for a midrange jumper from the left wing over Andrea Bargnani, and took his place as the sixth-best scorer in NBA history.
https://twitter.com/MrMichaelLee/status/679834760068378624
Dirk finished the game with 22 points on seven-of 13-shooting.
Said The Uberman: "It's surreal passing Shaq. He's an all-time great and a legend. I was able to compete against him for a long, long time. I was a fan of his in the '90s. He's arguably the most dominant big man ever seen in this game, so it's sort of weird that I'm up there now with all these legends. But like I always say, I'm really going to enjoy this when my career is over.''
It's very rare to get the opportunity to see someone of Dirk's character and passion achieve milestones of this caliber, so when it happens, you need to take note. Dirk revolutionized the power forward position in the NBA in more ways than one. He put the Mavs on the NBA map 18 years ago, and brought an NBA title to a starving city. Legend.
Dirk himself, in his own humble way, conceded that this is a very big deal via Twitter:
https://twitter.com/swish41/status/679895276312760320
DONUT 2: JJB Intoxication
Not to be outdone, J.J. Barea got his first start of the season in place the injured Deron Williams on Wednesday, and took full advantage of his opportunity. Barea came out wheeling and dealing with 20 points and five assists on a scorching eight-for-nine from the field in the first half, and was the driving force behind the Mavs hot start. 
Barea's energy can be intoxicating and his teammates fed off of it in this game, shooting 55 percent from the field as a team. Barea would wrap things up with a career best 32 points and 11 assists.
https://twitter.com/DawkinsMTA/status/679915458607353856
"I just wanted to come out with a lot of energy early," Barea said. "We needed that. I think Coach threw me in there to give a lot of energy early, and I think I got in a rhythm. I got in a rhythm, and I was able to help my team out big-time."
DONUT 3: 'You're Fired!'
After the abysmal start against the Raptors, Dallas was much better in the first quarter against Brooklyn, taking a six-point lead into the second. It appears as if the Rick Carlisle's words were taken to heart, as the Mavs exploded out of the opening tip, lighting up the Nets for 32 points on 73.7 percent shooting as a team. Dallas was also hitting the three-ball early, as they went six of seven from deep.
What were those words then, again?
"If it's going to be like that, these guys aren't going to be Mavericks very long,'' Rick said in Toronto, 24 hours before this second night of a B-2-B roadie. "I can promise you that."
And what are Rick's words now?
"I fly off half-cocked about every other day, so you cant pay much attention to what I say," Carlisle said after this game. "The truth is I love this team and I really care about these guys. I want them to want it as much as I want it for them, and sometimes that manifests in some unusual ways, but I'm never going to stop caring."
DONUT 4: Don't Lose Wes
It's going to get lost amid Big Dirk and Little JJB, but Wes Matthews hit some really big shots in this game, going five-of-10 from three, six-of-13 overall for the game and scoring 17 points. Wes is never afraid of the moment, and he showed that, especially in the fourth quarter. 
He also set loose a different sort of "slings and arrows'' than the ones Carlisle had been throwing around ...
DONUT 5: Nobody Puts Dirk In The Corner
Dirk put an exclamation point on the second quarter, after Chandler Parsons found him for a wide-open three in the left corner to beat the buzzer, and put the Mavs up 64-53 going into the locker room. Dirk and Barea combined for 33 points in the first half on 76 percent shooting, and really put the Mavs on the right track offensively from start to finish. 

It was just one more moment worth savoring ...
"You know, you can live a full life of NBA basketball and only see a feat like this once in your life," Carlisle said of Dirk's milestone. "You're talking about a guy who's a generationally great player. He totally redefined the game and redefined a position. … They're just running out of accolades. It's a tremendous feat and such a tremendous individual."
DONUT 6: The Turnovers
If its not for 14 first-half turnovers by Dallas (and 15 points off of those turnovers for Brooklyn), this thing might have been real, real ugly for Brooklyn. Instead, the Nets were able to get back into it. The absence of D-Will obviously played a huge factor here, but 14 turnovers in a half is not a good recipe for success. 
We're going to keep harping on this and we know Rick will, too: A team this veteran, with this sort of experience at depth with point-guard-capable guys (even with Deron and Devin both out) needs to be far more cognizant of the value of the ball.
DONUT 7: Mavsellaneous
It's nice to see Charlie Villanueva put together a couple of nice games in a row for the Mavs; he's a hard worker and by all accounts, a great teammate. Charlie V had 14 points in 25 minutes, coming off of a nine-point outing against Toronto the night before. ... One thing worth noting for the Mavs in this game is that Chandler Parsons and Javale McGee were both available on the second leg of a back-to-back for the first time this season. That is a big deal for Dallas moving forward, as it shows that CP and McGee are nearing full strength in their respective recoveries. ... The Mavs failed to take advantage of their high-octane start in the second half, playing bad defense, missing shots and letting Brooklyn take the lead in the midway through the third quarter. The Nets outscored Dallas 34-17 in the quarter, forcing the Mavs to press a bit, and get themselves into some bad spots. ... This win by Dallas is now the eighth time in the last nine games that the road team has won in this matchup.  
DONUT 8: Nice Things
We like to say nice things about the opponent, so ...
The Nets have struggled mightily this season, standing with just an 8-20 record so far in 2015. Brook Lopez, who averages 19.3 points and 8.2 boards per game, and Thaddeus Young, who puts up 15.5 and 9.2 per game, lead the Nets attack. Jarrett Jack is a veteran commodity at point guard, while Joe Johnson (Maybe the most overpaid player in NBA history), is off to a very disappointing start this year. Brooklyn also sits near the bottom of the NBA in scoring, as well as landing in the bottom half of the league (20th) in opponent's points per game.

Thaddeus Young however, has been a bright spot for the Nets. He is currently enjoying arguably the best season of his eight-year career. He's an above average, albeit undersized, defender for his position, and also has the ability to finish well around the rim. Here, Young notched 29 points and 10 boards. And once again we see: Opposing power forwards and Maverick defenders are not a good mix. 
See? That was pretty nice. Yet ... you really don't want to lose to an 8-20 team, no matter the cirmustances.
DONUT 9: A Little Zone?
Dallas went to a zone defense in the fourth quarter, after trailing by as many as 11 points. The change in scheme frustrated Brooklyn's shooters, and provided the Mavs with opportunities to get themselves back into the game. 
DONUT 10: The Dirkie/Player of the game
JJB? That's our vote, as the diminutive guard hit a career-high 32 points and handed out 11 dimes. J.J. took over in the absence of injured starter Deron Williams, and stepping up when the Mavs needed him most. Head over to the DB.com message boards and give us your choice for the Dirkie!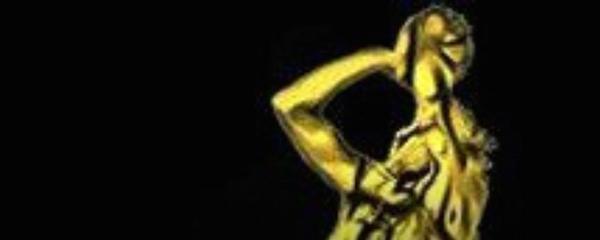 DONUT 11: Stat(s) of the night: Three-point shooting. Both of these teams were unconscious from beyond the arc, with the Nets shooting around 53 percent and the Mavs hitting around 47 percent. These teams were trading threes back and fourth in overtime, and put on quite the show. ... highlights by the bows and the arrows!
https://twitter.com/SBNation/status/679900993203523584
Brooklyn, though, shot just 43 percent from the line, giving Dallas the chance it needed to escape with this win. And when Jack missed the final shot of the game ... what had become a back-and-forth affair that came down to the final possession of the game in OT. ... was just "forth.'' 
DONUT 12: The Final Word
The Mavs return home for a matchup against Derrick Rose and the Chicago Bulls on Saturday at 7:30 pm from the AAC. ... but not before they take off both Thursday and Friday. Carlisle went at his guys hard; now they get a two-day Christmas gift.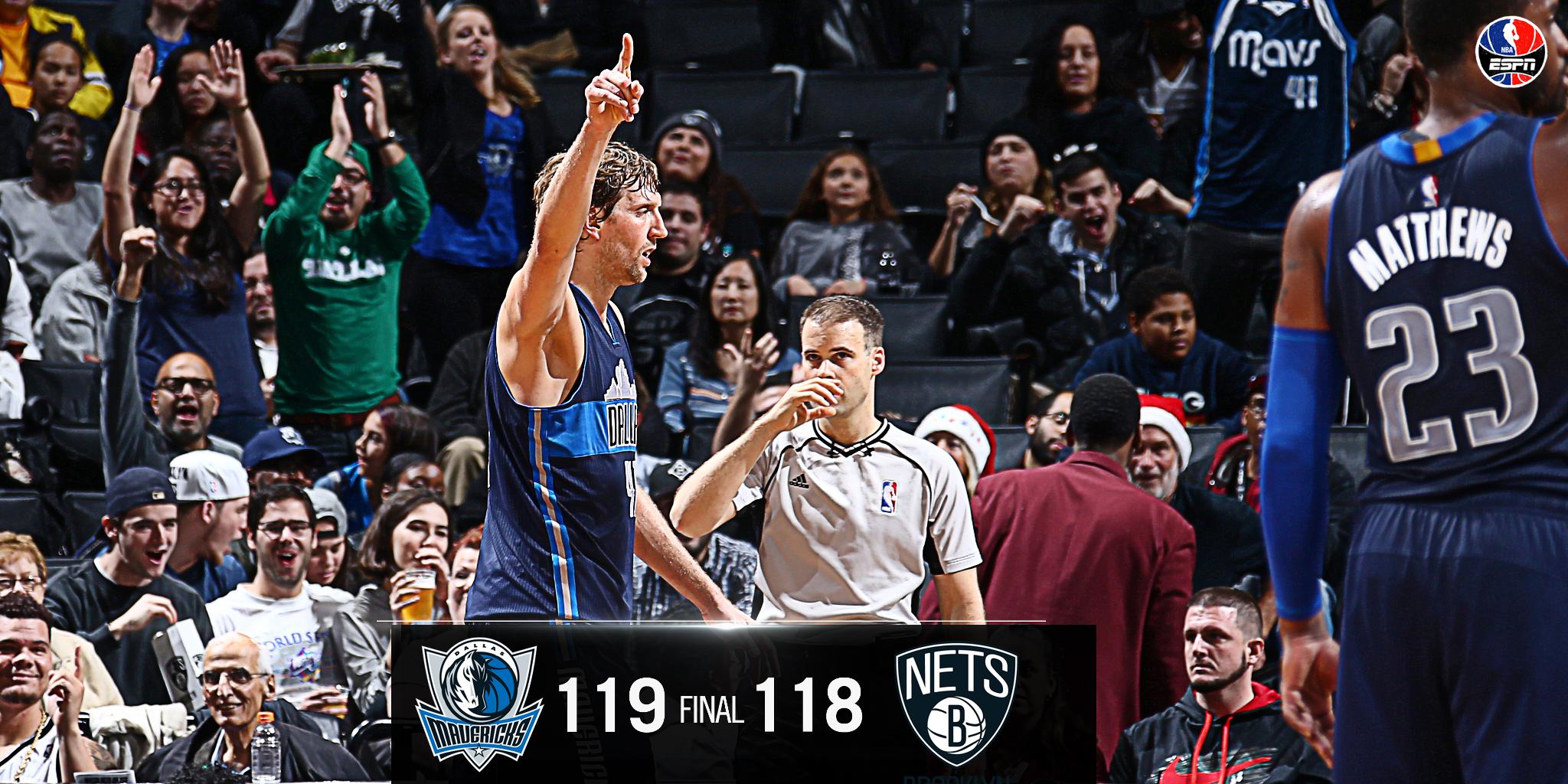 Bigger than passing Shaq, Dirk said, "It was more important to get this win. We struggled last night and took a loss. Now, to fly home and sit on back-to-back losses over the Christmas break would have been brutal. So, we found a way."