It is perfectly reasonable to assume the Dallas Mavericks will tipoff at 7:30 tonight at the AAC against the Warriors (the DB.com Boards here) and proceed to lose from there. The defending champions are 29-1 and historically good and while they have already proven that they are a matchup nightmare for every team in the league, Dallas might be one of the least-suited teams to compete with their style of play. 
That said, every team has a potential to go cold for one night and Dallas has proven its potential to get hot. Given the Mavericks' season-long dependence on effort, chemistry, focus (and most recently, uber-efficiency) to make up for athleticism and youth, competing well against the Warriors (or dare we say beat them) could go a long way in establishing or building upon momentum and confidence. These things might seem intangible, but they are the sort of factors that encourage players to believe in, and thus operate within, their specific roles on the team.
The Warriors have a collection of players that create mismatches. When healthy, their five best players could operate against their man with a reasonable chance at scoring. Instead of doing so, they find even more favorable matchups and the results make NBA basketball look quite easy. Their defensive versatility allows them to do this. 
It all starts with Steph Curry (who is OUT tonight with a leg injury), but as Dallas coach Rick Carlisle notes, it goes way beyond that.
"Curry is changing the way the game is played before our eyes,'' Carlisle says. "It's a mammoth challenge trying to contain him. And we're not even talking about Thompson and Green and all their other great players.''
The question is, against "all their great players,'' what five players on the Mavs' roster can survive the Warriors' most potent onslaught? 
Let's start with what, why, and when that onslaught will be rendered upon the Mavericks. 
Don't get caught up on the starters. It would be surprising to see Carlisle make a drastic change to the starting lineup for a regular-season game. Besides, the lineup that the Warriors start will be different than the lineup they finish with (assuming it is competitive in the final minutes). The Warriors will likely start Andrew Bogut at center.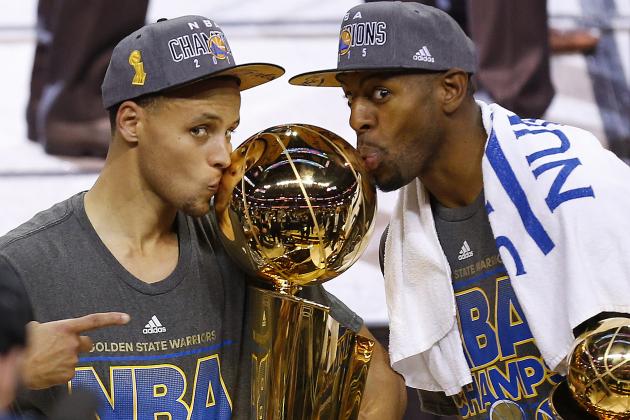 The lineup to fear is their small-ball or "Death-Ball" lineup. It's called that because once it is utilized in the fourth quarter, things tend to go south for their opponent. Andre Iguodala will be inserted into the game and Draymond Green will play center. This leaves opponents with two options: continue to play a traditional lineup with a center and watch the Warriors score at will or try to match their lineup with much less suitable personnel. The latter is usually considered the best option, though it hasn't exactly been much of a success: The Warriors are 29-1. ... and temp-coach Luke Walton (subbing for the ailing Steve Kerr) says they are pushing for more.
"Even though we can beat teams in a pick-up style game where the ball is getting slung around and guys are just catching and shooting, we need to work on being champions," Walton says. "That's executing on offense, that's protecting the ball and that's competing on the defensive end."
So how will the 18-13 Mavericks react all of that, and the aforementioned "Death-Ball'' lineup, assuming they are able to keep the game competitive up to this point? Carlisle is as good or better at in-game adjustments as any coach in the NBA, and there are a number of different ways to try to handle the onslaught. This is the way I see things:
Zaza Pachulia cannot play at a high level of effectiveness against this lineup, which is unfortunate because he has been an advantage for Dallas all the season ... but that's what the Warriors do; they render some of your best players unplayable. Pachulia's strength won't do much good against Draymond Green, who will take him out to the perimeter. Even if Pachulia could contest his three-point shot, Green's speed and aggression would mean he could charge past Pachulia for offensive rebounds. And the concept of asking Pachulia to play off of Green and make Green beat you with his shot is a non-starter because the Warriors (Curry usually, maybe Livingston in his spot tonight) will use Green to set picks, meaning Pachulia would have to come up to help contain the guard off of the screen. One way or another, the Warriors would bring Pachulia away from the basket and thus render his abilities ineffective. 
Dirk Nowitzki is even more of a defensive liability, as we've detailed regarding the way opposing 4's go off on him, but keeping The UberMan off the court isn't an option if you want to score. 
It's certainly an enticing idea to attempt to use JaVale McGee in this situation. As you see above, McGee vs. Bogut can be an "athletic win.'' His athleticism and length could be generally disruptive for passing out of screens (which the Warriors will use plenty of). That same length also could allow him to recover and contest shots. We have seen some positive JaVale stuff so far this season. Unfortunately, the idea of McGee, who lacks much of anything resembling defensive instincts or awareness of a developing play, trying to defend a team as deliberate and explosive as the Warriors sounds disastrous. Considering it is just a regular-season game, Carlisle may actually experiment with this, but the chances of the Warriors having any trouble scoring with McGee in the middle are pretty low. 
The best option is to play Dwight Powell along with Deron Williams (if D-Will doesn't suit up due to his hamstring up then Devin Harris or Raymond Felton would be the next best option), Wes Matthews, Chandler Parsons and Nowitzki. If you are wondering about individual matchups, you would play Felton on Brandon Rush, Nowitzki on Iguodala, Parsons on Klay Thompson, Matthews on Curry (if healthy, but now maybe different), and Powell on Green. However, those matchups aren't entirely important, as the Warriors will constantly attack with pick-and-rolls to get whatever matchup they want. 
Dallas' best hope is to mimic what Cleveland did in the NBA Finals and trap Curry as he comes off of picks and make him give up the ball. This will obviously lead to open driving lanes or three-point shots, but as long as they aren't coming from Curry, Dallas will live with them. Of course, sometimes Curry simply dribbles through your attempts to trap ...
Powell is the most-suited player -- with his speed and length -- to scramble to contest shots. While nobody on the floor for Dallas will have much chance of keeping their man in front of them, they are all savvy defensive players who will know how to position themselves to take a charge or swipe at the ball. If Green sets a screen for Curry then both Powell (who was guarding Green) and whoever is guarding the ballhandler will both charge at him forcing him to make a (hopefully difficult) pass to Green who will have either positioned himself for a three or more likely will drive hard to the basket. At that point the scramble is on. If a player can position himself in front of Green he might kick it out whomever that player left open. Defending them this way relies on the defensive instincts of the scrambling Mavericks. It also accepts the fact that the Warriors will still be getting looks they are capable of converting into points and simply hoping they miss enough of them. 
Offensively, that Dallas lineup will create the only advantage it has. The Warriors might use screens more effectively than any team, but there is one player who utilizes screens more consistently and successfully than anyone else on the court and that is Dirk Nowitzki. Green is as physically able to guard Dirk as anyone, but Dallas will use Nowitzki in picks until the Warriors switch and Livingston, Thompson or Rush is stuck on him. If the Warriors don't switch and Green is still on Nowitzki then Dallas will simply run it again immediately until they get Nowitzki the ball with a smaller defender on him. Once a defense is in that position, it doesn't matter how revolutionary or versatile it is, they are quite plainly at the mercy of the "Politely Ruthless'' Dirk, like hundreds of defenses before them. 
And assuming that the Warriors do try to use Green on Nowitzki, then Powell should have the energy, speed, and height advantage to be a nuisance on the offensive boards. He'll have free reign to go for second-chance opportunities. 
This lineup will just look to survive on defense against the "Death-Ball" lineup. ... even without Curry. On offense it will have opportunities to execute.