DONUT 1: 'Out-Warriored'
Mavs Donuts via Mike Fisher and Matt Galatzan as the defending NBA champion Golden State Warriors (coming in at 29-1) made their first appearance of the season at the American Airlines Center on Wednesday night ... but minus a few key parts. The Warriors were without reigning MVP Steph Curry, Festus Ezeli, and small forward Harrison Barnes due to injuries, forcing Shaun Livingston and Brandon Rush into the starting lineup.
"I thought that our guys did a very good job of staying focused even though Curry didn't play,'' said coach Rick Carlisle, whose team "out-Warriored'' the Warriors in so many respects here. "I stressed to them this morning that there was a chance that he wouldn't play, and if he didn't, that we did not have any kind of emotional letdown. ''
No "downs'' of any kind here. All "ups'' for a Dallas team that finishes up a homestand with a trio of wins in three tries and a 19-13 record that allows this club that oddmakers thought would be a 38-win non-playoff team to continue to flirt with the idea of a top-four finish in the West.
Sympathy? No sir. That's not how this works. One foot on their throat and the other on the gas pedal? That's the plan ... and it worked, Dallas ultimately handing the defending champs just their second loss of the season, as the home team cruised to a 114-91 win. 
DONUT 2: The JJB Show
Man, J.J. Barea has been unreal over the last few games, and he continued that on Wednesday night. Barea has really concealed the absence of Deron Williams (hamstring), and has led the Mavs in scoring over the last three games, averaging 22 points per contest since taking over for Williams. Barea would end the game scoring 23 points while handing out six assists against the Curry-less Warriors.
And this is no small feat. What is Deron to Dallas? The main ballhandler, an on-floor leader, The Closer. 
https://twitter.com/TheMavsFanatic/status/682414670414741505
This game marks the third time in the last four games that J.J. has scored 23 or more points as well as hitting five or more threes in a game. He's on fire. ... and he's doing it by replicating almost exactly what the Mavs would've been asking D-Will to do with Dallas winning a fourth consecutive game without Williams.
DONUT 3: Early Jump
The Warriors really struggled on offense early on with out Curry in the lineup. Shooting just 39 percent from the field and 27 percent from three in the first half, the Warriors just couldn't find any consistency on offense. 
And so ... The first quarter of this game went to the Mavs, as they outscored Golden State 27-21 behind nine points from Barea and six points from Zaza. The Mavs shot 52 percent from the floor in the opening quarter, while also winning the rebounding battle, and scoring 16 points in the paint. 
And Pachulia kept it going through the first two quarters as he had his 17th double-double of the year by halftime. He dominated the interior of this game early on, and kept the pressure on the Warriors to find a way to slow him down on both ends of the floor. His basketball IQ, hustle and tenacity make up for his less-than-elite athleticism on the glass, and give him the ability to outsmart opposing big men on the block.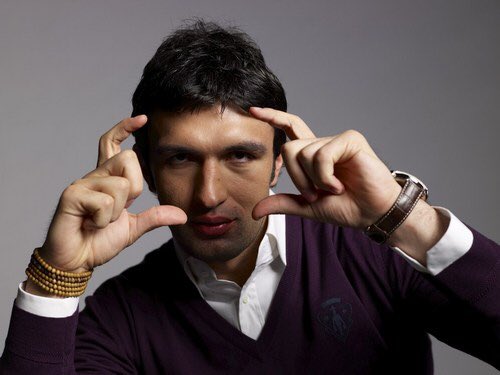 Rick on Hotel Zaza: "He is a very smart player and he thinks ahead of the curve.  I don't know if I have ever seen a five man in this league that is better at early positioning, whether it is defensive positioning things on the pick and roll, or post positioning.  On offense, he is right on cue with everything, and even though he is not a high flyer, he gets a lot of things done because he's smart, he's skilled and he understands our system."
Zaza had a muscular 14 points and 15 rebounds for the Mavericks.
DONUT 4: No Steph
Are we being too harsh when we say ... Without Steph Curry on the floor, Luke Walton was actually forced to do some coaching in this game? OK, we know not even the Warriors "just roll the ball out there.'' But in our biased and laymen's opinion, Luke got his butt whipped here. Rick Carlisle coached circles around Walton from start to finish, pushing all the right buttons and having his guys respond in a way that kept Golden State from ever being able to get to its favorite button, "Death-Ball.''
OK, we're being too harsh. Maybe we're just like Zaza, "All hyped up'' about this game ... part of the Mavs-Warriors Quoteboard you can read here.
DONUT 5: And An Angel Gets Its Wings
Every time Dirk dunks, a young German boy is handed his first beer. A wondrous site indeed, Mavs fans… Soak it up. 
https://twitter.com/tim_cato/status/682389235563794433
 Dirk had an erratic night, by his standards, but ultimately finished the game with 18 points and eight rebounds on six-of-15 shooting. Dirk was the Mavs second-leading scorer here.
We made some mistakes out there,'' Nowitzki said, "but I thought overall we scrambled hard and we played well. And we made some big shots on the offensive end." 
DONUT 6: Individual Honors
The first half ended with the Mavs up big by a score of 60-42. J.J. Barea (15), Dirk (10) and Zaza (12) were all in double-figures at the break, with Devin Harris and Wes Matthews each contributing eight points of their own. Dallas also dominated the boards 27-17 in the first half, while also outscoring the Warriors by a whopping 32-10 in the paint.
There wasn't a single Warrior in double figures at the end of the first half in this game, thanks to phenomenal defense by the Mavs. Dallas held Golden State to just 39 percent from the field and 27 percent from three going into the third quarter, while shooting 54 percent from the field themselves. 
Worthy of mention? Wes Matthews really seems to have finally found his footing after a tough and inconsistent start to the season. He is constantly matching up with the opposing teams best perimeter player, which in this case was Klay Thompson, who he held to 10 points on four-of-15 shooting. 
Not to be outdone, Chandler Parsons did a great job of his own on Draymond Green. Defensively, Parsons limited Green to 11 points in 31 minutes of action, while contributing five points, five assists and six boards of his own ... just another sample of Parsons' versatility here.
DONUT 7: Hat-Tip
The Warriors got off to the best start in the history of the NBA this season at 29-1, while averaging a league high 114.8 points per game on a league best 48.5 percent shooting from the field. Golden State also holds opponents to just 42.5 percent shooting, which is third best in the league coming into Wednesday night's game. So yeah… They're a pretty good team.
They are probably the only team in the NBA right now that doesn't have a true definable weakness. Statistically, they do struggle defending the paint (third-worst in the league), but they are also second-best in the league at blocking shots… so there's that. They pass, shoot, score, defend, rebound, and even block shots. The type of basketball these guys are playing this year has been simply remarkable. 
We could talk about Steph Curry and his MVP-caliber season all day long if we wanted to. He's arguably the best player in the NBA today, even though Mark Jackson thinks he's ruining the game … Ok Mark, whatever helps you sleep at night, buddy…
But Curry isn't the only player on this team. When healthy, the Warriors are capable of throwing 11 or 12 different players at you in a variety of different ways. They can pound you inside, they can outshoot you, they can out scheme and they can outrun you. Though as evidence by a good bit of this game, they really did miss Curry's 30.5 points per game.
And in the end here, they fall to 29-2. ... still the best 31-game start in NBA history.
This loss is a blip on their radar screen. But it's a "signature win'' for Dallas.
DONUT 8: Thanks to our great sponsors!
Our friends Bill and Woody at LS Wealth Strategies have been absolutely vital to aiding the financial health of my family with wisdom and experience and maybe most important of all, a "bedside manner'' that keeps my sons, Nate and Tony, involved in the process and learning as we grow. My highest reccomendation to LS Wealth Strategies, who help us bring you Mavs coverage and can help you in so many ways. Please give them a click or a call (972-702-6080) when you are ready to take an important step in the right financial direction.
We'd also love to see you on New Year's Weekend for some partying at The Maverick Bar, our place at 1616 Hebron in Carrollton. All the football games, all the Mavs and Stars games, 30 new HDTVs including a 200-inch big screen, plus live music starting tonight at all weekend ... oh, and the best Texas-flavored burgers in DFW. C'mon in! And we welcome a great relationship with the finest dealer of fine automobiles in the Metroplex, and recognized national as such, in PM Standley Motorcars. We're excited to be affiliated with a classic brand featuring modern innovation ... and a family business as well! Check out their incredible showroom on the PM Standley website!
DONUT 9: The Dirkie!
Who deserves "The Dirkie''? We could go a lot of different directions on this one, but J.J. Barea is our pick here. Barea finished the game with 23 points on 75-percent shooting, while adding six assists. Barea continues to be absolutely unconscious on the offensive end of the floor with no signs of slowing down anytime soon. This is a democracy though, so head over to DB.com Boards and give us your choice for the Dirkie!
DONUT 10: Mavsellaneous
After leading by as many as 30 points in the third quarter, Golden State was able to cut the Mavs lead down to 19 points, with Dallas leading 87-68 heading into the fourth. The Mavs got a bit sloppy late in the quarter, but were able to clean things up at the end.  ... Give the Mavs credit; while it was obvious that Golden State missed Curry on the offensive end, we'll argue his absence was not a contributing factor in Dallas dominating the other end of the floor. The Warriors really struggled to keep up with the Mavs ball movement and had a heck of a time putting together any stops on the defensive end because of it. ...  The Mavs dominated the paint in this game, out rebounding the Warriors 52-37, while outscoring the Warriors 46-26 in the paint as well ... This game was over when: Raymond Felton hit a corner three with 10 minutes left in the game, putting the Mavs up 92-72.
DONUT 11: Coming And Going
What you couldn't see coming? Poor shooting by the Warriors. Golden State ranks near the top of the league in nearly every shooting statistic there is. On Wednesday, however, the Mavs held the Warriors to just 40-percent shooting, and marks just the second time this season that GS has been held to less than 100 points in a game. 
Said Carlisle: "We just wanted to make it hard on their best players and we wanted to keep coming at them with our depth.   From start to finish the guys did a really good job.'' 
And now where are we going? The Mavs (19-13) head east to face Dwayne Wade and the Miami Heat on New Years Day at 6:30 p.m. The Heat are off to a good start at 18-13 and will look to rebound coming off of an overtime defeat at the hands of the Memphis Grizzlies on Tuesday. ... but none of this happens until after Thursday, with Rick granting a well-deserves day-off to his guys.
DONUT 12: The Final Word
"Everyone was excited for this game, everyone was waiting for this game. Last game of the year, playing against the World Champs ...  they are a hell of a team. The players, the way they move the basketball, record is amazing, so we were all hyped up.'' -- Zaza.