The Cleveland Cavaliers have three players that are more dangerous and liable to take over a basketball game than anyone on the Mavericks' roster (perhaps with the exception of nights when Dirk Nowitzki refuses to adhere to the reality that he is 37 years old). For that reason, the Cavs -- 7:30 p.m. Tuesday visitors to the AAC -- can't afford a player like Wes Matthews, and like most teams in the NBA, are trying to create a makeshift version of his impact with a number of lesser players.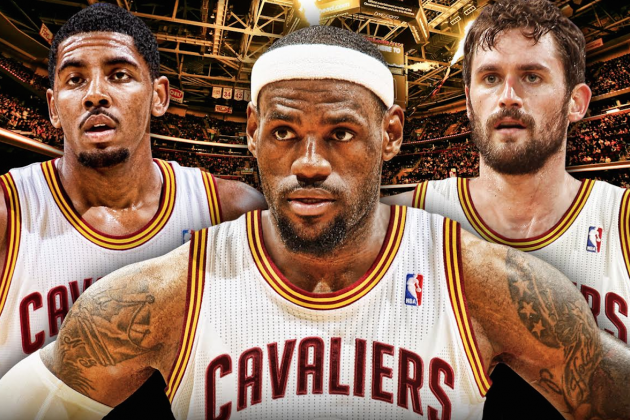 In a vacuum, Kevin Love, Kyrie Irving, and LeBron James all fit the mold of a superstar NBA player in a much more traditional way than Matthews. LeBron, of course, is historically great and transcends conversations of team building. Naturally, in previewing this game, "Dirk vs. LeBron" is the theme.
Dallas coach Rick Carlisle says fans will see  "two of the greatest players in the history on the floor at the same time ... (LeBron) can play five positions on the court. He's just a menacing weapon for them, because of his all-around ability."
The Cavaliers have all three of their "menacing weapons" signed to maximum contracts, and for good reason; if Cleveland didn't compensate them like this, then another team would have. 
Matthews, without the understood skillset that typically warrants being a foundational player, is also signed to a max-contract. His role is drastically different than any of the Cavaliers' Big Three, though, and the Mavericks have no plans for him to develop into that caliber of player. 
Matthews might be the best "role player" in the NBA, and if that sounds like a backhanded compliment than you're approaching the conversation in the wrong way. Elite NBA talents are a threat to score in any possible situation, constantly demand double-teams, and rebound or distribute at a level unmatched by just about any other player. The approach to team building has always been to acquire one (or more) of these players, and then fill in the remaining roster with lesser players. 
The obstacle that most teams run into is that filling in the roster is much harder than it looks; those "lesser players" are the difference between lottery and contention, between playoffs and championship. Though it's always easier to shape the narrative of a playoff series around the biggest names involved, the reality is that those series are mostoften decided by which supporting cast could hold up their end of the deal. Superstars almost always deliver. That's why they are superstars. 
So how do you go finding the right players to complement a superstar? Well, you usually have to settle for one of two options: specialization or inconsistency. Specialization is nice way of calling a player one-dimensional. To go this route would imply that you look for players that are extremely skilled in precisely one area of NBA basketball. This might be shooting, rebounding, rim-protection or perimeter defense. That player will usually do his job, but the problem, is that he could very well be a liability in plenty of other aspects on the court. In the best-case scenario, the right combination of one-dimensional players can compensate for each other and do enough to support a superstar or superstars. The other side of the coin is that too many one-dimensional players could create mismatches or hold a team back in a number of ways. 
The other option, inconsistency, involves finding a player that can do a number of things well, but will not do those things well on a nightly basis. They can be a perfect complement to a superstar, but they will also let that superstar down on certain nights. 
Wes Matthews is neither one-dimensional nor inconsistent, and he does what is needed from him at an elite level. Matthews is one of the best three-point shooters in basketball. The existence of people like Steph Curry and Dirk Nowitzki make it easy to forget what a good shooter typically looks like. Let's put it this way: Compared to most players who are in the league and employed by NBA teams almost exclusively for their ability to hit open threes (i.e. Mike Miller, James Jones, Courtney Lee, Anthony Morrow, Kyle Korver), Matthews is nearly as good, or possibly even better, a shooter than all of them. This season, he has shot 37 percent from behind the arc, and that includes a slow start to the season coming off of surgery for a torn Achilles. That number is likely to level off around 40 percent. He also gets to open spots without the ball, has an extremely quick release, and shoots at a higher percentage in the fourth quarter. In other words, he is the perfect player to have the floor if the defense plans on double-teaming someone else. 
Offensively, he moves the ball well and has the kind of go-to moves that make it impossible to hide a bad defender on him. If you stick a smaller player on him, for example, he can demand the ball in the post, and use his strength and back-to-the-basket skills to score easily. This forces the type of game-planning that opposing coaches hate to have to consider for what we'd normally call a "role player."
It's also worth noting that Matthews is an elite wing defender. He plays the kind of unheralded defense that can hold a superstar to a very good game, as opposed to a dominant game. 
https://twitter.com/bobbykaralla/status/686589138196414464
He does all of this consistently. A team like the Cavaliers tries to get the production that Matthews provides by running through a number of options at his position. They might go the route of specialization with James Jones who is only a spot-up shooter or Iman Shumpert who primarily provides defense. Or they often go with J.R. Smith who can provide a lot of the things that Matthews can but on a much less consistent basis. 
Matthews, in short, is a difference-maker to the degree that I'd argue replacing anyone on the Cavaliers' roster outside of the Big Three with Matthews would make them better than any team in the league including the Warriors. 
Nowitzki is still playing the role of superstar to a degree for Dallas, and he is benefitting for having the locked-in contributions of Matthews, who has only gotten better each month, as his Achilles surgery becomes further and further removed. 
Investing significantly in a player who can't dominate a game the ways that players like Irving or Love can might seem misguided by some, but it allows the freedom to succeed playing so many different styles of basketball and takes away a dependence on inconsistent or one-dimensional players. When the Warriors signed Andre Iguodala to a $48-million contract it might not have seemed significant, but his ability to play the roles of 2-3 different players on a nightly basis allowed them to build their team the way they wanted to and experiment with revolutionary styles of play. 
LeBron is one of a kind. But is Wes Matthews "as good as'', say, Kyrie Irving? That's difficult to say, but it's also a somewhat irrelevant question. Perhaps a more significant truth is that he is just as hard to come across.