The Dallas Mavericks have reached the midpoint of the 2015-16 season, Game 41 in the books, and a new discovery: Maybe they can play defense.
"We can't come into the game expecting a finesse game," said Wes Matthews, whose stiffling defense on Jimmy Butler keyed an 83-77 win Friday at Chicago. "You have to be the aggressor. This is the way we need to play the rest of the season. It's got to be a mindset every single time we take the court."
Well, I'll believe that when I see it in Game 42 of the year, Sunday at San Antonio ... or any other time over the second half of the schedule. But for one night? It was a beautifully ugly thing to see, the Mavs opposing yet another powerhouse (having already lost this week to Cleveland and OKC) but knowing that the Bulls were similiarly vulnerable, so ...
"Hey,''  coach Rick Carlisle told his team at halftime, oddly encouraged by part of being down 46-36 at halftime. "Play until exhaustion.''
"Encouraged''? Yes, because while Rose and Gasol were giving Dallas matchup problems in that first half, Chicago scored only those 46 ... and Butler hadn't gone off at all ... and Dirk, despite scoring 10 points, did so on just 1-of-7 shooting ... and the Bulls were coming off an OT win over Philly the night before and playing their fourth game in five nights.
Said Deron Williams, going all Dickensian on us: "It was a tale of two halves. In the first half, we couldn't make a shot. We just looked out of sync and out of rhythm. Second half, we decided to get after them defensively. We knew that they were a little tired, coming back from an OT game and having to fight back from down 24, so we just tried to outlast them. And we got stops when we needed them. I think we just hung in there as a team. We hunkered down, got some stops and made some big plays."
The big plays started with the overall work of Matthews on Butler, who in that OT game against Philly scored 53 but here managed just four points on 2-of-11 shooting, the most precipitous game-to-game scoring fall for a 50-point guy ever.
it was a team thing," said the selfless Matthews, a leading candidate for your vote for "The Dirkie.'' "Obviously, he's the key to their team, having 53 points last night, so as a team we had to do a good job and try to make stuff difficult.''
The "team defense'' concept included Dirk recording a late-game blocked shot on Rose. It came with the Mavericks owning a one-point lead, which was followed by Dallas hitting a pair of treys (one by 21-point scorer Dirk, one by 18-point scorer Deron) to create a cushion.
"Yeah, I blacked out," Nowitzki said self-effacingly. "I can't remember a thing of what happened there.''
Added a joking Matthews: "I think D-Rose threw it into his hand moreso than Dirk going to block it.''
The win is significant for 23-18 Dallas in many ways. There is the salvaging of the week and the avoidance of a three-game skid. There is the fact this marks the first win for offensive-minded Dallas when it scores under 90. And there is that elusive search for "idenity'' and "disposition'' that Carlisle talks about so often, and sometimes so wistfully.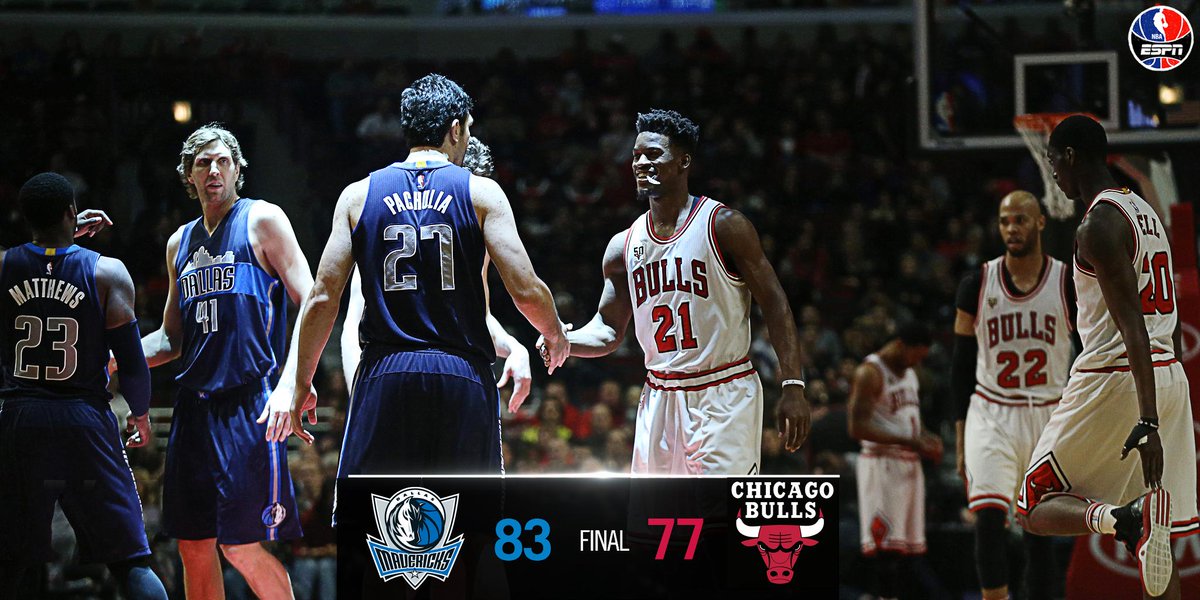 "It's a huge win for us, there's no doubt about it," said Carlisle. "The first half is not what we're about and the second half is exactly what we want to be about."