It's January, at the halfway point of an up-and-down season so far for the Mavs, with lots of question marks about where this season can go. (Straight to start the bus for an early getaway, if you are Rick Carlisle in Sunday's blowout loss at San Antonio.)
But if you want to jump past the season and into the summer, we can help.
The coming offseason offers up an even juicier opportunity than usual, with a massive increase coming in the salary cap, allowing lots of spending, and plenty of name free agents to consider.
So to lay the groundwork, here we go with a brief glimpse at just how much spending room the Mavs might have to work with, and a few questions that might change that number.
THE BASICS
As in most years, even the Mavs themselves don't yet know what they can or will do this summer. It's early, with many unknowns in the NBA landscape, and at this point we don't know how Mav players will perform or stay healthy the rest of the season, nor do we know what the team or various players will do with available player options or team options (or other team-controlled choices).
But we can still offer some rough guesses. We start with some assumptions: (1) no trades or waived players between now and free agency, and (2) no significant differences in player performance or health ahead. To calculate cap room we also need to assume a cap for the NBA's teams in 2016-17, and will use $90M which may be close to accurate but is only a guess.
Using those parameters, we can actually make a fairly educated guess as to what the Mavs' Team Salary and cap room would officially look like on July 1. And it may come as a surprise, but at that point the Mavs would almost certainly be officially over the salary cap, with no cap room, as follows:

 However, that's only the OFFICIAL Team Salary on July 1 for the Mavs with those players. Those official numbers do include some "moving parts" that the team can and might opt to erase later, Accordingly, the question of "how much cap room?" can actually change later because of those moving parts. 
So let's look closer at which choices might be most in play for the Mavs, and how they would impact the cap-room potential.
THE KNOWNS AND UNKNOWNS
Although only the dead money charges are absolutely certain, we see the first 10 players listed above as very likely to be kept, assuming no trades in the interim. Some are core players with ongoing contracts, and some are ones we believe the Mavs would rather keep at that price than replace. 
To offer a few specifics on those 10: 
Powell is young, improving, and his qualifying offer of only $1.18M will allow the Mavs to match any possible contract offer he gets, and he will only consume $1.18M in cap room until they get around to inking the deal, even if it is later for much more 

McGee's salary is non-guaranteed until July 12, but keeping him under contract for the $1.4M minimum salary should be a no-brainer.

Given his lack of use this season, Mejri's retention is a bit iffier, but waiving him rather than keeping his minimum non-guaranteed deal offers almost no savings anyhow.  

Evans can be waived by June 30 (effective deadline, not the contractual one) at no cost, but we think the Mavs will prefer to retain him and his minimum-salary deal.
Those 10, plus the dead money, together would consume about $42.2M in player payroll. 
If the Mavs simply stop there, and plunge into free agency, it would leave them with almost $48M in spending room to play with. However, that full $48M in room comes with a big catch, as it forces them to lose 3 starters, and they end up needing replacements good enough to start at center, small forward, and point guard. 
And while $48M may seem like more than enough cap room for such an exercise, look for things to be different this summer. With a $90M cap, a single max contract will cost about $21.1M, $25.3M, or $29.5M (depending on years of service), and with the extra cap room held by every team due to the just-exploded salary cap, good players are unlikely to want to sign cheap. As the saying goes, the price of poker has gone up.
Given that, we think the Mavs may decide it advantageous to hang onto some of those cap holds on the other 5 to increase their spending flexibility.
But which? The other 5 are all free agents and can be resigned without a cap hold if the price is right. So for a cap-analyzing exercise, the question becomes which additional cap hold offers value, by creating a value opportunity that is lost (and would be missed) without it.
Certainly such questions are best answered after the season and the final body of work is completed, but let's weigh those choices in today's light.
THE 5 CAP-DEFINING CHOICES
Of the 5 Mav free agents in question, we believe the question of cap holds for three will be fairly easily determined, and two will not. 
WILLIAMS
On Deron Williams, having a non-Bird cap hold of about $6.5M would offer no real benefit to the Mavs. Such a non-Bird hold merely gives a team the ability to sign their player to a deal up to that very amount, and is only helpful if a team is otherwise over the cap and their own free agent will be available for that amount or less.
But we think neither of those is going to be true with Dallas and D-Will, so instead the Mavs will forgo a cap hold and have to use cap room to re-sign him if they want to keep him.
FELTON
With Ray Felton, the situation is somewhat the opposite, but we think the net result is likely to be the same. In his case, his Bird rights cap hold of about $7.5M would allow the Mavs to offer him a deal all the way up to the max salary, while only eating up $7.5M in cap room until he signs the deal. But for the hold to have value, the first year of the contract itself would have to be for more than the hold cost of $7.5M. 
It has to be noted here that Ray-Ray has shown considerably more on-court value this season than anyone expected, and the rest of the year might be even better. And the cap hold could have value for the Mavs not only if they want him for a higher number than $7.5M, but also in the possible benefit from a sign-and-trade scenario if someone else does. 
But at this point we don't anticipate him getting a deal starting at more than $7.5M, which means we think a hold allowing them to exceed $7.5M will be useless.
VILLANUEVA
As for Charlie Villanueva, we see their choice as a coin flip, but the difference as being negligible. 
If the Mavs keep a cap hold for him, it will only cost the unreimbursed minimum, which is only about $400,000 of cap room more than the charge for an empty roster slot. And that tiny expense would have value to them if they plan to give him a raise above the minimum that he's been getting, or plan to try to include him as part of a sign-and-trade. But if neither is true or if they don't want him back, there can be an extra sliver of cap room as needed. In any event, however it goes, the difference is tiny.
That leaves only two more to consider, Parsons and Pachulia. But these can go any number of ways, and the decision on each will make a meaningful financial difference.
PARSONS
Chandler Parsons is the biggest looming question mark of all, and also the one with the most possibilities to consider. 
He's a question mark because he was signed to become a player that he has not yet become, and he is working his way back from serious injury as well. So far it's really hard to peg how good he is, how good he will become, and how much that will be worth to the Mavs and others.
For Parsons more than most, the rest of the season will be a crucial indicator. In particular, with more games it will be much easier to determine his upside (or perhaps a ceiling) after his knee surgery and recovery. But for now, he's still a work in progress, making him hard to gauge long-term.  
Further complicating the situation is the role Parsons plays effectively, and wants to continue to play, in recruiting top players to join his team. That has extra value when everyone has money and players are picking between similar offers from multiple teams with money to spend – such as when the cap explodes to $90M and more.
In addition, Parsons has multiple places he could land on the Mavs' cap next season. 
He has the ability to skip free agency this summer, by accepting his player option for another year, and in that case his salary and cap hit would be $16.023M. 

If he declines that option, he becomes an unrestricted free agent with a possible max salary of $21.1M. 

The Mavs could simply decide not to keep him if he becomes a free agent, in which case the cap hit would be $0. 

They could agree on a deal of any amount in-between. 

If the Mavs want to keep him and plan to offer a max deal, he has a possible Early-Bird rights hold of about $20M that would allow the Mavs to tie up that amount of cap room but later sign him to a deal up to the max. 
So will Parsons become a free agent? And will the Mavs tie up money in a $20M-ish cap hold on him? While his play so far doesn't justify either, we think by the summer it will, and our guess on both is yes.
PACHULIA
When the season began, Zaza Pachulia looked like an easy call on cap planning for the summer of 2016. We saw him either being retained as a modestly-priced part of a center rotation, or a player that walks while the Mavs chase younger flashier targets, and in either event, the idea of expending almost $10M for a Bird-rights cap hold allowing a much bigger contract for him seemed absurd.
But to his credit, that has completely changed. He's been hard-working, very productive, and is now in the conversation as to whether he might be the Mavs center next season, rather than an afterthought.
There are still lots of ifs with him. On one hand, he's having a "career year" and his play for the rest of the season could get worse and back to "normal." In addition, he's on the wrong side of 30 for an NBA player, isn't the high-flying type that the Mavs' offense often needs, and isn't the flashy big-name type that the Mavs love to chase in the summer. 
He's only a hard-working guy who produces. "Only."
Then again, production is what a team wants. He may have found the niche for his skills in the Mavs' system and he might get even better with more time here. And he's been a great "Basketball Soul'' fit in the locker room, as he and Dirk seem to have hit it off as friends and teammates. If 2016-17 is expected to be Dirk's swan song, would he prefer having Zaza going to war with him again?  That may be a real consideration.
There are lots of other issues to consider with Zaza.  Given his age, can the Mavs grow and move ahead with him? Can they do better? Can he improve? How affordable will he be, versus the alternatives? And so on. 
But ultimately the cap hold question really still comes back to money, to the expected contract itself. 
A cap hold for him ties up $9.88M, but allows them to sign him (or perhaps benefit from sign-and-trading him to a team that wants to pay him big money) for up to a max deal. So is he going to command a deal starting at more than $9.88M, with the big cap jump this summer, or not? 
Our guess right now is a qualified yes. We still think the Mavs will look around and weigh other options first, due to Zaza's age and inability to be a high flyer. Without a cap hold for Zaza, but with a decision to commit to Parsons, they'd have about $26.8M in cap room and be looking to fill holes at center (replacing Zaza) and PG (either re-signing or replacing DWill and/or Felton), as follows: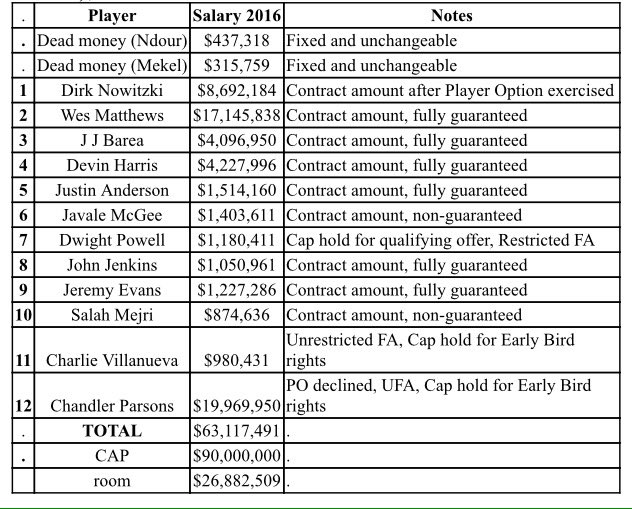 But with a $90M cap, and a max deal for a single player being no less than $21.1M, we think it will be hard for them to fill both starting center and point guard positions with only $26.8M. In that context, we think Zaza's  cap hold might have significant value to them as a way to stretch that $26.8M cap room a bit farther, depending on how much he will cost to retain, and what we see from him for the rest of the season will help determine whether he will be commanding more than $10M in first-year salary (necessitating the use of a hold) or less.
THE SIMPLEST BOTTOM LINE
In summary -- and we invite you to discuss this with us with your free membership to DB.com Boards here while also hoping you'll learn more about all the great advantages and insights to be gained with a very affordable Premium Mavs membership here -- we see the Mavs essentially heading into free agency this summer with a "budget" of the $26.8M noted in the last chart above, and holes to fill at both center and point guard.
From there? It's not hard to imagine things going any number of ways. Maybe they decide to fit all three of Zaza, D-Will, and Felton into that amount. Maybe they spend $10M (hold) on Zaza and the other $16M or so on a shiny new point guard. Maybe they decide to go to war with Harris-Barea-Jenkins at guard and spend more than $20M on a shiny new center. Or who knows what else. ... though while much of what might be at the end of the paths are necessarily unknown, you as a Mavs follower now have a detailed idea of what the options as paths will be.